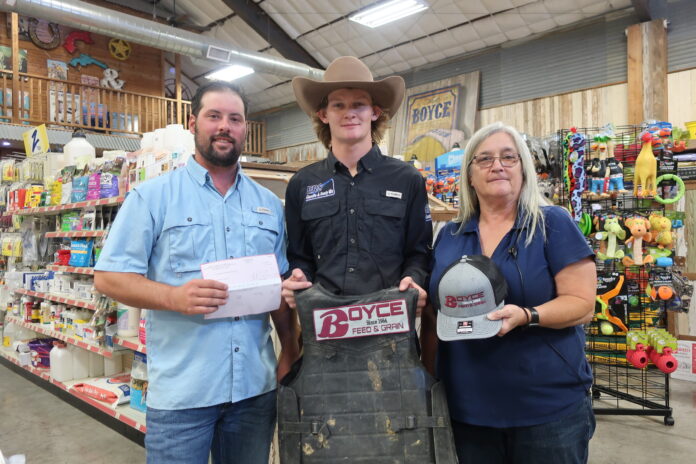 Imagine if your day's pay came down to a mere eight seconds. Imagine if you had to complete those eight seconds while strapped to the back of a writhing, 1,500-pound ball of fury – AND you had to look good for the style points at the same time you're hanging on with everything within you. 
There's a reason professional bull riding is known as the "toughest sport on dirt." 
Twenty-one-year-old Maverick Potter first sat on a bull about a decade ago and is now believed to be the first Waxahachie resident who's ever qualified for the Professional Rodeo Cowboy Association's pinnacle of success: the upcoming National Finals Rodeo at Thomas & Mack Center in Las Vegas. It's the culminating event of a year that's seen him bring in six figures in payouts, including a high of $29,000 for his eight-second ride in Ellensburg, Washington.
Potter's rise through the rankings is one reason for his increasing sponsorships, with the most recent addition that of Boyce Feed & Grain in Waxahachie and owner Andy Lucas. His other sponsorships include ERS Gunite and Ready Mix (owner Tyler Boston), Potter Concrete (his parents DK and Patta Potter's business), Spur Environmental and Spur Industrial (owner Wes Sheffield).
Throughout the year, the cowboys crisscross the United States and into Canada as they plan out their best path toward success. It's a family out there on the road, Potter said, noting how the cowboys help each other out on everything from tips to equipment. For the most part, Potter travels with a couple of fellow bull riders, Trey Kimzey and Creek Young, in a small RV. Any day of the week can see them rodeoing, and they're rodeoing most days of any week. And all for the possibility of completing a single eight-second ride at the end of the day.
"Each one is the longest eight seconds," Potter said of how time almost stands still for him when he's atop a bull. "It's a rush (of adrenaline) the whole way while it all slows down for me."
The riders have to complete a full eight seconds on the bull they've drawn to have any chance at the money, and how much money they can earn also depends on how "stylish" their ride was, as compared to any other bull riders who managed to finish their rides. 
It's certainly not about brute strength on the part of the cowboy. As Potter says, "You can be as strong as you want, but you're not, you can't, overpower the bull."
Approaching 6-foot tall, Potter's a bit taller than the average bull rider, but he says success is found in knowing one's body and athleticism and making it work for you: "You develop your style to how you're built."
Potter grew up around rodeoing. (His father says he rodeoed, but notes, "I was not good. I wasn't like Maverick.") Other family members have rodeoed, but it's Potter whose career has steadily progressed over the years. He remembers starting out as a pre-teen, riding bull calves as a way of seeing if those calves had what it takes to go on to a rodeo career – and compares that experience to that of being a "test dummy." An injury from one of those early-on rides left him with a shattered left ankle, but he'd found what he wanted to do and kept on, progressing from calves to the mature bulls. Over the years, he's had a fractured left femur (he has a rod in there now), his spleen has been removed, and there was a compartmentalization injury to his left thigh. Earlier this season, he had taken a 10-day hiatus earlier this season to recover from a large hematoma and groin pull when he returned to bank his $29,000 win his first rodeo back. 
For Potter, it's all part of the lifestyle he's chosen for himself. It's his life for the foreseeable future, and when he decides to hang up his bull riding rig and spurs, he expects he'll still be around rodeo in some capacity.
He has his own bull stock company, DMP Cattle Company, that's based in Athens, Texas, and he's also involved in his parents and siblings' operation, Potter Ranch in Waxahachie, which produces bull stock, barrel racing horses and performance horses. 
He's ridden about 115 bulls this competition year, with one of the more memorable ones Corey & Lange Rodeo's Rock the House, which happens to be one of the 100 bulls the PRCA's selected for the 2022 NFR competition.
"He wasn't big, but he was tricky," Potter said of the bull, whose statistics show he puts 80% of his riders on the ground in less than two seconds. 
Each ride is a learning lesson, however, and Potter takes those lessons to heart as he heads to his next rodeo. And the lessons are paying off as he goes into the NFR ranked seventh in earnings with $116,065. There, he'll be joined by his travel partners, Kimzey, who's ranked 9th with $113,186 and Young, who's ranked 14th with $100,670.
With his appearance at the NFR, Potter joins an elite circle of past NFR competitors from Ellis County: steer wrestler the late James "Big Jim" Bynum of Maypearl (world champion titles in 1954, 1958, 1961, 1963), steer wrestler Byron Walker of Ennis (world champion in 1981) and barrel racer Mary Walker of Ennis (world champion in 2012).
This week, Potter takes part in the Texas Circuit Finals for 2022, heading to the Extraco Event Center in Waco for a competition that runs from Oct. 12-14.
For more information on the PRCA and NFR, including how to watch the finals, visit https://www.prorodeo.com/nfr. For more information on becoming one of Potter's sponsors, contact Shelly Baumann at 817-774-5889 or [email protected].