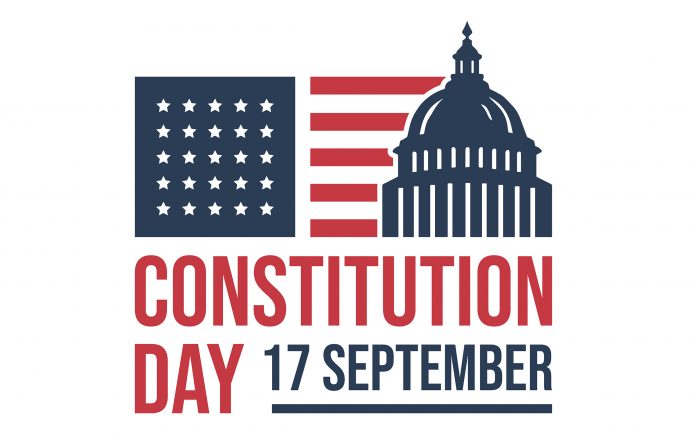 Constitution Day
September 17
Constitution Day is celebrated on September 17, the anniversary of the day the framers signed the document. According to the Constitution Facts website, some interesting facts include the U.S. Constitution has 4,400 words. It is the oldest and shortest written Constitution of any major government in the world. The Constitution was "penned" by Jacob Shallus, A Pennsylvania General Assembly clerk, for $30 ($830 today). The Constitution does not set forth requirements for the right to vote. As a result, at the outset of the Union, only male property-owners could vote. African Americans were not considered citizens, and women were excluded from the electoral process. Native Americans were not given the right to vote until 1924. Of the forty-two delegates who attended most of the meetings, thirty-nine actually signed the Constitution. Edmund Randolph and George Mason of Virginia and Elbridge Gerry of Massachusetts refused to sign due in part due to the lack of a bill of rights. Because of his poor health, Benjamin Franklin needed help to sign the Constitution. As he did so, tears streamed down his face. The oldest person to sign the Constitution was Benjamin Franklin (81). The youngest was Jonathan Dayton of New Jersey (26). When the Constitution was signed, the United States population was 4 million. It is now more than 327 million. Philadelphia was the nation's largest city, with 40,000 inhabitants.
International Country Music Day
September 17
Country music is a coalition style of both Southeast (Country music) and the Southwest and West styles of music (Western music). It came into existence when recorded material started becoming available in rural areas, and further developed during World War II when musicians from various sections met and mixed the tunes. Taking its roots from American folk music, this type is all about ballads and dance tunes. Country music was earlier known as 'hillbilly music' in the mid-20th century. Later, the form started changing, encompassing Western music. It was termed as Country music in the 1940s with the introduction of Ernest Tubb, better known as Texas Troubadour and one of the pioneers of Country music. In the year 2009, Country music was the most listened radio genre in the United States during the evening slot, and second most popular in the morning slots.
Today's Birthdays of Note….
Hank Williams – Country Singer – born in Butler County, Alabama
Jimmie Johnson – NASCAR driver – born in El Cajon, California