National Fried Pie Day
December 1
It is thought fried pies originated in the 1770s in the Southern U.S. as a fried version of the baked turnover. It is basically a fruit filling wrapped in pie dough and then fried. They were introduced to the mass public by McDonald's in 1968. The most popular fried pies in the Deep South are apple and peach.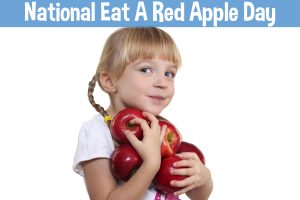 Eat a Red Apple Day
December 1
There are more than 7,500 different varieties of apples grown throughout the world (originating in Asia) with almost 8% of them harvested in the U.S. The most common colors of apples are red, green and golden. Apples are very healthy and contain a high amount of Vitamin C. They are also low in calories. There were more than 83 million tons of apples produced in 2017 with half of that total coming from China.
Today's Birthdays of Note….
Woody Allen – Director, Writer & Actor – born in Bronx, New York
Bette Midler – Singer & Actress – born in Honolulu, Hawaii
Lee Trevino – Golfer – Dallas, Texas