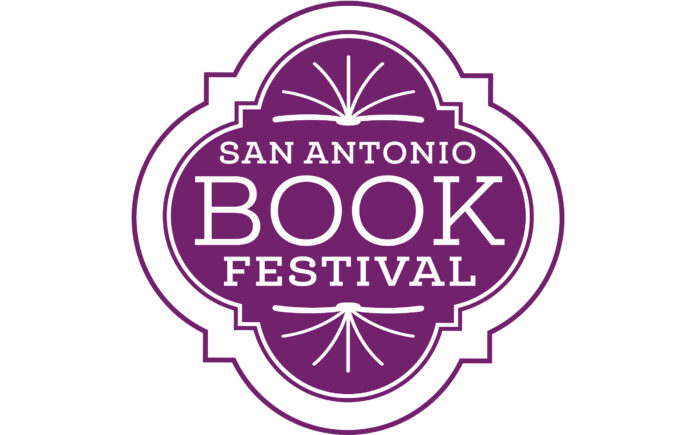 – The free festival will feature award-winning and bestselling authors like Geraldine Brooks, Melissa de la Cruz, Matthew Desmond, Kiese Laymon, and more –
– The festival will be held at the Central Library and UTSA Southwest Campus on April 15 –
– The San Antonio Book Festival will also feature a new event called "Lit Happens" on the evening of April 14 –
SAN ANTONIO, TX (March 8, 2022) – The San Antonio Book Festival (SABF) is excited to announce its 2023 author lineup, which includes 100 notable local, regional and national authors who will be participating in the festival. This year's lineup includes nationally renowned authors such as Kiese Laymon, Geraldine Brooks, Melissa de la Cruz, Matthew Desmond and more. The free festival will take place Saturday, April 15, 2023 from 9 a.m. to 5 p.m. at the Central Library and UTSA Southwest Campus in downtown San Antonio.
The 11th annual San Antonio Book Festival starts at 9 a.m., and will kick off officially with an opening ceremony at 9:30 a.m. featuring remarks from SABF's executive director and Mayor Ron Nirenberg.
SABF is a free, family-friendly event that draws anywhere from 15,000 to 20,000 festival goers to downtown San Antonio for a full day of author presentations, panel discussions, book sales, signings, children's and teen activities and food trucks. SABF showcases debut authors and established writers, introducing attendees to new literary talents and connecting them with their favorite authors. All festival writers can be found at sabookfestival.org, where a detailed festival schedule will be available in late March.
The 2023 SABF will assemble a wide array of authors—for all ages—who will travel across Texas and the nation for the one-day festival.
"The past year in US publishing has been vibrant and varied. Readers sought romance books in greater numbers, thanks to the rise of BookTok (TikTok, but for book lovers). For the first time, we will have a romance panel at this year's Book Festival. There's also been a trend towards thriller and horror lately, with authors using the genre to discuss trauma and mental health, likely because the past few years have been so anxiety-provoking," says Anna Dobben, the San Antonio Book Festival Literary Director.
Joining the festival this year are plenty of award-winning authors like Pulitzer Prize and National Book Award Finalist Rebecca Makkai, who will be promoting her new book I Have Some Questions for You, a literary mystery set at a boarding school exploring gender, class and race.  Matthew Desmond, MacArthur Fellow and Pulitzer Prize–winning author of Evicted, will participate in the festival with his new nonfiction book Poverty, By America, a look at why poverty persists in America and who benefits from it. Marytza Rubio and Alejandro Varela will be promoting their 2023 National Book Award–honored novels.
Popular young adult authors like Adam Silvera, author of the New York Times bestseller They Both Die at the End, will join the festival to promote The First to Die at the End, the prequel to the aforementioned novel about two strangers who spend a life-changing day together. New York Times bestselling author Melissa de la Cruz will also be promoting her new Snow White retelling, Snow & Poison.
Additional award-winning authors participating in this year's festival include Pulitzer Prize–winning Geraldine Brooks promoting her book Horse; 2022 MacArthur Fellow Kiese Laymon and his memoir Heavy; New York Times bestselling author Stephen Graham Jones with a new thriller Don't Fear the Reaper; and Pulitzer Prize–winning Jane Smiley with a new novel, A Dangerous Business, to name a few.
The festival will also bring plenty of Texas authors to the festival, such as bestselling author Jeff Guinn, who will be promoting his new book Waco: David Koresh, the Branch Davidians, and a Legacy of Rage, which accounts the disastrous siege at the Branch Davidian compound in Waco in 1993. Award-winning author Elizabeth McCracken will also participate in the festival with her new novel, The Hero of This Book, a story about a writer's relationship with her larger-than-life mother. Poet Laureate of Houston, Deborah D.E.E.P. Mouton will present her memoir, Black Chameleon.
In honor of its hometown, SABF is also excited to welcome local San Antonio authors to the lineup for 2023, including Lewis F. Fisher and his book about one of the city's most beloved natural areas,  Brackenridge: San Antonio's Acclaimed Urban Park. Marcia Argueta Mickelson brings her young adult novel, The Weight of Everything, to the festival, a story about grief and reconnecting with your roots after the death of a loved one. San Antonio favorite Sandra Cisneros will once again join the festival, this time to promote her first published collection of poems in twenty-eight years, Woman Without Shame / Mujer sin vergüenza.
SABF will also host a variety of children's, middle grade, and young adult authors, including National Book Award finalist Brandon Hobson, whose new middle grade book, The Storyteller, mixes the anxieties, friendships and wonders of a Cherokee boy's life with Cherokee history and lore. Three-time Newbery honoree Christina Soontornvat brings her fantasy middle grade novel, The Guardian Test: Legends of Lotus Island, to the festival, a story about a special academy where kids learn to transform into magical creatures that protect the natural world. Children's author Claudia Guadalupe Martinez will be promoting her bilingual picture  book, Still Dreaming / Seguimos soñando, a story about a child's journey during the Mexican Repatriation. SABF's children's lineup also includes Newbery and Caldecott–honored creators Shannon Hale and LeUyen Pham with a new picture book from their bestselling Itty-Bitty Kitty-Corn series,  Party Hearty Kitty-Corn.
"What makes the Book Festival a perfect San Antonio event is that we truly offer something for everyone," said Lilly Gonzalez, SABF's executive director. "From the subjects in our books—heavy-hitting nonfiction dealing with environmental issues, immigration stories, and wealth inequality—to the brand new Friday night event that we're calling LIT HAPPENS, designed as a block party for book lovers, the Book Festival is for every San Antonian."
This year SABF will also host a new 21+ event called Lit Happens on the evening of April 14, from 6 p.m. to 9 p.m. Lit Happens is a night of engaging literary entertainment with libations on the side. Taking place on the eve of the festival, Lit Happens is a celebration of storytelling and community in the heart of downtown San Antonio. The night will kick-off with an outdoor poetry activation featuring Jose Olivarez and San Antonio Poet Laureate Andrea "Vocab" Sanderson at 6 p.m. The second phase of the evening at 7 p.m. is Worth Repeating, a live storytelling event at Texas Public Radio. Stacked with San Antonio Book Festival authors, this Moth-style session will include writers Rafael Agustin, Mahogany L. Browne, Rebecca Makkai, and Stephen Graham Jones. The night will officially end with a game of Literary Death Match at 8 PM, with Texas-connected authors–V. Castro, Rubén Degollado, Bobby Finger, Jonny Garza Villa–at nearby Legacy Park. Those looking to extend the celebration can easily walk to several local bars.
Book It! Luncheons will also be featured in this year's programming.The SABF will host three separate intimate luncheons with festival authors hosted by various Book Festival board members. Our three luncheon authors are Ada Calhoun (Also a Poet), Dean King (Guardians of the Valley: John Muir and the Friendship that Saved Yosemite) and Reza Aslan (An American Martyr in Persia: The Epic Life and Tragic Death of Howard Baskerville). More details to follow at sabookfestival.org/.
The full author lineup can be viewed HERE. Locally owned and operated bookstore Nowhere Bookshop will be the Festival's official bookseller. Book sales and signings will all happen at the Nowhere Bookshop tent in the Festival Marketplace (UTSA Southwest Campus parking lot). To learn more about the Festival, visit sabookfestival.org/.
2023 San Antonio Book Festival Lineup:
Aaron H. Aceves (This Is Why They Hate Us)
Rafael Agustin (Illegally Yours) 
Roxanna Asgarian (We Were Once a Family: A Story of Love, Death, and Child Removal in America)
Reza Aslan (An American Martyr in Persia: The Epic Life and Tragic Death of Howard Baskerville)
Danielle Belleny (This Is a Book for People Who Love Birds)
David Bowles (They Call Her Fregona: A Border Kid's Poems) (Ancient Night)
W. Brands

(

The Last Campaign: Sherman, Geronimo and the War for America

)
George Bristol (Texas State Parks: The First 100 Years, 1923-2023) 
Geraldine Brooks (Horse)
Mahogany L. Browne (Chrome Valley)
Joshua Burton (Grace Engine)
Ada Calhoun (Also A Poet: Frank O'Hara, My Father, and Me)
Edward Carey (Plagues & Pencils: A Year of Pandemic Sketches)
Lakiesha Carr (An Autobiography of Skin)
Joy Castro (One Brilliant Flame) 
Castro

(

The Haunting of Alejandra

)
Jared Chapman (Vegetables in Pajamas)
Hayan Charara (These Trees, Those Leaves, This Flower, That Fruit)
Henry Cisneros, co-author (San Antonio – City on a Mission)
Sandra Cisneros (Woman Without Shame)
Tom Clavin (Follow Me to Hell: McNelly's Texas Rangers and the Rise of Frontier Justice)
Johnny Compton (The Spite House)
Catherine Nixon Cooke, co-author (San Antonio – City on a Mission)
Armando Lucas Correa (The Night Travelers)
Robbie Couch (If I See You Again Tomorrow)
Angie Cruz (How Not to Drown in a Glass of Water)
Adrianna Cuevas (The Ghosts of Rancho Espanto)
Brad Davidson (Pocket Full of Sads)
Rachel Más Davidson (Pocket Full of Sads)
Melissa de la Cruz (Snow & Poison)
Rubén Degollado (The Family Izquierdo)
Matthew Desmond (Poverty, By America)
Alda P. Dobbs (The Other Side of the River)
Renee Dudley, co-author (The Ransomware Hunting Team: A Band of Misfits' Improbable Crusade to Save the World from Cybercrime)
Saadia Faruqi (Marya Khan and the Fabulous Jasmine Garden)
Bobby Finger (The Old Place)
Lewis F. Fisher (Brackenridge: San Antonio's Acclaimed Urban Park)
Guadalupe Garcia McCall (Echoes of Grace)
Kimberly Garza (The Last Karankawas)
Jonny Garza Villa (Ander & Santi Were Here)
Reyna Grande (A Ballad of Love and Glory) (Somewhere We Are Human: Authentic Voices on Migration, Survival, and New Beginnings)
Jeff Guinn (Waco: David Koresh, the Branch Davidians, and a Legacy of Rage)
Shannon Hale (Party Hearty Kitty-Corn)
Jennifer Michael Hecht (The Wonder Paradox: Embracing the Weirdness of Existence and the Poetry of Our Lives)
Rachel Heng (The Great Reclamation)
Tim Z. Hernandez (Some of the Light: New and Selected Poems)
David Hillis (Armadillos to Ziziphus: A Naturalist in the Texas Hill Country)
Brandon Hobson (The Storyteller)
Gabino Iglesias (The Devil Takes You Home)
Claire Jiménez (What Happened to Ruthy Ramirez)
Stephen Graham Jones (Don't Fear the Reaper)
Laekan Zea Kemp (An Appetite for Miracles) (A Crown for Corina) 
John C. Kerr (Always Faithful)
Dean King (Guardians of the Valley: John Muir and the Friendship that Saved Yosemite)
Priyanka Kumar (Conversations With Birds) 
Annie Montgomery Labatt (Art History 101. . . Without the Exams: Looking Closely at Objects from the History of Art) 
Kiese Laymon (Heavy: An American Memoir)
Cynthia Leitich Smith (Harvest House)
Chloe Liese (Two Wrongs Make a Right) 
Jeffrey Dale Lofton (Red Clay Suzie)
Rebecca Makkai (I Have Some Questions for You)
Mari Mancusi (New Dragon City)
Louise Marburg (You Have Reached Your Destination)
Claudia Guadalupe Martínez (Still Dreaming / Seguimos soñando)
Elizabeth McCracken (The Hero of This Book)
Marcia Argueta Mickelson (The Weight of Everything)
Char Miller (Natural Consequences: Intimate Essays for a Planet in Peril)
Kayla Miller (Crunch: A Click Graphic Novel) 
Szilvia Molnar (The Nursery)
Deborah D.E.E.P. Mouton (Black Chameleon: Memory, Womanhood, and Myth)
Manuel Muñoz (The Consequences: Stories)
Cleyvis Natera (Neruda on the Park)
Ricardo Nuila (The People's Hospital: Hope and Peril in American Medicine)
Jenny Odell (Saving Time: Discovering a Life Beyond the Clock)
José Olivarez (Promises of Gold)
Priscilla Oliveras (Kiss Me, Catalina)
Mark Oshiro (Into the Light)
Betsy Gerhardt Pasley (From the Sidelines to the Headlines: The Legacy of Women's Sports at Trinity University) 
LeUyen Pham (Party Hearty Kitty-Corn)
Andrew Porter (The Disappeared: Stories)
Frederick Preston (Arte Del Pueblo: The Outdoor Art of San Antonio)
Jarrett Pumphrey (Link and Hud: Heroes by a Hair) (It's a Sign (Elephant & Piggie Like Reading))
Jerome Pumphrey (Link and Hud: Heroes by a Hair) (It's a Sign (Elephant & Piggie Like Reading))
Dick J. Reavis (Texas Reporter, Texas Radical: The Writings of Journalist Dick J. Reavis)
Ana Reyes (The House in the Pines)
Mary Beth Rogers (Hope and Hard Truth: A Life in Texas Politics)
Tracey Rose Peyton (Night Wherever We Go)
Marytza Rubio (Maria, Maria: And Other Stories)
Gerardo Sámano Córdova (Monstrilio)
Andrew Sansom (The Art of Texas State Parks: A Centennial Celebration, 1923–2023)
Adam Silvera (The First to Die at the End)
Jane Smiley (A Dangerous Business)
Christina Soontornvat (The Guardian Test: Legends of Lotus Island) 
Joan E. Strassmann (Slow Birding: The Art and Science of Enjoying Birds in Your Own Backyard) 
Christine Suggs (¡Ay, Mija!: My Bilingual Summer in Mexico)
Carmen Tafolla (Arte del Pueblo:The Outdoor Public Art of San Antonio)
Peter Turchi ((Don't) Stop Me if You've Heard This Before: & Other Essays on Writing Fiction)
Alejandro Varela (The People Who Report More Stress: Stories) (The Town of Babylon)
Reggie Scott Young (Yardbirds Squawking at the Moon: New and Vintage Poems)