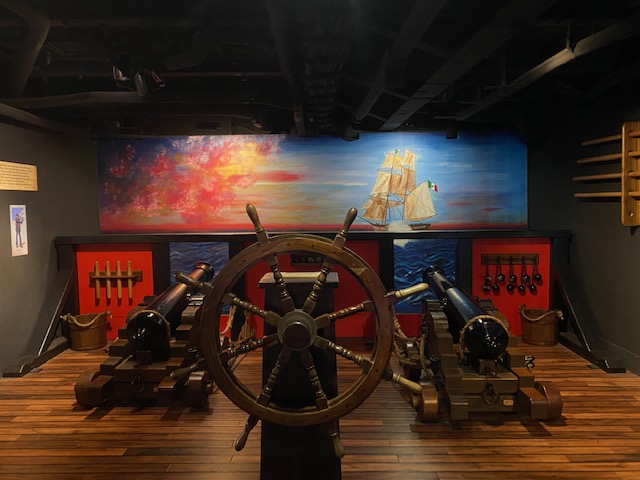 Visitors usually head for the beaches for swimming or fishing when they visit Corpus Christi, Texas; however, Corpus has many sites to offer those who need a break from the sun. One of the most memorable is the USS Lexington, the retired Naval aircraft carrier, that sits proudly in its dock as a memorial and reminder of all who served to protect our freedom.
The Lexington began its service as the USS Cabot, but had its name changed while still underconstruction when the original USS Lexington, CV2, was sunk by the Japanese as the first US aircraft carrier lost in WWII (1942). The present USS Lexington was a highly decorated ship that served until 1991 when it was decommissioned and sold to the City of Corpus Christi.
The Lexington now serves as a skillfully thought-out museum, not just for the ship itself, but it also provides information about wars that involved other aircraft carriers, especially those in WWII.
The museum has broken the ship into five self-guided tours, the longest of which goes into the lower decks and answers many questions visitors may have about how an aircraft carrier works and how the personnel lived.
Interested in learning why Japanese Kamikaze soldiers took on suicide missions in WWII? Visit galleries to learn the answers. Want to know how the Lexington's galley, sick bay, dental clinic, and other parts of the ship functioned? Walk through parts of the ships with audios that explain how each worked. (You can also purchase a book with recipes to cook for the thousands onboard—Beef Stew for 2500 anyone?)
What role did and do chaplains play onboard ships? Visit the ship's chapel. Into models? View a room with hundreds of models of airplanes and aircraft carriers all of which are assembled by volunteers. Want to know about the Texas Navy? Learn about the role the Texas Navy played from 1836-1846 to keep additional supplies from reaching General Santa Anna.
The flight deck of the much-awarded USS Lexington displays airplanes of different shapes and sizes, including an F-14 with Goose's and Maverick's names emblazoned on its side. An F-18 Blue Angel, an A-6 Intruder, and a Black Hawk helicopter are just a few of the other aircraft exhibited on the massive deck.
When the Lexington was retired in 1991, it was the oldest and longest serving working carrier. It now continues its tradition of service as a museum and education site for people of all ages. As a self-supporting non-profit it has something for everyone. For example, the ship houses an escape room and, during the Halloween season, a haunted house—both of which help fund the maintenance of the carrier.
For more information about the USS Lexington, visit its website at https://usslexington.com/