Fort Worth offers museums, the rodeo, and more to see and do. One of our day trips included a visit to the Kimbell Art Museum but, of course, we had to eat to provide energy to view the wonderful artworks. (The Kimbell offers free admission every day except for special exhibits.) Rodeo Goat Icehouse was our choice for lunch, especially since the weather was great so we could take advantage of their outdoor patio. 
The first choice we had was difficult, choosing between the many craft beer options on the menu. The server was great to answer questions and guided the choices to exactly what everyone liked. (There are wines and a full bar for non-beer drinkers.)
My husband, daughter, granddaughter, and I also had difficulty choosing from the intriguing burger choices. We finally decided on the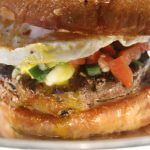 Chaca Oaxaca with its beef and chorizo patty, the Cowboy Murrin, with bacon, fried onion, and other scrumptious items, and the Whiskey Burger, complete with Irish cheddar cheese, candied bacon, and, again, other delicious items. Our granddaughter opted for the plain burger. Our server didn't even flinch when we ordered all of the burgers, except our granddaughter's, without the buns and with side salads instead. (Drat this diet!) Our low-carb good intentions did go out the window when we tried the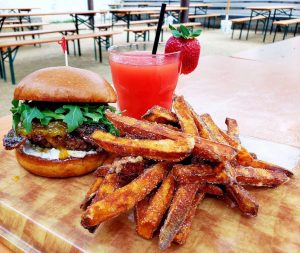 French fries on our granddaughter's order. The fries were hot and crispy, just the way we like them. All burgers offer the option of different patties of ground beer, the impossible patty, ground chicken, ground turkey, ground salmon, and vegan. They also offer salads topped with numerous luscious items.
The available games made the short wait for our burgers pass even more quickly and provided a distraction for our granddaughter that is always appreciated. Other diners were friendly and ranged from couples to families of all ages.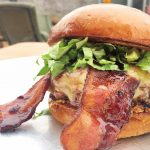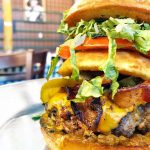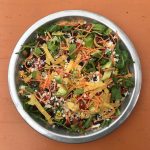 There are locations of this restaurant across the Metroplex, so you don't have to head to Fort Worth to enjoy it, but a day trip to the Kimbell is worth it. Make certain you read the history of the name of Rodeo Goat Icehouse. It will bring a smile to your face!
 – Candace Ahlfinger is an adventurer. Whether she is traveling with her wonderful husband or her family, or finding delicious places to eat here and abroad, she loves to share what she finds along the way with the readers of Ellis DownHome.