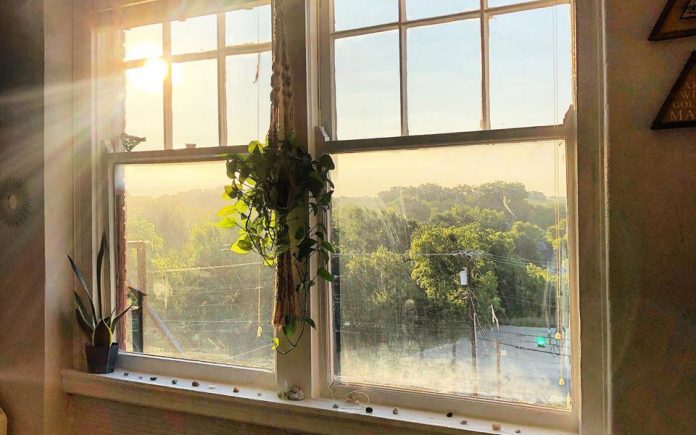 We are excited at DownHome to add a new section on our website about Yoga and all the benefits that come with this practice. We talked with 402 Hot Yoga's owner, Shaena Campbell to find out more about her personal journey. This week, the studio celebrates their One Year Anniversary being on the fourth floor of the historic and beautiful Roger's Hotel in downtown Waxahachie. Shaena and her staff will become contributing writers for DownHome, sharing with us personal testimonials and educating us all on how Yoga is helping so many in our area.
DownHome: Tell us about yourself, your family, and your life growing up in this area!
Shaena: I was born and raised in Waxahachie. I have worked in the fitness industry for 24+ years doing personal training, boot camps, cardio classes, kickboxing, sport specific training & even step aerobics back in the day!  I got into yoga about 9 years ago and fell in love. I have 3 beautiful daughters; Shadoh, who's married with a 7-year old little boy and a 2 1/2 month-old little guy as well. She runs her own salon called Three Bears Headquarters. Sage, is local and professionally trained (in LA) in make up and brow art (microblading). She's incredibly talented! Sheltyn is currently attending college and realtor school, she just bought her first house and is flipping it. I have been married for the last 24 years to my husband, Ray Lynn. We live in Maypearl, and my husband runs a multifaceted farming operation.
DownHome: Tell us about your journey to finding yoga.
Shaena: I had a personal training client that needed to work on her flexibility more than the couple of times a week we met to workout. I told her she should try yoga – she told me she'd go if i went with her…. and I haven't stopped since. It's helped get me through some of the toughest times of my life, and continues to help keep me grounded. I came to the practice to help a friend/client, but, found something to help with my anxiety, build strength, find stillness (I have never been good at being still), accept myself, work through stress, let's me PLAY like i am a kid again and helps show me to just "show up" each day….just as i am.
DownHome: What is the main thing you'd like for people to know about yoga?
Shaena: One does NOT need to be flexible to come to yoga. One does not need to be anything to come to yoga. Just show up and put your feet on the mat. Let go of fear, judgement, and that hateful voice in your head. Move and breathe. That's it. You'll come to appreciate this amazing physical body we've been given. It teaches you to accept the things you cannot change and to change the things you cannot accept. It's simple and powerful and everyone has all they need to practice. No fancy equipment needed – body and breath are yours 24/7.
DownHome: Tell us about 402! How you landed there… what you love about it….
Shaena: It's the most magical studio – great community, amazing instructors, beautiful space. So welcoming to all levels, new to yoga or seasoned practitioners, you'll be loved and have available instruction to progress your practice. I've had a studio in the past (Fuel Yoga lounge). I came home from my eldest daughters stem cell transplant and jumped in to purchasing a studio and being "busy". I sold that business and took off from studio ownership until my girls all graduated. NOW just happened to be perfect timing, place and circumstances to open 402.
DownHome: Where is the craziest place you've done yoga?
Shaena: Everywhere! Grand Canyon, Mexico, sporting events, big cities, country roads, Ireland, boating, you name it!
DownHome: Any other thoughts or things you'd like for the folks of Ellis County to know about y'all at 402?
Shaena: I think often people are scared to try yoga. I'd like folks to know everyone in the studio is just like them. We were ALL scared to try yoga at one time. Here's the thing, though… we can't do the all the things we want from sitting in our comfort zone. We've only got this one life and yoga can help us live it more fully and more present. Yoga is life changing, the people in 402 are kind, you'll grow as a human, you'll learn fun stuff, you'll laugh, you'll sweat, you'll work, you'll play. Come join us anytime!!