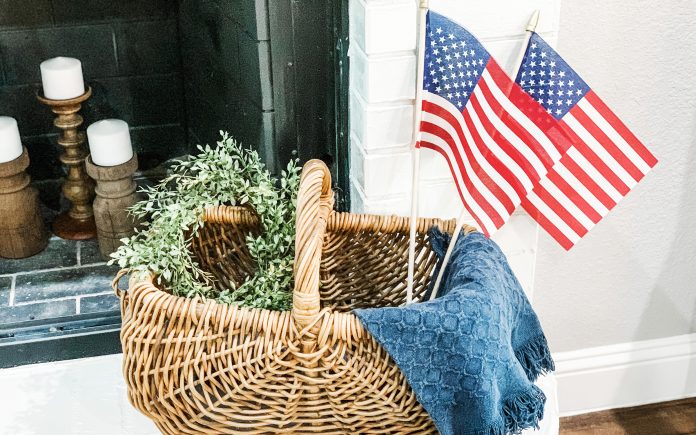 Happy 4th, y'all!
Times are sure different right now, and as this holiday approaches I hope you take the time to pray for our country, our local community, and our leaders.
I'm sure we're all excited to welcome a day off, even though this year will look a lot different than typical. Some of you may not be gathering with family at all, so making your home feel patriotic will be all the more important!
I typically take down spring decorations before Memorial Day, and start putting out patriotic décor through the 4th. Well, that was before COVID-19, so this year I decorated just over a week before. But hey, at least I got it done?!
When I think of the 4th, and this time of year in general, I think of what a southern summer looks like. I think of long days full of sunshine, fireflies, magnolia tree blooms, ferns hanging on large porches, crepe myrtle blossoms, and a big glass of sweet tea. Man, I love living in the south! So, I not only decorate on the inside of my home, I place a few things here and there on the outside as well. If hosting for the 4th, be sure to give guests a warm welcome with hues of red white and blue on the porch and entry, alike. Decorate your mantle with neutral pieces like wood and wicker, with patriotic touches here and there. Use a pair of ornate vases full of American flags as your table centerpiece. Grab a cute patriotic pillow cover to put over your insert. It really doesn't take much to give your home that Americana vibe! And when the holiday is over, and you take those brighter splashes of red away, I like my home to feel light and airy – just like summer, into early September. I love a palette of washed out blue, white, warm wood, different woven textures, and greenery. Summer is typically the season that my home is the most bare, and I love it! Especially leading into when I decorate more heavily for Fall and Christmas. So I encourage you to gather some patriotic décor, and give your home a little flare for the upcoming holiday! If you have decorated already, please share images by tagging @ellisdownhome and @remedyhomedesign on social media! We'd love to see your personal touches and style, and what makes your home, yours. 😊
– Whitney is a life-long resident of Ellis County. She is the owner of Remedy Home Design, which offers a variety of services including: assistance with remodels, new home build selections, and single room to full home interior design. Whitney is passionate about helping people love the home they are in, and letting décor and design tell your story. She, her husband Jason, and two sweet kiddos live in Waxahachie.