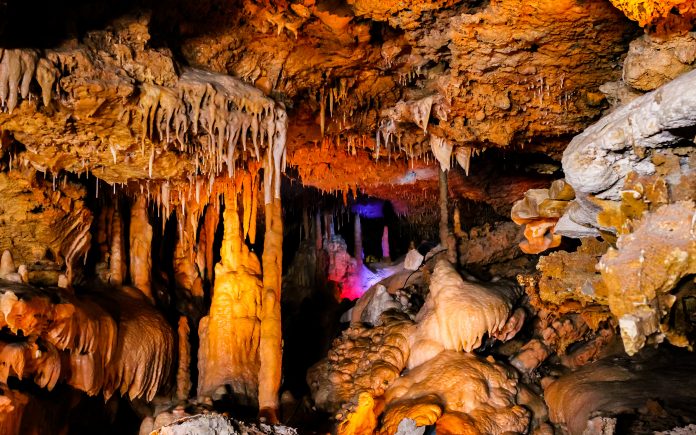 Hot summer days make it difficult to get excited about sightseeing in Texas, but there are "cool" alternatives including caves! Inner Space Cavern, in Georgetown, is a great option.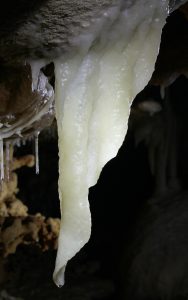 Located just off I35 between Waco and Austin, Inner Space Cavern is a convenient stop for travelers and provides a fun and educational break for children and adults alike. The cavern was discovered by the Texas Highway Department in 1963 while they were testing to see if the ground could support I35. After exploration and preparation, the cave was open to the public in 1966.
My husband and I were on our way to San Antonio with our 8-year-old granddaughter and needed a break to stretch our legs on a hot summer day which made Inner Space Cavern the perfect fit. We bought tickets when we arrived at the cave and didn't have long to wait for our tour to begin. (Of course, there is a souvenir shop that made it easy to pass the time!) We took the Hidden Passage Tour which requires visitors to walk 1 mile and be at least 7 years old. There are uneven steps and it is a cave so people with bad knees and claustrophobia, among other health issues, are advised not to go on the tour. There is also the Wild Cave Tour, which is physically challenging, takes about 4 hours, and, according to the website, requires "belly crawling." (We didn't take this tour.) I would recommend good, non-slippery walking shoes and a light jacket on any cave tour.
Our granddaughter had never been in a cave before, so everything was exciting to her. Our guide was excellent at explaining stalactites and stalagmites as we followed him along the pathways. He also shared why visitors shouldn't touch the walls—the oil in fingers can stop the natural growth of the cave. The cave was lit to enhance its natural beauty and our small group made it easy to follow and hear our guide. The stories our guide told about the history and legends of the cave made the tour even more interesting. Of course, one of the highlights of the tour for our granddaughter was when all the lights, including cell phones, were turned off so we could experience total darkness. (We made certain we were holding her hand before the lights went out just in case she was worried.)
As we exited the cave, our granddaughter asked, "When can we visit another cave?" With over 3,000 caves in Texas, I hope it won't be long! (Only 7 of the 3,000 are open to the public.)
Have you visited some of the wonderful caves in Texas? If so, please tell us what your favorite one is and why.
To visit the Inner Space Cavern website, click here.
– Candace Ahlfinger has loved traveling since she was little and has always been on the go whenever possible. Now she is retired and gets to do what she loves best… TRAVEL! Whether it's traveling with her wonderful husband, or our children and grandchildren, traveling is a great experience that enriches her life. Because she always enjoys reading and hearing about others' travel experiences, she wants to share her travels with the Ellis DownHome readers.