Berlin is an up-and-coming city that is enjoying renovation after WWII and Soviet rule. Berlin is bursting with historical sites, beautiful gardens, and delicious restaurants.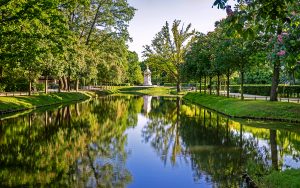 My husband and I stayed at the Sheraton Berlin Grand Hotel Esplanade which was on the river and easily accessible to some of the scenic boat rides. It was also a walk-able distance to the downtown sights through the Tiergarten, a beautiful garden with lakes, fountains, statues. In other words, a breath of relaxation surrounded by a bustling city.
We were lucky to arrive at the Brandenburg Gate during one of Berlin's many festivals. We enjoyed the live music and munched on some Berlin donuts (a must try) as we walked around. We used the Rick Steves' walking guide to find the outdoor Holocaust Memorial, also known as the Memorial to the Murdered Jews of Europe. We also found the parking lot where Hitler's bunker had been. The bunker was completely and purposefully covered so that no one would honor him or make the location into a shrine.
We had gotten reservations weeks ahead for lunch at Dachgarten Restaurant in the Reichstag. (If you want to go, you must make reservations and remember to take your passport since the Reichstag is the Parliament building.) The lunch and the view were excellent. We had our first meal of asparagus there. Fresh white asparagus season is a major event in Germany. Restaurants list white asparagus as the main course (usually around $18 dollars) and then give the option of adding a meat for $4-$8 dollars.
Although there is excellent public transportation, we walked down Unter der Linden (the main street by the Brandenburg Gate) window shopping, drinking cappuccino, and taking in the history. We spent time at Bebelplatz, or Book Square. The square was built by Frederick the Great to display the Prussian ideals of education, freedom of speech, betterment of the individual, tolerance for different groups, and the arts. In a tragically ironic move, Hitler chose this place to burn over 20,000 newly outlawed books to show that these ideals were dead in Germany.
Everywhere we went in Berlin there were solemn reminders of history and the need to remember what happened so history will not be repeated. However, even amid the grim reminders, Berlin is rebuilding and soaring. For example, the Berliner Philharmonie was completed in 1963 and is a showplace and home of their famous symphony. (Check their website for concert information and tickets.) Tourism is strong, and around every corner there is both a piece of history and something new just waiting to be discovered.
There's too much to include in one short article about Berlin so watch for another installment. In the meantime, do you have a question about something specific in Berlin or have you been and want to add information? Please use the comments below!