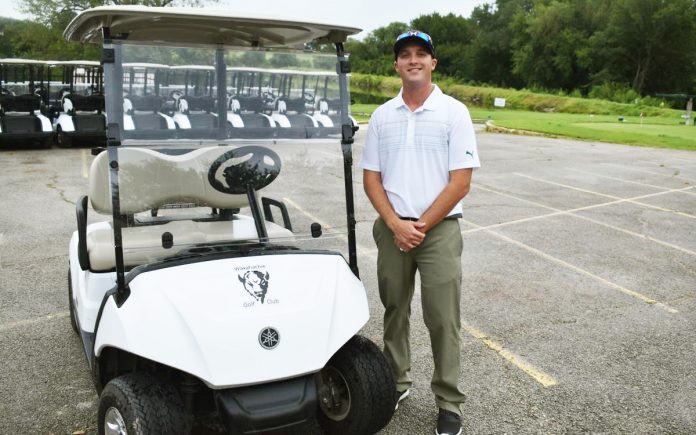 Hopkins named general manager/head professional at Waxahachie Golf Club
For Anthony Hopkins, golf is a passion he's shared with students eager to learn the game. Now, he'll be able to share that love of the sport as the new general manager and head professional at the Waxahachie Golf Club.
Hopkins started in this position April 1 but, due to National Guard commitments because of the COVID-19 pandemic, he was deployed the past four months. During that deployment, he worked at the club one day a week. Returning from deployment at the end of July, Hopkins is working to get everything moving forward at the golf course.
His interest in golf developed when Tiger Woods started playing.
"I would tell you that (when) Tiger Woods came on the scene at the 1997 Masters, I remember watching and it looked like golf was fun," Hopkins said. "My mom grew up in the Plano area and I knew that she played high school golf and I was like 'well, mom plays, so I am going to have to learn how to play.' I was 11 years old. That is how I drummed up the interest in learning how to play and I have been playing 23 years now."
Hopkins said golf has been something he's enjoyed most of his life. Within the last four years, he got into the golf business and on the teaching side.
"I love working with new people," he said. "I love teaching somebody and the excitement that I see when they are able to make a good swing. It is really exciting."
Established in 1924 as the Waxahachie Country Club, the now Waxahachie Golf Club will continue introducing the sport to people of all ages. One of the ways Hopkins looks to achieve that goal is through a rebranding campaign.
"Part of that vision is that we have got to change the terminology," he said. "We are not the country club anymore. We are the Waxahachie Golf Club. The reason why we are in that rebranding effort is because, I don't know how long ago but at some point, this country club became a semi-private golf club with being open to the public and having memberships available. We are still in that format.
"We have got to get a consistent message out to the community," he said. "There have been lots of people around that have approached me and have even called up here and asked if we were open to the public. A lot of people don't know that we are open to the public."
The rebranding effort will help ensure the community knows the club is open to everyone, with Hopkins saying he wants to get more people out there, whether they are a new golfer or a family, to play around, learn about the game and experience the amenities the facility offers.
"If you're interested in memberships, there is a membership option," he said. "We have a swimming pool and you can be part of our family here at the golf club.
"I am in the teaching business and I love teaching golf, so my vision is getting kids up here," he said. "I want to start some kids' classes and clinics, get more women out here playing, maybe having some women clinics. Getting a family-style club atmosphere."
His plans include partnering with local businesses to promote them and the golf club together and making the club "a happening place."
He's working to set up a new website with updated information. The club's new Facebook page is already up and running and features the new logo that pays tribute to the city's name, Waxahachie, which means buffalo creek. The logo prominently features a buffalo with the club's name.
Hopkins noted other changes to some of the club's amenities.
"We had 24 carts before and I traded those out and got 40 brand new golf carts," he said. "They are top of the line, high technology golf carts and bright white. I am waiting on my golf cart dealer to come back with the decals. They are going to have the golf club logo on the golf cart.
"I am trying to increase the quality of this place, let people know that I care and that we are trying to make some positive changes," he said, noting also that new merchandise has been added to the pro shop.
For more information about Waxahachie Golf Club, call 972-937-3521, email [email protected] or visit the club's official Facebook page here. Go ahead and give them a "like"!
The 18-hole golf course is located at 1920 W. U.S. Highway 287 Business in Waxahachie.