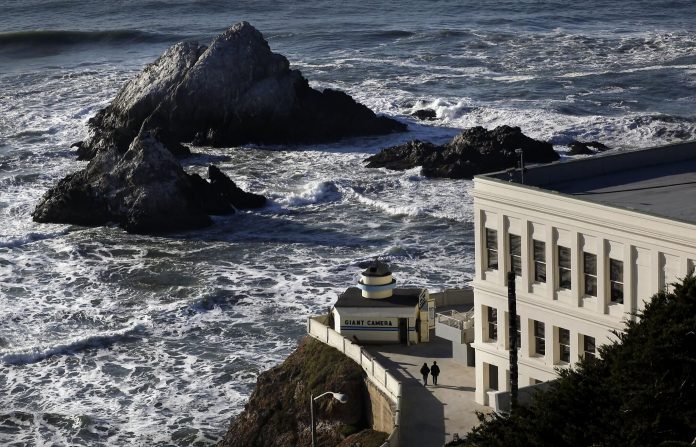 The Cliff House Restaurant, located on a high escarpment just northwest of downtown San Francisco, is well worth a visit just for the experience of sitting atop an overhang with crashing waters below heading toward the Golden Gate Bridge. Within a course of a meal you watch ships heading to and from the Pacific Ocean, seals gathered on outcroppings, porpoise romping in the bay, the visitors and locals along Ocean Beach and views of the breathtaking California coast. Oh yes, the food is delicious.
The first structure on the cliff was a home, built in 1858, made of timbers from a shipwreck below. It later was converted into a carriage inn at which several U.S. Presidents spent the night. In 1937 it became a popular eatery which was renovated in 2003 and restored to its original look of 1909.
The Cliff House now features two restaurants, the casual Bistro and the more formal Sutro's.
The Bistro is a wonderful place to enjoy breakfast or lunch. It has large windows overlooking the steep cliff down to an ocean of foam and wildlife. A must foodie pleasure is there world famous clam chowder.
For evening dining, especially to watch the sun drop below the mountains across the bay, Sutro's with a window seat is an unforgettable experience. One could make a meal of just the appetizer selections, however, the seafood entrees may be one of the best on the Pacific Coast.
Appetizers run $13-$21, and main course meals are $29-$49. Reservations are a must.
Two of the most popular highlights at The Cliff House are Sunday Brunch and live, Friday night jazz on the balcony overlooking the sea below. There are so many types of foods on the buffet that I wouldn't pay justice to the brunch menu to list only a few items. Go to www.cliffhouse.com to view the more than 25 different offerings. Although the cost of the buffet is $65 per adult, there is so much food you will not have to eat again that day.
From downtown's Union Square to the Cliff House is about a 6 mile taxi or Uber ride which can take more than 30-minutes, but you will pass the Presidio and Golden Gate Bridge and the trip through the heart of San Francisco is wonderful. After your meal you may want to take a short cab drive to Golden State Park to visit the marvelous de Young Museum or botanical gardens.
It is easy to spend an entire day on the northwest tip of San Francisco.