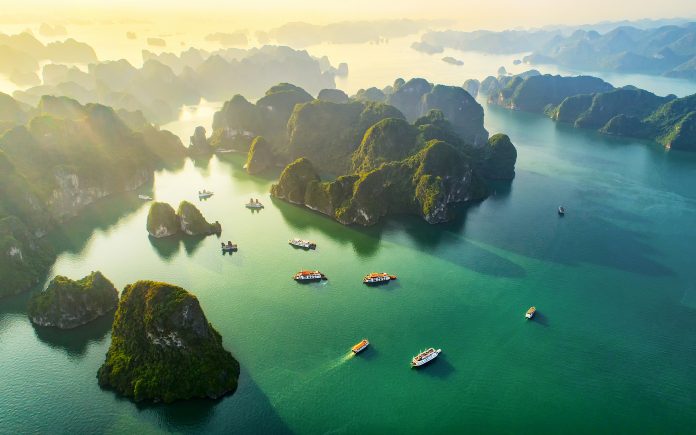 Vietnam was brimming over with wonderful surprises. One of our favorites was a one-night cruise on Ha Long Bay. The bay, located in the Gulf of Tonkin, contains approximately 1,600 limestone islands of varying sizes. Legend says that the islands were originally pearls, jade, and emeralds that were spit out into the lake by a dragon as she defended Vietnam against intruders. (The name "Ha Long" means "Descending Dragon.")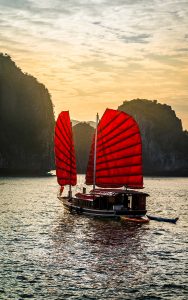 Of course, the creation of the bay by tectonic activity is true, but it lacks the romantic flavor of the dragon legend. The karst limestone islands, which are largely uninhabited, have been named a UNESCO World Heritage Site.
Ha Long Bay has hosted residents for thousands of years. Archaeological sites have been found that date back to 18,000 BC. Many of these people lived in floating villages. Inhabitants often were born, lived, and died without ever leaving their island.
Now Ha Long Bay is an important tourist destination with small ships taking visitors through the labyrinth of limestone outcroppings that dot the area. We sailed on the Bhaya Classic 3 junk, a small ship with only 35 passengers, all from our tour group with Insight Vacations.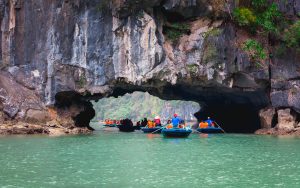 After the mandatory safety speech and practice, we boarded small rowboats (We did not have to row!) that carried us through Dark and Light Cave and under picturesque arches before sailing by Cat Ba Island, the largest island in the bay. This island, though somewhat developed, still showcases mountainous jungle-lined shores.
New adventures continued when we returned to the junk where we were still in for treats: a wonderful dinner, a cooking demonstration, and then, for the perfect ending for the evening, squid fishing. (We did catch some squid, but they went back in the water for other tourists!)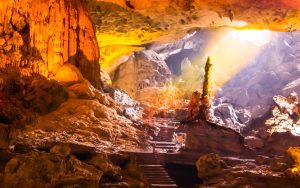 The next day we were tendered from our larger ship to the shore of Bo Hon Island where we climbed 50 steps to reach Surprise Cave, the biggest cave in the bay. The beautiful cave was discovered and named by the French in 1901. Surprise Cave is made up of two large caverns. The first one has lots of stalagmites and stalactites which are painted with strategically multi-colored lights. The second cavern is very large and contains many interesting formations that resemble a variety of animals. Again, the multi-colored lighting adds depth and interest to this magnificent room.
After our cave exploration, we had the opportunity to sail through the limestone-pocked bay once more. However, the bay looked entirely different. The first day the skies had been overcast, while now the skies were reflecting their blue tint off the rocks.

The cruise was a fantastic break from a whirlwind Indochina tour and a great opportunity to experience another wonderful surprise that Vietnam has to offer.
– Candace Ahlfinger has loved traveling since she was little and has always been on the go whenever possible. Now she is retired and gets to do what she loves best… TRAVEL! Whether it's traveling with her wonderful husband, or our children and grandchildren, traveling is a great experience that enriches her life. Because she always enjoys reading and hearing about others' travel experiences, she wants to share her travels with the Ellis DownHome readers.