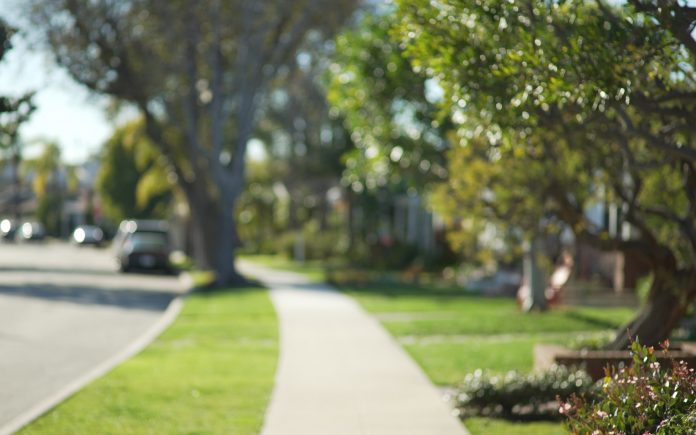 It started out like an ordinary day. Since it was ST. Patrick's Day, I had the corned beef slow-cooking in the crockpot, the flowers watered and the house neat and clean. It was a beautiful day, so I decided to take our dog, Cooper, for a walk; the fresh air and exercise would be good for both of us.  
We headed toward our favorite place to walk – the grassy area between Wilemon STEAM Academy and the houses on Harbin. It's just a short distance from our home, but once you enter that wooded part, it seems as if you are miles away from the hustle and bustle of everyday life. There are birds singing and flowers blooming and the trees keep it shaded and cool.
Of course, Cooper is on sensory overload with his nose twitching and sniffing at every little thing. He sure does loves his walks!
On this particular day, we were just beginning our regular route. Cooper was busy trying to sniff at everything. I noticed something black further down the path and decided it must be a trash bag someone had tossed over their fence. I made a mental note to pick it up when we got to it.
What I thought was a black trash bag, was actually a rather large black cat. When Cooper saw it, all 70 pounds of him went after that cat with me at the other end of the leash. The cat disappeared and Cooper thankfully stopped his pursuit because now I'm down for the count.
The result of my walk on the wild side was a dislocated right shoulder. Since that day, I have been learning how to be "left-armed", which isn't going too well! It especially interferes with my love of cooking.
Now we all have so much time at home, what a wonderful opportunity to try out some of those many recipes I have collected. Well, maybe not. First, due to the limited mobility of my arm, I can't drive yet, and secondly, there is no guarantee that the ingredients I need will be available at the grocery store anyway. I guess there is only one thing left for me to do – keep collecting recipes because I know that one day soon my arm will be healed and the coronavirus pandemic will be over.
It is a beautiful world, and I look forward to walking with Cooper in our little piece of paradise in the near future.
Here is a recipe that I actually managed to try, and it's a winner!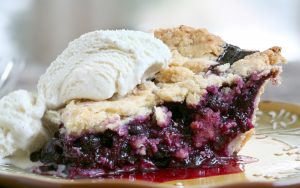 Blueberry Buttermilk Pie
1 9 inch piecrust
1 1/3 cups fresh blueberries
2/3 cup whole buttermilk
¾ cup unsalted butter, softened
3 large eggs
1 teaspoon vanilla extract
1 ½ cups sugar
½ cup all-purpose flour
½ teaspoon lemon zest
¼ teaspoon kosher salt
Preheat oven to 350 degrees
Bake piecrust for 20 minutes
Let cool completely and reduce oven temperature to 325 degrees
Place blueberries in the bottom of the cooled piecrust. In a large bowl, whisk together buttermilk, butter, eggs, and vanilla. (Butter should still be in small chunks.)
In a medium bowl, stir together sugar, flour, zest and salt. Gradually add sugar mixture to buttermilk mixture, stirring to combine. Pour batter over blueberries.
Bake until center is set, about 50 minutes. Let cool on a wire rack. Refrigerate for up to 3 days.
(I used my mixer to mix up the batter and it worked well; just don't overmix it.)
This pie is delicious!
– Becky Lynn is a writer for EllisDownHome.com. She and her husband Bob enjoy spending time with their 8 grandchildren and traveling. Becky loves cranking up the music and heading to the kitchen to try out new recipes or cook for an upcoming party. She is passionate about continuing to be a life-long learner