Alaska Day
October 19
According to the Ocean Conservatory Organization, some of the most interesting facts about Alaska relate to its size. Not only is Alaska the largest state in the United States, but it's also bigger than Texas, California and Montana combined. Alaska also has more than 34,000 miles of coastline, more than the other 49 states combined. Alaska encompasses 17 of the 20 highest peaks in the U.S., is home to more than half of the world's glaciers and contains America's largest national forest, the Tongass. Eight of the ten largest islands in the U.S. are in Alaska. Known for its wildlife, Alaska provides habitat for 98 percent of all brown bears in the U.S. and 32 different carnivores—more than any other state. The majority of U.S. crab, halibut and salmon come from Alaskan waters. More than 20 million seabirds breed in the Bering Sea each year. Alaskan waters even have coral reefs! While Alaska and its waters host abundant wildlife, Alaska is the least populated state per capita and has just over 700,000 people. It is home to a rich indigenous culture, including 229 Federally Recognized Tribes and 20 indigenous languages.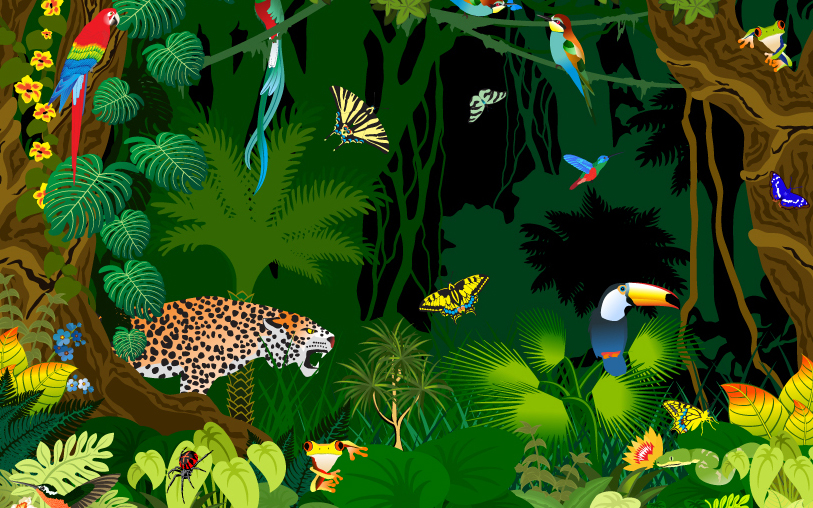 Rainforest Day
October 19
Rainforests not only regulate global temperatures, they also cool and regulate local micro-climates and limit the Earth's reflectivity—which in turn stabilizes ocean currents, wind, and rainfall patterns. The rainforest has four layers. The emergent layer is made up of the very tallest trees that rise higher than the rest of the forest. In the next layer, the canopy, the leaves and branches of the trees all touch one another or are connected by vines. Most animals in the rainforest live in the canopy. The layer below the canopy is called the understory. Small trees and plants that do not need much light grow here. The last layer is the forest floor where only a few plants grow because it is so dark. More than half of the world's animals live in the rainforest.
Today's Birthdays of Note….
John Lithgow – Actor – born in Rochester, New York
Ty Pennington – TV host – born in Atlanta, Georgia