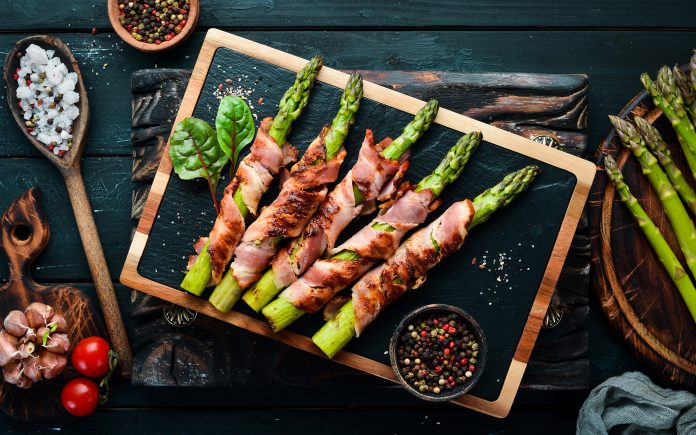 Asparagus has been grown for culinary and medicinal purposes for more than 2,000 years. It is a versatile and healthy vegetable that can be eaten raw or cooked. You can get it fresh, frozen or canned, and you can cook it in a variety of ways. May is National Asparagus Month, so let's celebrate!
Nutrition
Asparagus is a very healthy food choice. It is low in calories and has no saturated fat, sodium or cholesterol. It is high in folates and a good source of vitamins A and C. It is also high in fiber which is good for digestion and potassium which helps lower blood pressure.
Recipes
Asparagus is inexpensive, easy to prepare and makes a delicious addition to many dishes, so let's check out some asparagus recipes.
Cream of Asparagus Soup
I just don't think there's anything better than a bowl of cream of asparagus soup, and it is easy to make. You can add things like leeks, garlic, fennel and tarragon if you like, but basically, it's just a matter of cooking the asparagus, adding either chicken or vegetable broth and a touch of milk or cream before you blend it all together. It can be served hot or cold. Take a look at this recipe for cream of asparagus soup from Delish by clicking here.
Bacon Wrapped-Asparagus
What's not to like about this recipe? It has only 3 ingredients, asparagus, bacon and black pepper. You just wrap each spear of asparagus with a piece of bacon and throw it on the grill for about 4-6 minutes or until the bacon is crispy. How easy is that? This Taste of Home recipe can be found by clicking here.
One Pan Roasted Lemon Pepper Salmon and Garlic Parmesan Asparagus
This is such an easy way to cook dinner–all in one pan! You put the salmon in the center of the pan and surround it with the asparagus. Brush the salmon with the lemon pepper mixture. The whole dinner should be done in about 20 minutes. Check it out by clicking here.
Asparagus Puff Pastries
Here's another easy recipe that would be a great canape at your next gathering. You use frozen puff pastry, fresh asparagus, cream cheese and parmesan cheese plus a few other ingredients.  You mix the cream cheese and parmesan with some stone-ground mustard and spread it on the thawed puff pastry sheets, cut them in squares and wrap each square around three pieces of asparagus. Bake them for about 25 minutes, and they are ready to be served. Easy and tasty too! To view this recipe, click here.
Do you have any favorite asparagus recipes? Please share in the comments section below.
– Becky Lynn is a writer for EllisDownHome.com. She and her husband Bob enjoy spending time with their 8 grandchildren and traveling. Becky loves cranking up the music and heading to the kitchen to try out new recipes or cook for an upcoming party. She is passionate about continuing to be a life-long learner!