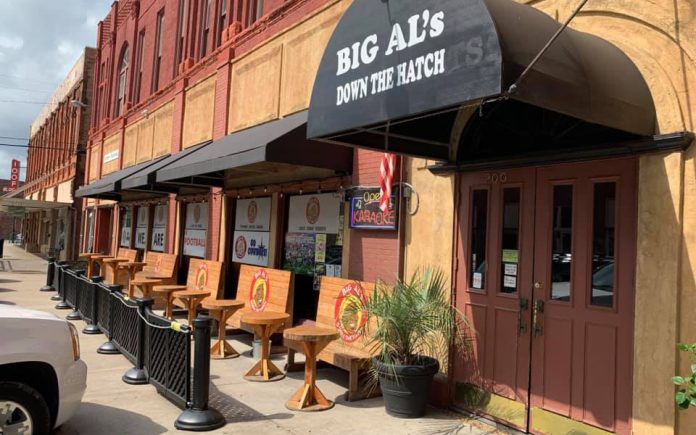 I have to give a disclaimer before I start: I was already "wowed" by Big Al's because of my experiences with him. For years I have listened to him on the Kidd Kraddick Show and then what he did for our granddaughter at his restaurant location in Waxahachie. Our daughter visited Big Al's one Saturday, but our granddaughter didn't go with her. Big Al, as part of his normal routine, was walking around talking to his customers. When our daughter shared that her daughter was going to be so sorry that she missed meeting him, he suggested that he make a video for her—and he did. The look on our granddaughter's face was priceless.
My husband and I have visited Big Al's twice now, both at off times of mid-afternoon and early evening. We went to try the food and see what it's like. There are healthy options which are very good. The blackened tilapia with veggies might not be typical bar food, but we were amazed at their tastiness. We also had a spinach salad that was very good.
Of course, the bar food is the biggest draw. When I sank my teeth into the fried mashed potatoes stuffed with bacon, onions, and cheese, I knew my diet was going out the window. Since I was already committed, I had to try the fried pickles which were not a disappointment. The pickles are thicker than most, but pickle lovers will be excited.
Service was excellent. The bartenders/servers were attentive and engaged in fun interaction with everyone there. Their appreciation for the chefs was also wonderful. We could tell quickly that everyone gets along and is willing to help.
Big Al's serves a wide range of beer, drinks, and even some wines. It would be a great place to watch a game or, like us, go for a quick bite during less-busy hours.
Have you been to Big Al's during a game or on a karaoke night? If so, please share your thoughts and what visitors can expect when they visit at these times.
Photos from Big Al's Down the Hach's Facebook page. Click here to visit.