A major anniversary and birthdays were cause for our entire family of 5 adults and two children to celebrate, so we headed to Hotel Xcaret in Playa del Carmen, Mexico. Our celebrations coincided with New Year's Eve so we had extra reasons to party.
Hotel Excaret is expensive compared to many resorts, but it is all-inclusive and also includes the parks and tours outside the hotel complex. (Xcaret, Xel-ha, Xplor, Xenses, Xoximilco, and the Xenotes and Xichen tours are all included. Xavage opened since our visit.)
We were picked up by Hotel Xcaret's shuttle and taken on the hour-long ride to the resort. There we were met by a beautiful lobby in which the rock seats are actually comfortable cushions to lounge on until they call your name to check in.
Registration was fast and easy and we were escorted to our rooms, each of which had beautiful views and were very spacious and comfortable. All rooms had a reading area and a wonderful patio with a relaxing hammock. Everyday we received a handmade basket with a sweet treat and, on our birthdays and anniversaries, we were surprised with flowers, champagne and cake.
Over the five days we were there, we ate at most of the 10 restaurants. I would make reservations at the ones that require them if you want a chance of getting in since seating is limited; however, the hotel has multiple buffets that allow for last-minutes flexibility. We had sushi, steaks, burgers, and Mexican food, just to name a very few. In addition, the restaurants were kid-friendly with foods that even pleased our picky-eater 8-year-old and 3-year-old granddaughters.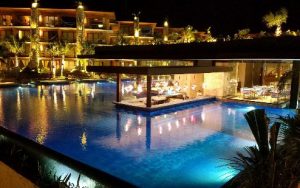 Each of the heated pools had different features. The largest pool came complete with a swim-up bar that made luscious fruity drinks for both adults and kids. The kids' pool is centered on a giant octopus slide that appeals to kids of all ages.
The customer service was excellent before and during our visit. Even though I didn't book directly with the hotel (I booked with CheapCaribbean.com) I was able to email questions and make park and dinner reservations before we arrived. Alexandra López was our concierge and she was wonderful! She made it easy to book everything and guided me through decisions via email.
Hotel Xcaret truly was all-inclusive…transportation, entrance, and food at not one, not two, but seven theme parks and tours. We took a boat or bus to each of the parks where we bypassed the lines for immediate entry. The parks vary in age and activity level, but all of them were fun.  We got to see native animals, zipline over the jungle and land in cold cave waters.  We were able to swim, explore caves, and float through cenotes. One of our favorite parks was Xenses where we experienced a huge magnetic city. (For those of you who are more mature, think the Magnetic House in Six Flags on lots of steroids.)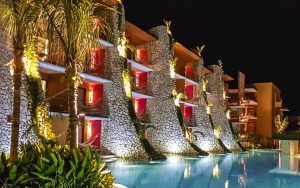 We were exhausted trying to do all the parks and the resort activities, so we finally took a day off and just relaxed by the pool with tropical drinks and good books. There were options for spa, kayaking, wave boarding, but beach lovers will have to settle for multiple man-made beaches since the resort sits on a rocky coast.
The hotel threw a wonderful party for New Year's Eve that snaked all the way up the mountain path with kids' games, food, and carnival activities. We enjoyed wandering through the exhibitors and trying all sorts of fun foods and drinks. Of course, everyone received the traditional 12 grapes for New Year's. We all, even our little ones, enjoyed the huge fireworks spectacular that could be seen from everywhere in the resort.
You can get pictures taken throughout the resort and parks with the bracelets they provide. Although the photo ops were excellent, we did find the picture packages confusing and expensive and wished we had understood all the innuendos of it before we started our adventures.
Hotel Xcaret has an adults-only section that reviewers on TripAdvisor love and that we'd like to try, but it wasn't an option for our family trip. They also have 2 restaurants that are adult-only. Our son and daughter-in-law dined at Ha and said it was excellent and worth the additional cost.
Many people are worried about safety in Mexico. While we find that, like in the US, we are generally safe if we stay out of certain areas, Hotel Xcaret provides a safe alternative in which travelers are always in secure, friendly areas.
Have you stayed at an all-inclusive resort in Playa del Carmen? Please share your thoughts on your experience in the comment section below. We would love to learn about more fun places to explore!