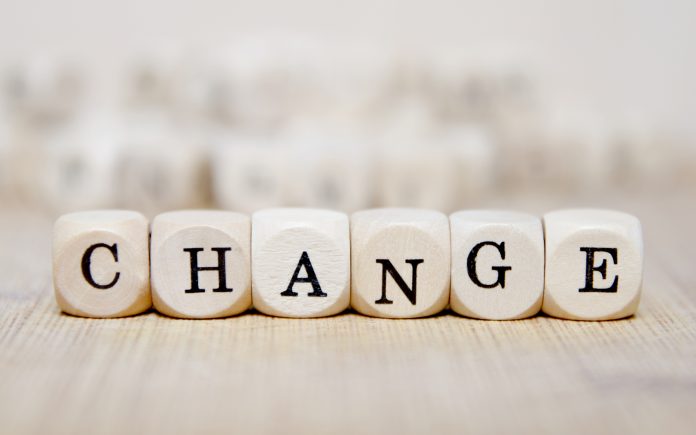 "In this day and age, if you are not changing, you're moving backward."
– Andrew McNally, IV
Constant weather forecasts for Texas. Yesterday it was balmy 75 degrees. Last night storms made their way through this great state. Today, snow flurries in some areas and a temp drop to the 30s!
Moral: "If you do not like the weather in Texas – wait a minute!!"
Change affects all our lives at one point or another. Recently a friend of ours was alluding to her young son playing with a friend at their house. As they watched movies, the laughter, giggles, and load sounds of being boys wafted from upstairs. The mom was remarking how she dreaded the time when those "fun" events would become but a memory after the son moved out to be venturing on his life's journey.
This had an impact on my wife and I as we began to think about how changes constantly take place in everyone's lives. 2017-2018 brought this fact close to home as we lost four lives of our own family – my wife's son in his 30s, her mother, father and uncle. At the same time, there were additions – one adoption of a special needs child from China and two other births.
These changes served to remind us of the cycle of life – birth, growth, marriage, divorce, and other constant changes until the cycle starts all over again. How do we react to these changes? As we navigate along the paths, do we worry? Fear what the changes will bring? Slip away to try to ignore it all?
What if we TREASURED each moment? No, I am not an ostrich who sticks its head in the sand and play like none of it exists only to pull it out again and there it is – REALITY! Can we be willing to accept change and go on with our lives and see it all as the "New Normal?" Ah – now there's a concept. Or better yet, what if we treasure the memories and be grateful for each one. We could include them in our photo album of life and return periodically to reflect on what they meant to us, add to them, laugh, weep, make comments, or any other emotion we wish to exhibit.
PONDER: No one is exempt from change. Would it not be a boring life if everything remained the same – day in and day out?
During my growing up days in the small mountain town of Thurmont, Maryland, life was full of changes. Never heard of the town? Not surprising! How about if I mentioned Camp David, the Presidential Mountain Retreat, that was located on one of the mountain tops of the Catoctin Mountains? Well, that is where my hometown is.
My father was editor of the local newspaper and an talented artist. One of his accomplishments in the late 30s and early 40s was illustrating the characters in the comic book, The Shadow. My mother was a stay-at-home mom but did work in later years as a proofreader for a printing company. Change was a constant for us as we moved about from rent houses to apartments to my grandmother's house, where I stayed until enlisting in the U.S. Air Force. Moving a lot was created by father's inability to provide financially due his alcoholism and lack of consistent employment. My sister alluded to me later in life that we lived on welfare during those times. THAT was news to me!
My uncle was a third generation owner of a successful wholesale/retail greenhouse business. It was located next door to my grandmother's house, where we lived most of our lives. It was landmark home that began its origin as a log cabin. After being added onto over the years, it developed into a 3 story home with basement and attic.
After serving in the Air Force followed by my life's pursuits as a civilian, I was shocked at the blow of becoming aware of, not only my grandmother's house being leveled but also all the buildings, greenhouses, my uncle's house, the restaurant across the road where I washed dishes as a youth, the motel that was next door to the restaurant, all to make way for a Chevrolet dealership to enter the landscape. All that I grew up with was GONE!! The demise of what was the years of youth was now a mass of automobiles for sale as well as the service centers of the dealership.
At first, I was devastated to the core. It was like I was being the recipient of a sucker punch! MEMORIES were being replaced with so-called progress. Going HOME was never the same. As I began to attempt to adjust to what was once my comfort zone of familiarity, I felt an emptiness over what was to become the "New Normal." – CHANGE!
I asked my self, "how do I accept the end? Could I develop a neutral zone? How could I transition into a new beginning?
PONDER:
The PAST is GONE
Do not stress about the FUTURE – It ain't here yet
Live in the PRESENT and work to make it beautiful
Oh yeah!!! How do I do that? Here are 6 ways to help adapt to change:
Adapt by taking advantage of it
Find humor in the process
Talk about it to others
Don't become "all stressed up with no place to go"
Accept the past and fight for the future
Don't accept stability
Let's pause right here… but I'll be back to break these down and we can all learn to adapt to the changes that happen in our lives!