Recently I saw a book that caught my eye…maybe it was because it was a small square book, maybe it was because the cute illustration on the cover stood out.  Two boys, both with messy hair, one holding the other upside down by his foot. Right off it appeared to me to be two brothers…just being boys!  It was "Charlie & Mouse", and being the "boy-mom" that I am, I felt compelled to flip through the 37 pages that were cut into four short chapters that could have easily stood alone as individual easy readers. It's a fun smooth story of 2 brothers Charlie and Mouse who go through a whole day using their imaginations from talking to each other as "lumps" under the covers in the morning, to gathering up all their friends on their way to the playground for an impromptu party for everyone to enjoy in the afternoon, and when they decide they need a little extra money they agree to sell rocks, only to gather more than they sell, and by bedtime, like little kids do, they find some new reason to stay up just a little longer, so they ask for a bedtime banana and it seemed to work! This precious little book pulls you in from the very start because of the character's youthful innocence! A great bedtime story for your kiddos or grandkids!
I will admit, any children's book about family, especially one about siblings; brothers to be specific, I usually tear up just a little. I think of my own "Charlie and Mouse" when they were little, except mine are "Brandt and Chunk" and they didn't always get along as great as Charlie and Mouse seem too, but they were playmates, each other's protectors, movie watchers, Lego builders, hot-wheel racers, fort climbers and army buddies, together in the foxholes they dug in my backyard.  But most of all they are brothers, friends and my boys! I miss those moments in time that seemed to have flown by, but I wouldn't have changed a single second!
"Charlie & Mouse" was written by Laurel Snyder and Illustrated by Emily Hughes. It also won the Geisel award. The Theodor Seuss Geisel award is given to the author(s) and illustrator(s) of the most distinguished American book for beginning readers published in English in the United States during the preceding year.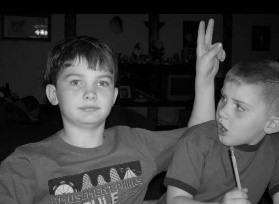 Do you have a "Charlie and Mouse"? If so, send us a picture or video of your kiddos, siblings, grandchildren or any little ones that make you smile like ours do us!!!!