Visiting the Chengdu Research Base Of Giant Panda Breeding was a once-in-a-lifetime experience that brought a smile to my face.
The primary purpose of the Research Center is conservation and breeding of the rare giant pandas. However, realizing the importance of educating the public, they have opened this pristine tourist attraction. Knowledgeable guides provided information in English as we wandered along the bamboo-lined paths of this eco-friendly research facility waiting anxiously for our first glimpse of a rare giant panda. And, finally, we arrived at the first of many natural enclosures of pandas. We stopped to gawk at the lovable pandas as they sat munching on leaves and, in turn, watching all of us for their daily entertainment.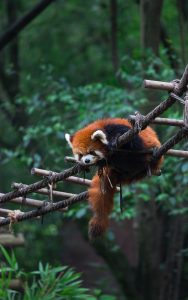 As we wandered through the paths, we also saw other endangered species, such as the much smaller red pandas, in their natural environment. One of these adorable animals escaped via a hole in the fence to run over my foot, across the walkway, and into a corresponding hole in the other side. (This event was definitely a wonderful highlight for me!)
The paths led us by pandas of different ages. We saw mature and young pandas playing with each other. We saw mother pandas nursing their young. And then, we entered the nursery where we watched newborn pandas who were too little to do anything but lie still and be cute.
The Research Base works in collaboration with zoos throughout the world to provide pandas. Pandas do not come cheap. They are leased to other countries, generally in 10-year increments. The receiving zoo pays approximately $1 million per year for the privilege of hosting a famous resident. If a baby panda is born, the zoo must pay a one-time baby tax of approximately $400,000. Of course, zoos also incur additional expenses for housing and food for these picky visitors. Four U.S. zoos currently house pandas—San Diego, Washington, D.C., Memphis, and Atlanta.
At the end of our visit, I left with more love for the giant pandas, a greater appreciation of their struggles, and, of course, a suitcase full of lovable panda paraphernalia to take home as souvenirs.
– Candace Ahlfinger has loved traveling since she was little and has always been on the go whenever possible. Now she is retired and gets to do what she loves best… TRAVEL! Whether it's traveling with her wonderful husband, or our children and grandchildren, traveling is a great experience that enriches her life. Because she always enjoys reading and hearing about others' travel experiences, she wants to share her travels with the Ellis DownHome readers.