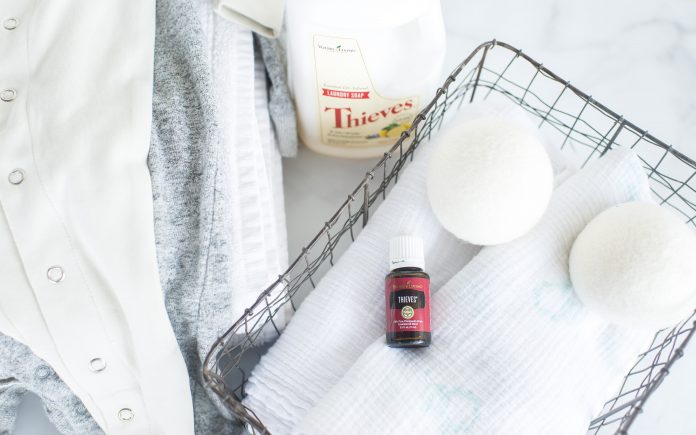 Now that I've shared what we use for spot treating and laundry detergent, I have a few other laundry tips!
My husband is an avid runner which means lots of dry-fit clothing, which can get a weird odor in a hurry. This easy pre-soak works EVERY TIME and his workout clothes smell fresh as a daisy!
Workout Clothes Pre-Soak:
1/3 C baking soda
1/3 C white vinegar
3 drops Young Living™️ Lavender essential oil*
I mix this in a 5 gallon bucket but you could easily just put a stopper in your sink or use your washer. I put the ingredients in the bottom of the bucket and begin to fill with water until it's dissolved. Then I add the clothes and continue filling until the clothes are covered with water.  Let them soak for a couple of hours, then add to your regular wash load.  (With my old school washer, I pour the clothes AND lavender infused water into the washer). You truly will not believe how fabulous your dry-fit clothes will smell!
Speaking of weird smells… you know that sour smell when you've forgotten the laundry in the wash? Now that most of us are spending more time at home, that's maybe less likely to happen! But… if it slips your mind, like it often does mine, rather than COVER the sour odor with a toxic fragrance, let's eliminate or neutralize the odor.
Here's our favorite sour laundry magic trick:
1 C vinegar
5 drops Young Living Purification®️essential oil
Run your laundry through the rinse cycle an additional time, adding vinegar and Purification®️ to the water.  (It's a magical oil… perfect to diffuse if you've burned dinner, your dog was sprayed by a skunk and ran through the house, you have teenage boy sneakers on the premise, etc… magical!)
Next up…fabric softener! I actually have never used any fabric softener, but my friend Shawn Kozlovsky has tried many DIY recipes and she says this one is by far her favorite:.
Toxin-Free Fabric Softener:
2 Cups of Epsom Salt
1/4-1/2 Cup of Baking Soda
15- 30 drops of essential oil (favorites are Purification®️, lavender, lemon or Citrus Fresh™️)
Glass or stainless steel container
Stainless steel scoop
Mix Epsom Salt and Baking Soda together well then mix in essential oils.
Add 2-4 scoops (1/8 cup) depending on size of load.
I usually separate my darks and lights, but on occasion I'll need to mix them. When I do, I love having a DIY "color catcher" on hand.
Here's how we make our DIY color catchers:
1 T washing soda
1 C warm water
Scraps of white cotton fabric (about the size of your hand)
Dissolve the washing soda in the water, soak the fabric scraps in it and wring it out. Let them air dry. Toss one in a load to catch any colors that might bleed. Let them air dry after they've been through the wash. These may be used several times before you need to re-soak.
Lastly, we tossed those dryer sheets years ago. Dryer sheets not only fill YOUR home with toxic fragrances and chemicals, they jettison out your vent into your neighborhood. Be nice to your family, pets and neighbors and switch to something so much better for YOU but also better for your environment!
This is the easiest ditch and switch EVER… replace your dryer sheets with wool dryer balls!  Put a few drops of your favorite Young Living™️essential oil on them and not only will your whole house smell like a spa, you're reducing the toxic load of your family and neighborhood.  Our favorite essential oils for the dryer balls are Young Living's Lavender, Eucalyptus Radiata and Peppermint… it's truly my favorite "spa" combo!
Let's make the most of our time at home! See if you can order some supplies from Young Living™️ and Amazon and start some new habits to make your HOME the SAFEST place to be instead of the most toxic place!
Happy washing!!
– Karen is a life-loving, sunset-seeking, toxin-free living enthusiast. She's been married to her camp crush for over 25 years. After years of homeschooling their 2 boys, she now spends her free time gardening, raising chickens and mentoring families on their toxin-free journey. 
*Young Living™️, like Costco, requires a membership to make purchases. A one-time fee of $35 provides a lifetime account (and comes with a bottle of Stress Away). Or you can choose a starter kit, which has significantly discounted products. The Premium Starter Kit includes a lifetime membership, medical grade diffuser and 12 essential oils (over $400 worth of product for $165). This is absolutely my recommendation. The Thieves Starter Kit is also an excellent way to jump start your toxin-free journey.  Find a YL distributor to help you set up an account and use their referral link. Or, you are welcome to use mine – Bit.ly/kscott