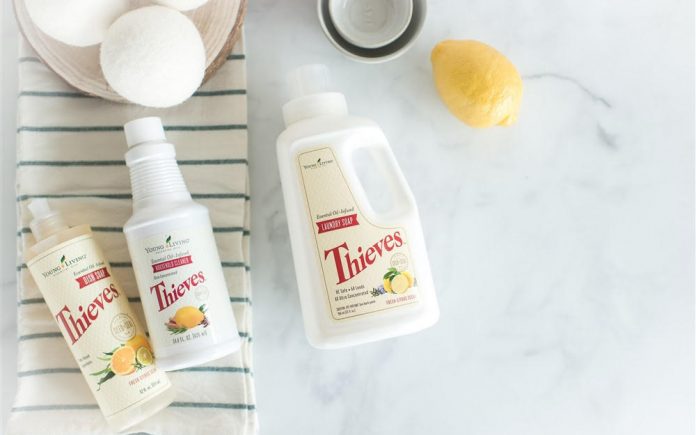 As we've been ridding our home of harmful chemicals over the last several years, I've realized that I am quick to detect synthetic fragrances and chemicals. I can detect them instantaneously. If my boys have had a friend over, I can smell their laundry detergent after they've left. In fact, after hosting a group of teenage boys for a weekend (although you'd THINK I'd smell something else), I could smell their laundry detergent for over a week after they left.
If their detergent is affecting ME one week after they've left, what is it doing to THEM while it's on their skin and under their nose? Again, our skin is our largest organ… we are absorbing our laundry detergent…and whatever chemicals are in it…through our skin.
If you do a quick google search on "laundry detergent, harmful," you'll find plenty of reasons to consider switching to something natural.  If you'd like to learn more about "fragrance" and what that entails, I HIGHLY recommend watching this!
Over the years, I have to admit, I've done a LOT of laundry experiments, much to the chagrin of my family. In fact, I remember attending a birthday party and smelling something quite unpleasant (feeling a little sorry for another party attendee) only to realize it'd been ME the whole time!
So… let me save you some trouble (and embarrassment!). I can just TELL you my favorite safe options and what WORKS.
In fact, I'll do more than that… over the next couple of articles, I'll share allllll my favorite laundry tips:
Laundry detergent
Stain remover
Fabric softener
"Color catchers"
Dryer sheet replacements
Workout clothes pre-soak
Sour laundry rescue
Let's start with stain remover. I have a confession… several weeks ago I asked my husband to actually PURCHASE some for me because I didn't have my DIY ingredients. (I haven't purchased a toxic product in YEARS!) That spray on one or two articles of clothing affected the scent of the ENTIRE load… and the laundry room.  Everyone in the family was offended by the intensity of the fragrance.. of the STAIN remover! If anything, it solidified my resolution to continue on the toxin-free path I'm on and not take shortcuts.
Our current favorite stain remover recipe (as well as our laundry detergent recipe) come from this blog.
DIY Stain Remover:
Spray bottle
Hydrogen peroxide
Non-toxic dish detergent*
Fill spray bottle with 2/3 hydrogen peroxide and 1/3 non-toxic dish detergent. I typically spray and leave on for about 30-45 minutes.
*We use Young Living's Thieves®️Dish Soap.
(On occasion, this mixture will foam and leak.  I simply wipe it off.)
For laundry detergent, we LOVE Thieves®️Laundry Detergent…it's plant based, highly concentrated and POWERFUL.  I have COMPLETE confidence using this!
But I like to s-t-r-e-t-c-h my laundry detergent! We can make this recipe for less than $4 a gallon, which equates to $0.11/load for me… and half that for a load in an he washer (yes, we still have our 26 year old old school washer that is FABULOUS).
DIY Laundry Detergent
Glass drink dispenser
1/4 C washing soda
1/4 C baking soda
1/4 C Thieves®️ Laundry Soap*
2 T Thieves®️Household Cleaner
Hot water
Add washing soda to glass dispenser, add a couple of inches of hot water and mix until dissolved. Add baking soda and mix until dissolved. Fill the remainder of the container with water, leaving just enough room to add remaining ingredients. Add the laundry soap and cleaner and mix well.
Use 1/4 C per load for he washers. 1/2 C for old school washers.
Happy washing!!  More top-secret laundry tips next time!!!
* Thieves®️ products are exclusively purchased through Young Living.  Young Living™️, like Costco, requires a membership to make purchases. A one-time fee of $35 provides a lifetime account (and comes with a bottle of Stress Away). Or you can choose a starter kit, which has significantly discounted products. The Premium Starter Kit includes a lifetime membership, medical grade diffuser and 12 essential oils (over $400 worth of product for $165). This is absolutely my recommendation. The Thieves Starter Kit is also an excellent way to jump start your toxin-free journey.  Find a YL distributor to help you set up an account and use their referral link. Or, you are welcome to use mine – Bit.ly/kscott
– Karen is a life-loving, sunset-seeking, toxin-free living enthusiast. She's been married to her camp crush for over 25 years. After years of homeschooling their 2 boys, she now spends her free time gardening, raising chickens and mentoring families on their toxin-free journey.