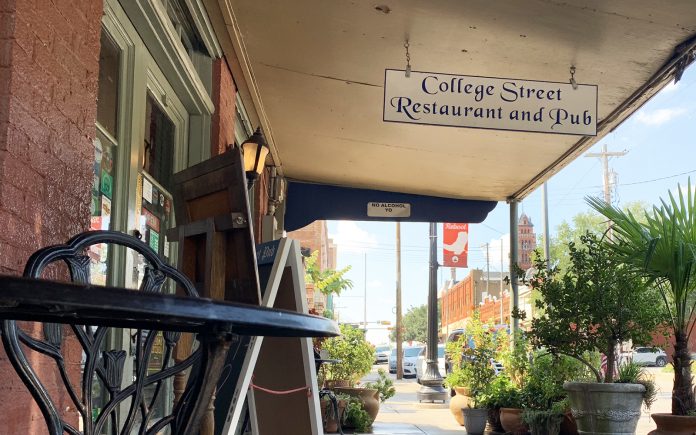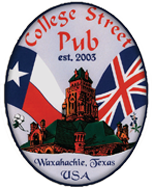 College Street Pub is one of our "go-to" spots on a Saturday afternoon when we want to have a drink, eat, and relax. The Pub has an atmosphere that encourages visitors to slow down and enjoy being together.
Visitors are made to feel at home from the moment they enter. The bartender, who may also be your server, says a welcoming hello. From there, you have the choice, to sit in the cool dark interior or go out the backdoor and eat on the patio, which is my favorite if weather permits. Often live music is playing on the patio which makes the food and the beer even better. (The schedule is posted on their website.)
Diners can start with the awesomely good-tasting items that are probably not so good for you such as fried pickles, bacon cheese fries, and sweet corn poppers. Several types of nachos are featured on the appetizer list, all of which are big enough to be a meal. After nibbling on these starters, diners have more tough decisions. There are healthy choices such as the Chef Salad, which is filling and makes me feel less guilty after eating all the fried appetizers that I can never pass up.
The classic on the menu is the Famous French Burger, which is a Waxahachie original and staple, but the menu doesn't stop there. There are many burgers and sandwiches ranging from the Cowboy Burger to the Reuben Sandwich, to a grilled Ham and Cheese, all of which are tasty and filling. The Pub does serve up some traditional English pub grub including Fish and Chips and Shepherd's Pie, which is especially good on a cold, rainy day. Daily food and drink specials are always posted outside and inside on blackboards. Children are welcome into this family-friendly environment. The kid's menu gives little ones the choice of a Chicken Strip Basket, Grilled Cheese Sandwich, or a Child Burger.
Have you eaten at the College Street Pub? If so, what is your favorite item on the menu? Please share in the comment section below.