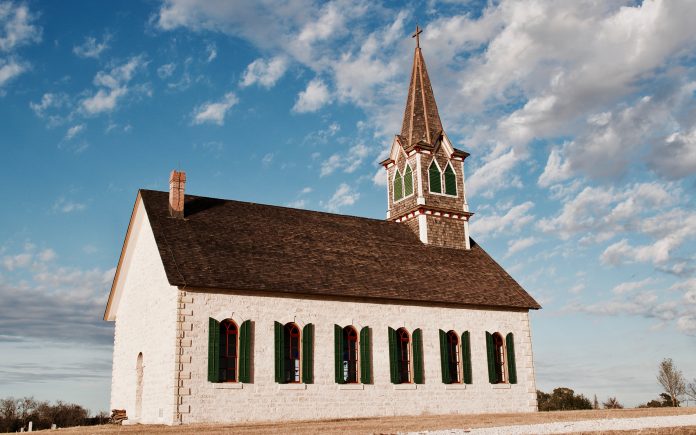 Social Media; what would we do without it? We use Facebook, Snapchat, Instagram, Pinterest and many other apps, to keep up with the world. I'm just as guilty as the next person, I use Facebook and Instagram daily, always looking at the newest pictures people post of whom I follow. My favorites though are the ones under "Backroads of Texas" or anything having to do with Texas travel or travel in general. Recently, maybe a little longer, I have noticed that there's a church that is photographed over and over by different people and posted on different accounts and this got me to wondering just where this photogenic house of God stood. So, after hitting the old map icon, I found that this destination was not very far at all, only 88 miles from the house; a spot on the map called Cranfills Gap. It's a measly 1.5 hours from Waxahachie, so I told my husband about my idea and we were set. So, after work Thursday (we were both off on Friday) we jumped into the car and headed southwest to try and catch just the right lighting for the perfect picture.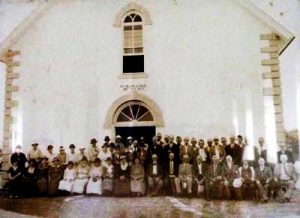 On highway 22 and FM 219 in Bosque County is where you will find the community of Cranfills Gap. Nestled near a gap in a mountain, it was named for George E. Cranfill who settled there in 1851, but the first sign of an organized community wasn't until 1879 with the Post Office and a Cotton Gin, by 1890 the community had 7 stores and 2 physicians. The townspeople were once in hopes of the railroad building through, but that never happened. The largest population was in 1940 when it reached 600, and it had around 25 businesses. Cranfills Gap was also the first town in the nation to sell more than its quota in war bonds during the fourth war loan drive of WWII. In 1980, there were only about 9 businesses and the population had certainly dwindled down.
Unknowing to me, I had been through that little spot on the map called Cranfills Gap a few years ago, not knowing that off the beaten path stood something so tranquil as "The Rock Church."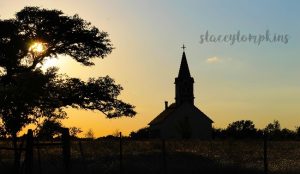 In this small Norwegian community, about 3 miles out of town is St. Olafs Kirke Lutheran Church that was built in 1886. It was built with the limestone from the area by Andrew Mickelson and his brothers Christian and Ole. The church has neither running water nor electricity and is heated by an old wood-burning stove, even though it went through restoration in 2008. Both the stove and the Vocalion Reed Pump Organ (a rare instrument which has been recently restored), were manufactured before 1900. In 1897, the Ladies Aid Organization purchased the Swedish bell which still hangs in the bell tower. An hour before services were to begin, the bell would ring, reminding people, "This is Sunday. Come to church." As the congregation grew, they needed a larger place for worship, and they were growing tired of traveling out to the country for services so in 1917 they built a new brick building in town. The Rock church is still used for weddings, funerals and special events.
Now, there is really nothing more to do in this tiny community of 281 unless you visit the Horny Toad Bar and Grill. They have great food, live music and everyone is welcome; you are sure to find something on their menu that's just right for you. It was extremely crowded when we were there and they say that the hamburger has been voted #1 by the Ride Texas Magazine, and with all the hills and curves on Hwy 22 , it's a great stop for motorcycle riders to get a bite to eat and quench their thirst!
If you are looking for something to do in December besides shop for Christmas, you can visit "the Gap" (as the locals call it) for the Lutefisk Feast which is a holiday tradition put on by the CG's Lion's Booster Club which began in 1964 to raise money for all the extras the school's budget couldn't afford. It brings the community together for this imported Cod fish from Norway. When the Norwegian Cod arrives dry around November, it is cut into pieces and soaked in tubs of water for almost a month. Although it's a tedious task, it's a custom the community looks forward to each year.
Now, if you knew me, you would know that I believe that everything happens for a reason, that fate has a big part of your story and that God puts you where he wants you when he needs you to see something, learn something, experience something, teach something, give or take something…you get what I am trying to say…
So, I wondered to myself why all of a sudden I needed to see this tranquil spot for myself. I also believe in signs, I think God puts them there for us to see when things get tough, when life seems mundane, or when things are radiant and good and life is anything but colorless, just to remind us to be thankful for everything we have.
So, when I left last Thursday around 4, I wasn't thinking that God had planned this, I wasn't thinking that this would be a learning or A-ha moment, I was just wanting to see something I thought was transcendent and sublime. But after I arrived, I realized I was led there on purpose… you see, … Wait, I don't think you would believe me if I told you, but what I can tell you is this…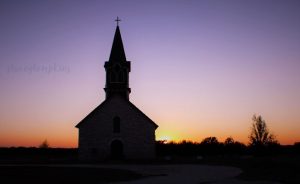 It was the loudest silence I have ever experienced, and the wind seemed to serpentine through the field of stone that surrounded that holy sanctuary. The flowers and tall grass waved at us like old friends in the breeze. I know why I was supposed to be there, so I must wonder, did God use social media to get my attention?
Unfortunately we live in a world that is so tech savvy and the communication poor, but "The Rock Church" offers you a break from the modern world, even if you just sit on the gravel road and listen to the stillness of the world.