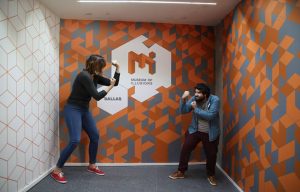 What do you do when there's not much time for a vacation? You take a staycation. We used one tank of gas and spent $50.00 for the best staycation ever. We started with the Illusions Museum in downtown Dallas. We were enchanted by the variety of illusions and photo opportunities for our Instagram site. The museum is the closest thing Dallas offers to an escape beyond the norm. Our favorite exhibit was the room where one person looks very tall while the other one looks extremely short. (My 9-year-old especially loved this room since she is ready to be taller than I am!)
After a few hours at the Illusion Museum we headed to the giant eyeball which is next to the Joule hotel. The story we heard says that the owner of the Joule hotel wanted to make a parking garage where the eyeball now stands. However, Dallas voted it down and said it would be an eyesore. The owner had the last laugh when he purchased the large giant eyeball as a TRUE eyesore in Dallas. (The real story is online, but I like this tale much better!) While the eye is on private property and you cannot get up to touch it, you are able to take a pretty good picture from the fenced-in area.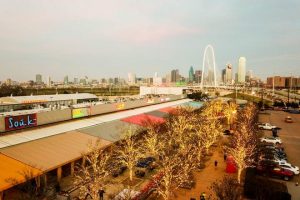 After visiting the eye, we walked back to our parking spot and headed across the Margaret Hunt Hill to Trinity Groves. We ate burgers at Off Site and then decided to drive a short distance to the Ronald Kirk Bridge. This pedestrian bridge is a great place to try out electric scooters which they, of course, have for rent. There isn't any vehicular traffic and the view of the Dallas skyline is fantastic. We rented scooters and traveled across the bridge and back. We were excited that we actually made the trip safely! We could have made it quickly, but we stopped often for selfie opportunities with the skyline as our background.
A Dallas staycation would not be complete without a stop to the Dallas Truck Yard, a food truck patio where mixed drinks are on draft and your chairs swing in the summer breeze. The cheesesteaks, a permanent institution, are fantastic. In addition to the cheesesteak stop, the Truck Yard also features two trucks Monday-Thursday and three on Friday-Sunday. The food was good, and my daughter enjoyed the photo for her Instagram selfies using the truck yard as the backdrop. After visiting with friends and enjoying the laid back atmosphere, we headed back home to put our feet up and reminisce about our enjoyable staycation in our very own city.