Eureka Springs, Arkansas, has a great deal to see and do, but we also used it as a convenient base for multiple day trips. Our first trip was to Bentonville, Arkansas, to see the Crystal Bridges Art Museum, https://crystalbridges.org/, which came highly recommended by Bob and Becky Lynn. The building itself is an architectural wonder, even if you are not into art. We enjoyed roaming through the galleries with their diverse artwork. One of my favorites was After the Last Supper by Devorah Sperber which is made of more than 20,000 spools of threat. The picture of the Last Supper can only be clearly seen when the thread wall is viewed through a viewing sphere.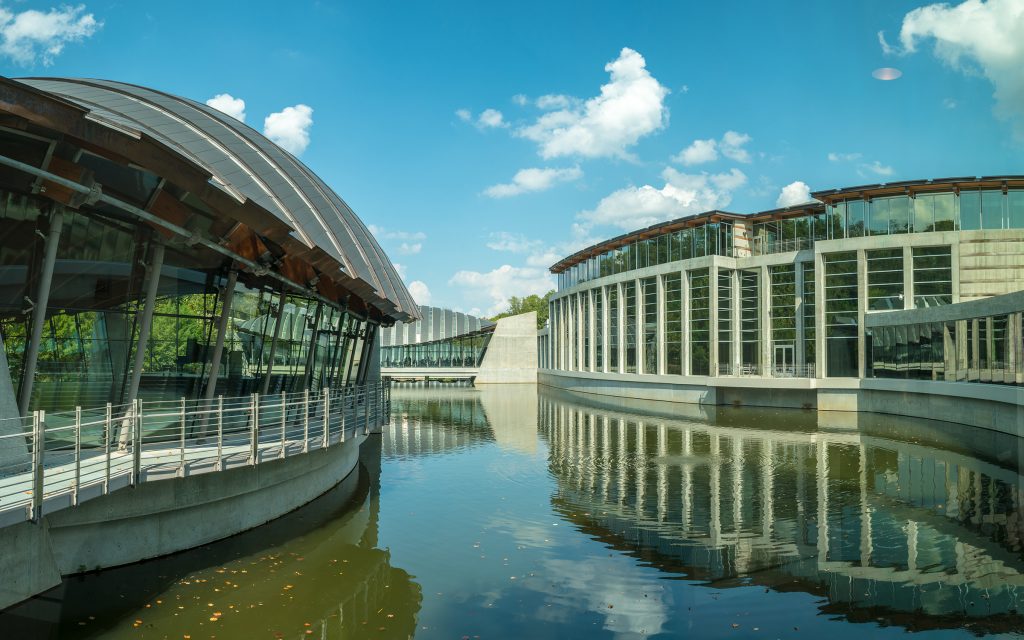 After strolling through the multiple galleries, we ventured outside into a beautiful wonderland of landscaping, statues, and even a Frank Lloyd Wright home. We did not have time to discover all four miles of trails, but what we saw were beautifully manicured and fun to explore. The Chihuly glass masterpieces, both inside and outside the museum, were especially good. We would love to go back and experience the North Forest Lights, an evening lighting exhibit, but we would stay in Bentonville instead of driving the winding, scenic road back to Eureka Springs.
A few notes about the museum: Unlike most museums, it is open on Monday and closed on Tuesday. Admission to permanent exhibits is free thanks to the sponsorship of Wal-Mart.
On our return to Eureka Springs we made several stops, the first of which was at Thorncrown Chapel. The chapel, with its 425 windows and 6,000 square feet of glass is a beautiful retreat for meditation and prayer in the middle of the Ozark mountains. The story of the chapel, built by E. Fay Jones, a mentee of Frank Lloyd Wright, is both interesting and moving. (https://thorncrown.com/about us.html ) The natural materials used in the construction make the chapel seemingly melt into the beautiful scenery that surrounds it to provide a welcome respite from the busy world.
Our last stop for the day was at Lake Leatherwood City Park for a hike of the Fuller Trail along the lakeshore. Even though our trip was in mid-October, we were able to see peeks of fall color as we looked to the opposite side of the peaceful lake. Geese formations provided beautiful reflections on the water as they flew.
Our next day's trips included a trip to The Great Passion Play's location. I had seen The Passion Play many years ago and would go again weather permitting. The trolley is a great way to access it and avoid traffic. The 67-foot statue of the Christ of the Ozarks towers over the facility and the mountains surrounding Eureka Springs. The grounds also house a petting zoo, a piece of the Berlin Wall, and an Israeli bomb shelter.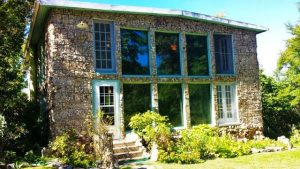 We also took time to visit Quigley Castle, an intriguing home that is on the National Register of Historic Places. Mr. Quigley was surprised one day when he came home to discover that Mrs. Quigley and their children had torn down the house while he was at work.  Mrs. Quigley went on to design and build this house with rocks that she started collecting as a child. The house, "castle" seems to be an exaggeration, has four feet of bare ground between the walls and the flooring. This space serves as a garden for vegetation that Ms. Quigley planted 70+ years ago.
After following our GPS and signs, our last stop was to see Pivot Rock, which is a short pedestal rock. The short hike is not free, but we enjoyed the trail and the beautiful hike, especially the hundreds of fairy houses that other hikers had built by stacking flat rocks.
We did not finish all the possible day trips in Eureka Springs, but there is always next time! Have you visited the city? If so, what were your favorite things to do?
– Candace Ahlfinger has loved traveling since she was little and has always been on the go whenever possible. Now she is retired and gets to do what she loves best… TRAVEL! Whether it's traveling with her wonderful husband, or our children and grandchildren, traveling is a great experience that enriches her life. Because she always enjoys reading and hearing about others' travel experiences, she wants to share her travels with the Ellis DownHome readers.