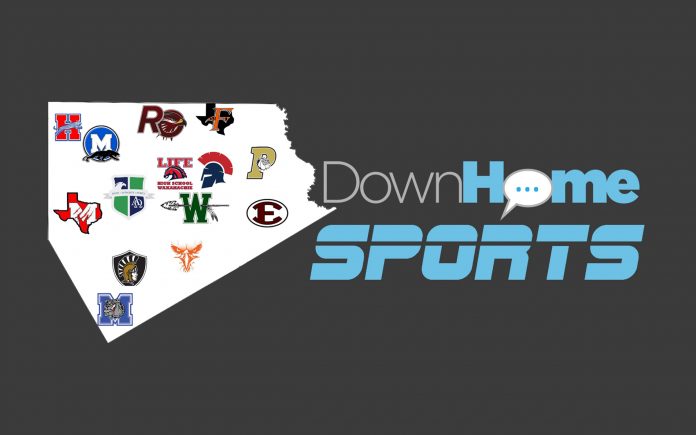 This Week on DownHome Sports:
Waxahachie Life School Head Coach, Lyle Linscomb and Bre'Anna Lacy, Junior and team captain. Ranked #3 in region in 100 hurdles and #2 in 300 hurdles. She also advanced to area in long jump and triple jump, and she will run on the 4×2 relay. Jordynn West, Freshman. District Champion in 800, 1600,3200. Currently ranked in the top 5 in all 3 disciplines in the region. #2 1600, #3 3200. Te'drick Robinson, Junior. District champion 110 hurdles and 300 hurdles. Also runs on 4×1 that is ranked #2 in region. Currently ranked #1 in region (4 in state) in 110 hurdles and #2 region (7 in state) in 300 hurdles.
26 min: Italy Softball #5 Italy 2A (24-1, 8-0) Coach Richards along with Emily Janek- Junior pitcher Cadence Hopgood- Junior Catcher Keri Scott- Junior Short Stop/ Pitcher The Lady Gladiators are living up to their pre season expectations. Pitching and Scoring have led the way. The Culture is in place for these ladies to make a deep run. The offense has been on a roar. District Play Overall: RF: 116 RF:260 RA: 4 RA:24
44 min: Highlights from around the county include: Track and Field (Midlothian, Ennis and Red Oak) Baseball (Midlothian, Red Oak, Midlothian Heritage, Ferris, and Maypearl) Softball (Midlothian Heritage)
48 min: Red Oak Baseball Assistant Coach Kyle Spurgin, along with Starting Pitcher Trevor Proefrock & 3rd Baseman Joshwa Jantes. They talk about the scrappy team coming back from an 0-4 start in District to battling back with 4 straight wins to be in the hunt for a playoff spot!
Brought to you by Pinnacle Bank Texas in Midlothian, Dough City Pizza + Burgers in Red Oak, and Elite Foot & Body in Midlothian.