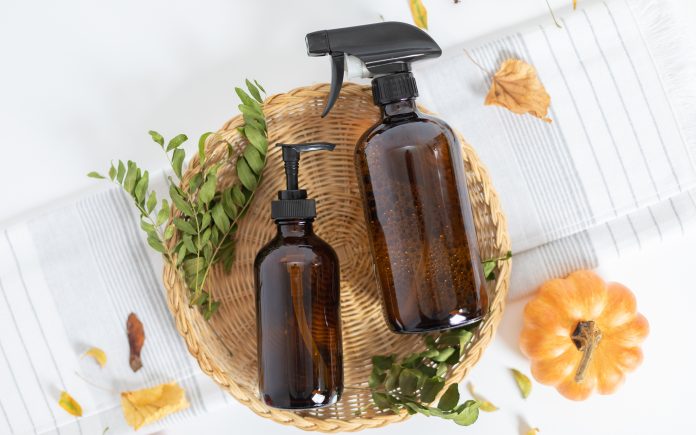 Sometimes in Texas, we aren't 100% sure if we're going to get an official fall, so it sure is exciting when we start to see some color in the trees and feel that crispness in the air!
We might be sitting around a campfire roasting s'mores and drinking pumpkin spice lattes at night, but by day, we are turbo-cleaning our houses for our Thanksgiving guests… am I right?
To support you during "Pumpkin Spice Season" and what's REALLY happening when you're not in your cozy sweater and boots, I thought I'd pass along some of my favorite toxin-free living cleaning tips!
Step one… put something FABULOUS in your diffuser to give you that "I'm at the pumpkin patch" feeling while you're rolling up your sleeves.. Try one of these to get you in the groove:
Pumpkin Spice Diffuser Blend:
▪️5 drops Orange
▪️3 drops Cinnamon Bark
▪️2 drops Clove
Apple Pie Diffuser Blend:
▪️6 drops Stress Away
▪️3 drops Cinnamon Bark
(I only recommend Young Living™️essential oils, which are therapeutic and guaranteed to not have harmful fillers.)
For more diffuser ideas, check out our Pumpkin Spice and Everything Nice article!
Besides hydrogen peroxide, baking soda and vinegar, I use ONE cleaner. Yep… one single solitary cleaner to clean my raw turkey counters, my tile floors, my showers, toilets, carpets… EVERYTHING. So if you look under my sinks, you'll find ONE cleaner: Thieves®️ Household Cleaner.
Again, my favorite company on the planet, Young Living™️ delivers another life-altering product! Guess what? Not only is it 100% safe for my family and pets, it smells like FALL! It combines the powerful essential oils of cinnamon bark, eucalyptus, lemon, rosemary and clove (I bet you can smell them already!) If you look up "benefits of _______" and plug in any of those essential oils, you'll be impressed!
Here's a fun Thieves®️ Household Cleaner 21 day cleaning challenge! Hard to believe one cleaner can do all this, but it can!! One capful is equivalent to 1/2 T (or 1/4 oz)… so a little goes a looooong way!
I also like to polish my woodwork with coconut oil… it works beautifully and no harmful chemicals! Plus, there's something about coconut oil that makes me feel like I'm on vacation.
Although there is a glass dilution for Thieves Household Cleaner, I usually only clean my windows and mirrors with water. I use a wet microfiber cloth (like Norwex or e-cloth). I'll then go over it quickly with a squeegee and polish up any streaks with a tightly woven microfiber cloth designed for glass. I can do my entire back wall of windows and french doors in about 15 minutes.
Last little cleaning tip… I recently discovered and tweaked this MAGICAL grout recipe (I've tried them all) and could hardly believe the results! I promise, you'll be utterly amazed. Once you start, you won't be able to stop… it's just too fun watching the magic happen. Let it sit for several minutes (I let it sit while I went for a walk through the woods), then rinse wipe off with a sponge or paper towel.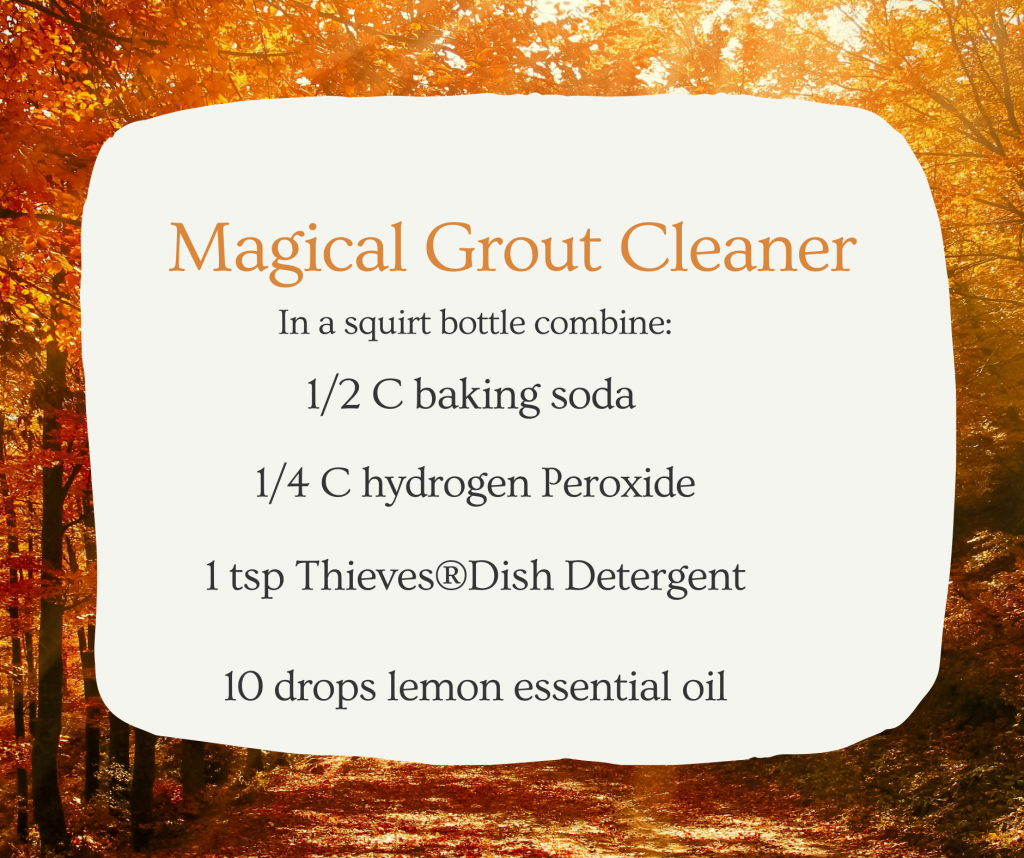 Enjoy your pumpkin spice spa experience… oops, I mean… happy cleaning!!
* Thieves®️ products are exclusively purchased through Young Living. Young Living™️, like Costco, requires a membership to make purchases. A one-time fee of $35 provides a lifetime account (and comes with a bottle of Stress Away). Or you can choose a starter kit, which has significantly discounted products. The Premium Starter Kit includes a lifetime membership, medical grade diffuser and 12 essential oils (over $400 worth of product for $165). This is absolutely my recommendation. The Thieves Starter Kit is also an excellent way to jump start your toxin-free journey. Find a YL distributor to help you set up an account and use their referral link. Or, you are welcome to use mine – for more info, go to 
karenscott.lifestepseo.com

– Karen is a life-loving, sunset-seeking, toxin-free living enthusiast. She's been married to her camp crush for over 25 years. After years of homeschooling their 2 boys, she now spends her free time gardening, raising chickens and mentoring families on their toxin-free journey.