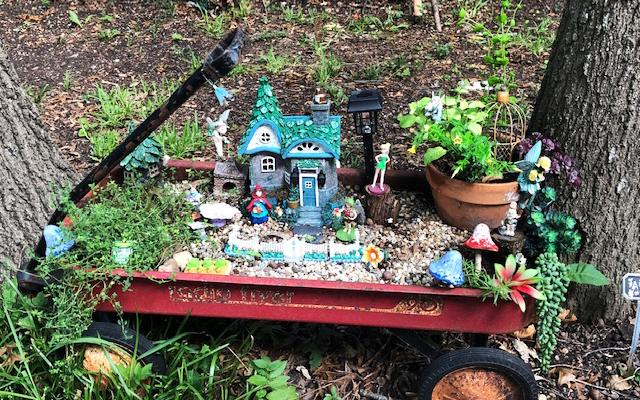 I am a member of Corsicana's Better Gardens, and I do no remember when I got interested in fairy gardens, but I was living in Houston's Camp Logan area near downtown and had only a "patch" to work with, as my front yard was very small (maybe 12 x 12).  I have always loved English gardens and tried several ways to mimic an English garden in my patch. I began reading about fairy gardens and started with a concrete gnome house and added a few fairy figures. I received a few comments from those walking by as we were so close to the street and right on the sidewalk. I never do just one of anything so the next thing I knew I added more houses and one by the big tree in the ditch near our corner. (All kinds of items by the big tree for about 5 years and never one item stolen and only a few washed away during heavy storms.)
About 4 years ago we moved to Waxahachie, and one of the big draws was having a big yard and many, many trees and nooks for woodland fairies, goblins, elves and such. I was in heaven having so much yard to work with for my fairy projects.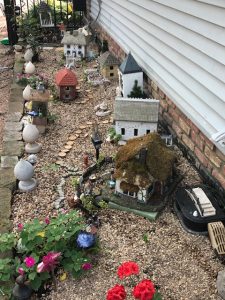 I always look for the unusual items that I do not see duplicated. Most of my fairy houses are made of concrete or hypertufa. I have a few resin houses but not many, as I like for my houses to be of natural materials although some do not make it through the winter. I currently have four big sections and then various smaller collections.
Pixie Lane has a rose bush and some periwinkles planted among my hypertufa English cottages. This was a flower bed by the side of the house wherein I removed all the azaleas that were old and not blooming very much.
Fairy Hollow across the driveway from Pixie Lane is a collection of 3 willow branch pot plant structures. One of the structures has Belle and The Beast inside with a chandelier, piano and the chest of drawers from Beauty and the Beast. The largest willow has 3 potting areas for fairies, Peter Rabbit characters and a reading room which contains various animals reading books. I use mostly artificial succulents in the pot plant spaces to avoid wood rot from watering.
Willow Briar and Bramble is still a work in progress but is contains characters from the Wind in the Willows. I bought two of the characters while on vacation in Niagara Falls with my grand-daughter two years ago. Well, I could not stop with just Mr. Mole and Mr. Badger so I ordered Mr. Ratty and Mr. Toad and prayed they would arrive in one piece from the UK. The UK have the best pieces, however during the time of COVID it takes forever to get an item through customs. With Mr. Ratty and Mr. Toad in place, I decided I probably needed to re-read The Wind in the Willows. Of course, now I needed a Toad Hall. I have a few fairy houses and gnomes in this area along with pots of periwinkles and shrubs all around.  Willow Briar and Bramble still needs some work, but hey I am retired as of July 24th and plan to get working on the area when it cools a bit more.
Pixie Park contains 3 bronze sculptures from the UK: Jiggle Worm (goblin/pixie fishing), Horn Blower (goblin blowing a horn), and the Jumpers (2 goblins/pixies playing leapfrog).  They all sit in monkey grass and surround a huge stump (4' x 3') I had my yard men rescue from a neighbor's yard. There are some concrete frogs and mushrooms here also.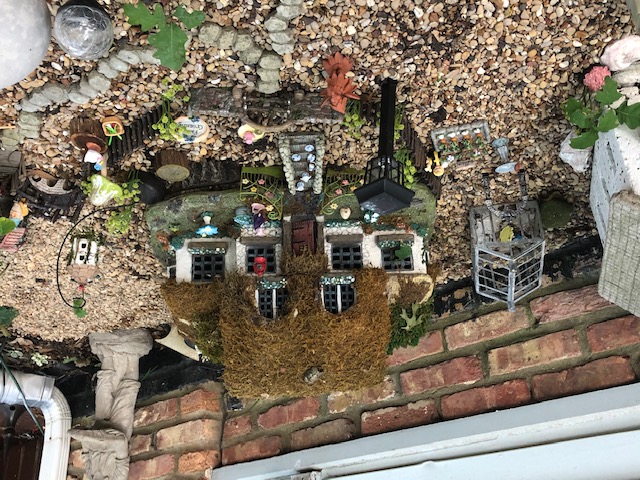 I have an area dedicated to rabbits and another work in progress with some gnomes. In addition, I have set up a few areas by my big trees next to the street that neighbors enjoy looking at while walking by. Many had never even noticed the fairy houses out by the road until COVID and people took to walking the neighborhoods more in the morning and at night with their kids or grandkids. Our home has become somewhat of a destination for some on their walks just to see if anything is new.
In conclusion, I find herbs do very well as plants for a fairy gardens as well as ferns for shady areas. I continually fight the squirrels who hide nuts and dig in my fairy gardens. A suggestion was made to me to use predator pee to deter the squirrels, so I am going to try it.
I really enjoy playing outside and working with my miniatures! Do you have a fairy garden around your home? If so, we'd love to see photos of it! Post in the comments below.