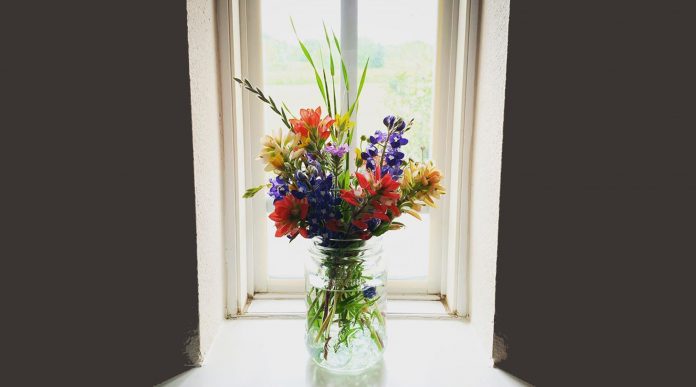 I don't know about y'all, but I'm growing weary in this season of "stuck". I love people – being around them, eating in restaurants with them, and just generally enjoy the bustling of our downtown square on a weekday. I miss people. So, I have had to get creative at times to channel the boredom and escape, even for a little bit. (My family probably appreciates that, as I can get cranky!)
One way I have found that brings a calmness to my soul has been walking outside on our land. We have close to 9 acres, and every spring, wildflowers show off their beauty on almost every acre we have. At first, we see bluebonnets and Indian Paintbrush, but a few weeks in, we begin to see every color in the rainbow… but you have to look a little closer to find them.
My first excursion was to make a bouquet for a dear friend's birthday. She loves fresh flowers, so I knew that I wanted to pick her some from our field. I hadn't even planned to create some kind of rainbow display, but as I walked, I kept finding different flowers and colors. Before long, I had counted 7 kinds!
I took them all inside and began crafting my arrangement. Side note: my grandmother, Jane, was the master of all master gardeners. She was the plant whisperer – she could get anything to grow, and I grew up amazed by her creativity and ability to turn any corner of her home or her yard into a work of living art. Before I was born, she owned a flower shop here in Waxahachie. My mom actually worked for her in high school (how fun is that?). So maybe as I laid out my 7 types of flowers, I tried to channel my Memaw's eye for floral design! My friend loved them, so that was enough for me!
A few days later, I made two more arrangements… both to be given away to some special ladies in my life. This time I found more varieties of flowers and grass to use… even a sprig of this gorgeous, purple-y wheat that in a month or so will take the place of all this color and wave like water across this landscape.
See, sometimes we just need to find something, anything, that will calm us down and help us feel like everything in the world is going to be ok. It may be going for a walk, reading a book, painting, drawing, listening to music, or counting how many different types of flowers are on your land! But anything that brings a stillness is something worth finding.
This situation we are in is unlike anything we have faced. The foundation can be fear, and the reality scary, but remembering to take care of ourselves is important and necessary. This weekend, try to carve out some time for yourself. Find something that gives you peace of mind and heart. Stay safe and well. Remember we are all in this together!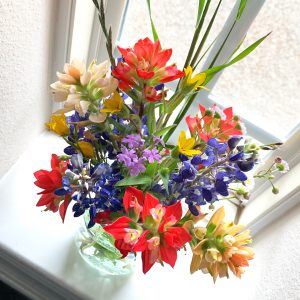 What have you done to take care of yourself during this time? Please share it with us and help give others ideas!
– Ami Trull is the Content Manager for EllisDownHome.com – She is a 5th generation resident of Ellis County. She and her husband, Jay have two sons. Ami is also a photographer and graphic designer. She is passionate about telling the stories that matter most.