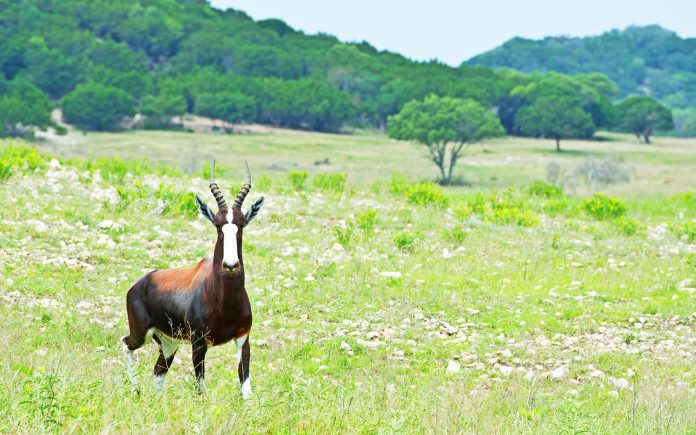 *Note: Fossil Rim is temporarily closed to the public in light of the Covid-19 quarantine. See the link at the end of this article to stay up to date on when they will reopen!
An hour and a half drive down Hwy. 67 from Waxahachie to Glen Rose, TX gives children and adults entry into a totally different world at Fossil Rim Wildlife Park. This driving park has many options that provide insight into the environments in which the animals live.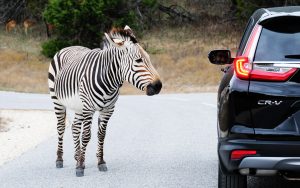 Guided tours are available but must be booked at least three days before visiting. There are early morning, sunset, and family tours as well as other specialized options such as a photography tour. You can also check the calendar on the website for celebration dinners.
We haven't taken one of the tours but instead have driven ourselves around the 7.2 Gosdin Scenic Drive which takes 2-3 hours depending on the number of animals out and the amount of traffic traffic. We always get food for the giraffes before we start and have been rewarded with giraffes coming up to the car windows to look for the expected food. Ostriches also flocked to our car to get food, but be warned. Their hungry pecks can be vicious. Also, don't feed the animals any food other than what is provided at the park as it can hurt them.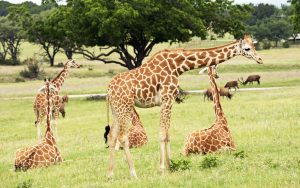 In addition to giraffes and ostriches, we saw zebras, rhinos, cheetahs, antelopes, and wolves—just to name a few. Our 8-year-old granddaughter had a wonderful time serving as our lookout for animals and feeding ones that came up to the car. She also enjoyed taking pictures of the various animals and feeling as though we were in Africa.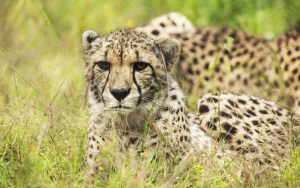 Halfway through the tour at the Overlook is the Children's Animal Center and the Overlook Café with its windows overlooking the park. Here you can have a bite to eat or get close to a 100-pound tortoise, emus, various types of birds, and adorable dwarf goats. The petting zoo gives children a chance to learn how to pet animals and the correct way to interact with them.
If you want to extend your stay at Fossil Rim Wildlife Park, you can stay overnight in one of several types of lodging, either the Lodge or the Foothills Safari Cabins. Pricing based on time of year and day of the week. We try to arrive early in the morning when the animals are most active, but if you stay overnight you can enjoy the breakfast buffet and then take an early morning tour before the gates open to others.
Fossil Rim is a fun day for nature lovers of all ages. Click here to visit their site!
– Candace Ahlfinger has loved traveling since she was little and has always been on the go whenever possible. Now she is retired and gets to do what she loves best… TRAVEL! Whether it's traveling with her wonderful husband, or our children and grandchildren, traveling is a great experience that enriches her life. Because she always enjoys reading and hearing about others' travel experiences, she wants to share her travels with the Ellis DownHome readers.