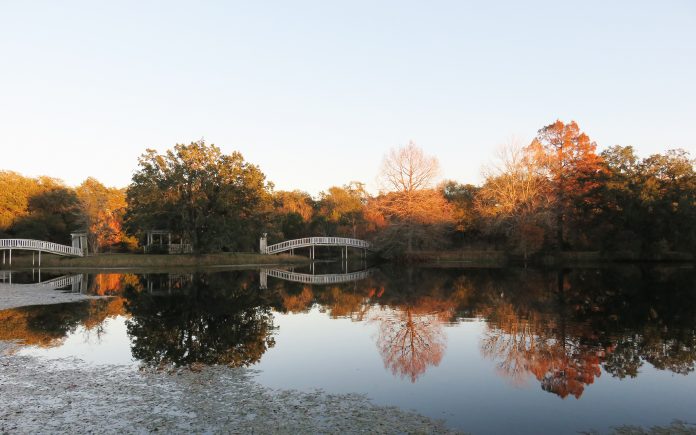 Growing up and when our children were younger, tent camping was our standard way to vacation; however, no matter how much I enjoyed the natural setting tent camping provides, it is not on my bucket list. Enter… glamping, where we can enjoy a natural setting with all the amenities of home.
My husband and I decided to try glamping at Blisswood Bed and Breakfast Ranch in Cat Spring, Texas. (I had to get the map out to find this place. It is located about an hour west of Houston.) Blisswood has many cabin options but only one opportunity to experience glamping. The large tent is located at the end of the road, surrounded by peace, quiet, and exotic animals.
We texted as we got close to this 500-acre working ranch and were met at entrance with a beautiful view of a small lake lined with autumnal-colored trees and spanned with white bridges. For a moment it was easy to believe that we had left Texas and were somewhere in New England—albeit a flat New England. A truck was waiting to escort us to our tent, which was good since it took some winding to arrive at our home for two nights. (We discovered later that the gentleman who met us was Skeeter Hagler, a Pulitzer-Prize winning photographer from Red Oak, Texas.)
Outside our tent was a fire pit and grill as well as comfortable chairs and a table on the long porch. Our mouths probably fell open in amazement when we unzipped the flaps and found ourselves in well-decorated living quarters. The mix between safari and rustic made the charming space feel warm and welcoming. The seating area centered around a wood-burning stove and held games and books for visitors to use. (Blisswood provides fuel for the fire pit, grill and the stove as needed.)
The king-size bed with leopard print bedding anchored the well-appointed room with plenty of sitting options as well as a table and chairs. The kitchenette is well-equipped with dining and cooking utensils, a large refrigerator/freezer, a large toaster oven and more. Carol, the owner, will provide breakfast and, during Covid, will leave it in the refrigerator to welcome you. They will also provide a picnic lunch and multiple dinner options that allow you to prepare the meal or to dine on a chef-made feast. We opted to bring our own food which was easy to prepare with all they had on hand for us.
Out the front of the tent is a very large enclosure containing bison, ostriches and exotic deer. We enjoyed walking the fence line while watching the animals while they, in turn, watched us. Our walks also took us through idyllic pastures of horses and cattle. Blisswood offers horseback riding, archery, fishing, bike riding, tomahawk throwing, and more. We enjoyed simply walking around the property and enjoying the peaceful, scenic views while using this picturesque, relaxing place as our home base for area exploration.
My husband and I both felt a little sad as we closed the gate, literally, and left Blisswood Bed and Breakfast Ranch and headed home. Two days of getting away in such a beautiful, relaxing place do wonders for the soul.
Have you stayed at Blisswood or had other glamping experiences? If so, please share them with us.
– Candace Ahlfinger has loved traveling since she was little and has always been on the go whenever possible. Now she is retired and gets to do what she loves best… TRAVEL! Whether it's traveling with her wonderful husband, or our children and grandchildren, traveling is a great experience that enriches her life. Because she always enjoys reading and hearing about others' travel experiences, she wants to share her travels with the Ellis DownHome readers. 
To find out more about Blisswood, visit their website here.