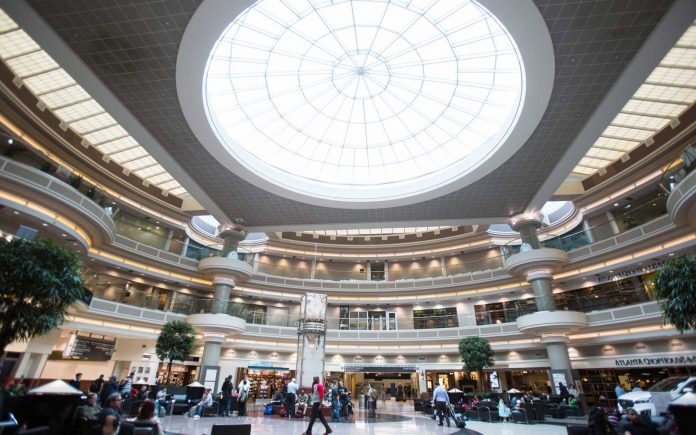 Horrible news abounds about airports and long layovers; however, for me the Hartsfield-Jackson Atlanta International Airport is a great place to be stuck for a few hours, in spite of or because, it is the busiest airport in the US.
For travel between terminals there is a speedy train that whisks riders to their next gate, but I prefer to walk if I have the time. Between Terminal T and A, Atlanta has The Conversation by Agnes Nyanhongo – a series of African statues and art. You can see the art while walking briskly or take your time and examine each work in detail. (Over the years I've done both depending on how much time I have between flights!)
Between A and B is Flight Paths by Steve Waldeck which makes a visitor feel as if he is walking through a Georgia forest with trees and birds overhead and water beneath your feet. A Walk Through Atlanta History by Ayunini Media is featured between Terminals B and C which showcases videos and the movers and shakers of Atlanta's history. Unfortunately, I've never taken time to watch and/or read every display, but I try to discover something new each time I go through.
For more about other Hartsfield-Jackson Atlanta International Airport art, go to http://www.atl.com/about-atl/airport-art-program/ .
Every terminal has multiple restaurants from fast food to airport-elegant dining so with enough time, passengers have a wide range of choices. One of my favorite things about this airport is that, unlike most airports now, it has a restaurant outside the gates, T.G.I. Friday, which has good food and great customer service.
Of course, shopping is available in every terminal. Do you need a book or a last-minute souvenir? No problem. There are multiple bookstores and Atlanta souvenir stores. Did you forget to pack makeup or even a dress for that special occasion? Again, no problem. Several makeup and clothing stores flourish within the airport. To be honest, the only type of store I haven't noticed is for furniture, but I also can't imagine trying to get on a plane with a sofa or dining room table!
To be fair, arrival to and departure from the airport can be tedious depending on the method you choose to use. Uber and Lyft are good options, but current construction has narrowed traffic lanes and made it more difficult to get to the drop off area. Atlanta's public train system (MARTA) leaves directly from the airport and arrives at many locations throughout the city if you are visiting friends. Rental cars are located offsite, but you only have to cross the street from the terminal and catch the rail to get to the rental car or convention center locations.
It can take a significant amount of time to get through security, which is why I prefer to go early and then spend any extra time walking at the airport. (For those who don't like to walk, there are lots of excellent restaurants, bars, and waiting areas so you can eat, drink, and people watch!)
As always, flexibility makes the adventure more fun.
Do you have a favorite airport? If so, please share with us.