Ahead of Her Time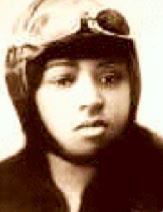 Bessie Coleman, who grew up in Waxahachie, was the world's first licensed black pilot. The daughter of Susan Coleman, she was born in Atlanta, Texas, on Jan. 26, 1892, the 12th of 13 children. It was in 1920 that Coleman, acting on a lifelong dream of learning to fly, traveled abroad to attend aviation school in Le Crotoy, France, after discovering that no American school would accept black students. She was issued a license June 15, 1921, by the Fédération Aéronautique Internationale, giving her the distinction of being the first black person in the world to become a licensed pilot.
She returned to the United States in 1921 with a goal of opening a flight school for black students in addition to making flying her career. Coleman's first American air show was at Curtiss Field, near Manhattan, on Sept. 3, 1922, and followed its success with exhibition flights across the country. She made her way back to Texas in 1925 and established her headquarters in Houston. Her first performance in Texas took place in that city June 19, 1925. Her daredevil stunts and hair-raising maneuvers earned her the nickname, "Brave Bessie," and she became one of America's most popular stunt fliers.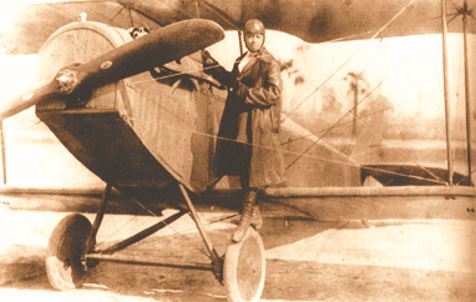 She primarily flew Curtiss JN-4D planes and army surplus aircraft left over from the war and often gave lectures to schools and churches to encourage young black men and women to enter aviation. On one occasion in Waxahachie, she refused to give an exhibition on white school grounds unless blacks were permitted to use the same entrance as whites. The request was granted, although blacks and whites remained segregated once on the grounds.
She had her first major accident in 1924 while barnstorming in California and took a year off to recover. On April 30, 1926, she died during a test flight before a show sponsored by the Negro Welfare League in Jacksonville, Florida. About 12 minutes into the flight, the plane did not pull out of a nosedive as planned; instead, it did a somersault and dropped Coleman to her death. Her mechanic and publicity agent, William Wills, fell with the plane and died on impact. After funeral services in Jacksonville, which were attended by hundreds of admirers, Coleman's body was returned to Chicago, where she had made her home, for burial in Lincoln Cemetery.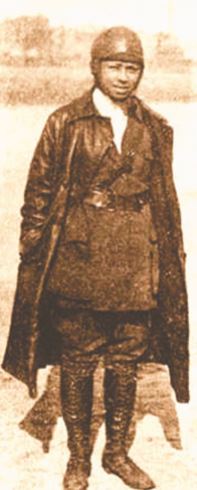 Although her dream of establishing a flying school for black students never materialized, the Bessie Coleman Aero groups were organized after her death. These flying clubs sponsored the first all-black air show in America, which attracted 15,000 spectators. Over the years, recognition of Coleman's accomplishments has continued to grow, including the U.S. Postal Service's issuance of a 32-cent commemorative stamp in her honor.
Here in Waxahachie, a street, Bessie Coleman Boulevard, was named in her honor, and a placard recognizing her life was placed in Freedman Memorial Plaza on Martin Luther King Jr. Boulevard. At Mid-Way Regional Airport in Midlothian, a plaque honoring her life was installed next to the terminal building in 2015 on the 90th anniversary of Coleman's flight to Waxahachie.