This small pre-civil war town is considered to some to be the most haunted small town in Texas… and after staying there for 4 days, I can see where some would choose to believe this to be true!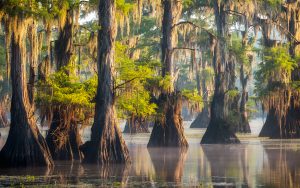 Now there's lots to do in this cute little east Texas town and it's a short drive for a fun family getaway; a girl's trip or just a weekend with your special someone! You can drive over to the Caddo Lake State Park and rent Canoes or Kayaks, take some beautiful pictures or do a little fishing. And if it's fishing you like then there are several guided tours for fishing or even photography tours through the 25k+ acres that make up Caddo Lake. Caddo is home the largest bald cypress forest on earth, some of the trees are more than 500 years old. The trees look like no other you'll find in Texas; the Spanish moss hangs gracefully from their branches that seem to tease the water that reflects the Jurassic look the scenery has to offer.
Even though I loved seeing the beauty of Caddo, I went to Jefferson for a specific reason…to ghost hunt. I even made my husband by us an EVP reader and a recorder…you know, like the ones you see on all those ghost hunting adventure shows. Why? Some may ask, others, why not? I thought it would be fun, an adventure. I wasn't afraid since out of the 6 houses I have lived in during my life, 3 maybe 4 have been haunted. I don't expect you to believe me, that is your choice, but either way this is my story.
So, my husband and I set out a few weeks ago for one last summer getaway before I went back to work. After doing a little research we decided to stay at the Kahn hotel. We called for reservations and ask what room the most recent "activity" had, their reply, "room 201", so 201 is what we booked for 4 nights – yep 4 nights! My friend and 2 of her friends as well as her daughter, were meeting us there on our 3rd night, just in time for the weekend and some karaoke at Auntie Skinner's (which is a must if you go to Jefferson)!
Now, here is a little bit of history about the Kahn. It is one of the top ten most haunted hotels in Texas, it was originally built as a Saloon in 1865, and became the Kahn hotel in 2016/2017. Besides the saloon, it's been a brothel, a mercantile and a funeral home and over 300 paranormal investigations have taken place in the building over a ten-year period!
The most active entities are Billy, a male ghost who seems to like women more than men, he is friendly and likes to move things and or hide them from guest, he is thought to be a groom killed by his bride's father. The brothel madam, Jessica and her young son Andrew were killed during a robbery. Andrew was drowned in the upstairs bathtub and Jessica was supposedly shot, she is known to be seen upstairs in the hallway or in at the top of the stairs, it has been reported to hear her walking down the hall and coming in and out of rooms. Andrew is playful and sometimes you can hear running of "smaller feet" and muffled child-like laughter. There have been other murders and a few suicides that have taken place in the old building as well; Jacquelyn and Abigail were prostitutes and 2 men shot and killed each other over the beauty of Jacquelyn, those men share a common grave in the Oakwood cemetery there in Jefferson. Jacquelyn was so upset over it she hung herself upstairs. It is not known exactly how Abigail died, but is said she will sit down on the end of the bed with you.
In fact, the whole town seems to be riddled with ghostly apprehensions. Every building, or store we went in, the shop owners or patrons were able to tell us stories. I guess you might be wondering if we had any experiences. Well yes, yes, we did.
The first night I did NOT sleep one wink…not even a flutter, it felt like I was under a microscope with a million eyes looking at me. We soon figured out that we weren't the only ones in the building, human wise that is, because we were the only living people in that whole building that first night. We didn't even see the manager because she called us on our way there to tell us the code for hotel entrance and that our room key would be in our room door, she needed to leave because of a family emergency.
The next day we went out and explored and looked around and ate at the best pizza place…ever. Bulldog Pizza, you HAVE got to try it, the owner is a hoot and has a very interesting way of telling his story and how he got to Jefferson, Tx from his home in the country of Iran over 40 years ago…loved the food, the place and the friendliness of the owner and employees!!!
Anyway, back to the ghosts! The 2nd night wasn't as bad since other guest had arrived, luckily guests I could see and knew were real, so I felt a little more at ease, now I know I said I wasn't afraid, but an uneasiness stayed with me, like my shadow on a sunny day. We were eating our left over pizza and watching some TV, my husband was standing across the room from me when something or someone (that I couldn't see) grabbed my elbow playfully. Now before you get all skeptical on me, I wasn't dreaming, I'm not lying and I hadn't been drinking. I stayed out in the hall after that with the door open for a good 10 minutes. I can't explain that feeling, I can't explain that touch, only that I wont forget it anytime soon. However, I did sleep that night, but I don't think you could have gotten a piece of thread between my husband and I, I wanted to be as close and possible – "stuck like glue" had a brand-new meaning for me!
Now, I could go on and on, and I really hate to just abruptly stop with all the other details of our ghost adventure I am leaving out, but I just don't think I should tell you everything because then its just another ghost story. I think it's something you should experience yourself; I think everyone's experiences are different, they would have to be, wouldn't they? After all, we are all different and so are, they. I will tell you this though – on the morning of our last day at 7:50 am, my husband and I were woken up simultaneously, along with our friends in the next room to loud heavy shoes (like the ones women wore in the old west brothel days) walking out of their room, past our door and vanishing about halfway down our wall. I also must mention that our room was next to the stairs, the halls and rooms are all wooden so you can hear everything, where things begin and where they end. We have audio, video and one picture that was taken downstairs by the other set of friends that were with us, and because of all the noises that last day, the pictures we all shared with one another and stories that we shared about "what happened" in each of our rooms the night before, we left a day early.
If you are adventurous and want to do a little ghost hunting on your own, then this is a great place to find them, just be careful not to bring one home with you. If you just want to be an observer and take a ghost tour, they have them on Friday and Saturday nights, that start right outside the Kahn hotel.
Will we go back? Maybe…