Our challenge was to find a place we had not explored that had shopping, restaurants, hiking and even a special events venue. The task was made more difficult because we only had 24 hours for this getaway. The answer led us to a town that we had previously used only as a gasoline stop on our way to Houston—The Woodlands.
We checked into the Embassy Suites in The Woodlands after exploring the many options in the area—from resorts to budget to luxury hotels. The hotel is a beautiful place with an excellent breakfast and happy hour. The employees were very helpful and were always available for questions.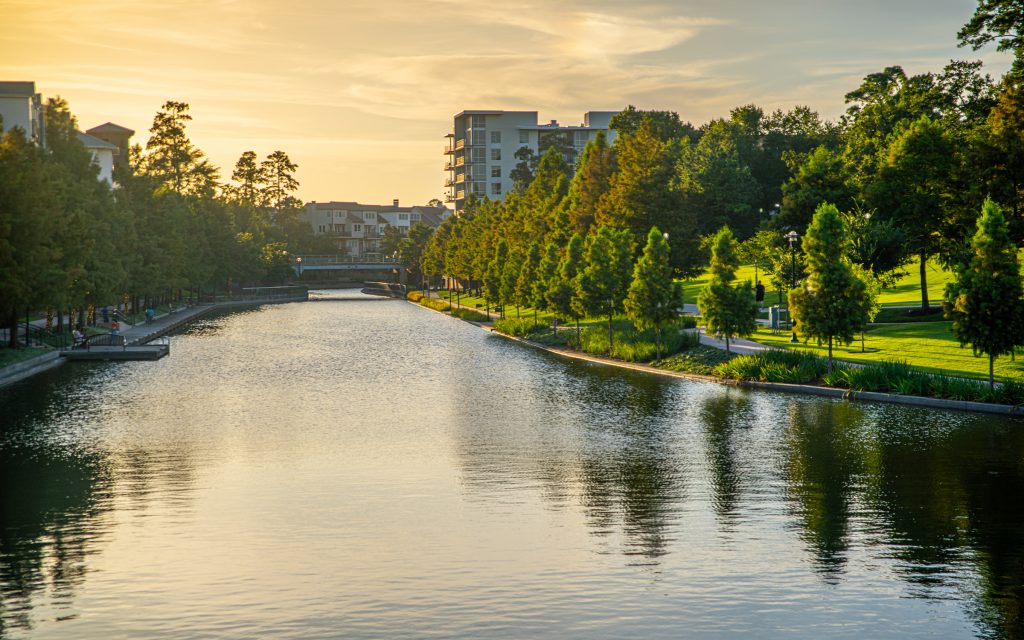 Embassy Suites lies in Hughes Landing on the edge of a scenic lake. The lake features a walking/running path complete with benches where visitors can sit to contemplate the peaceful scene and enjoy the antics of the ducks. Within a block from the hotel, there are multiple restaurants and even a Whole Foods grocery store in case visitors want to pack a picnic for a hike.
In front of the hotel is a stop for the trolley, a free service that eliminates the need for finding parking. The trolley makes multiple stops including The Woodlands Mall, Market Street, Town Center, The Woodlands Waterway, and Hughes Landing. There is even an app for visitors to plan their trips.
Our first stop in our exploration was the Market Street area. Restaurants, the Hyatt Centric hotel, and shops gave us lots to see and do. Tommy Bahama has a greater presence in this open-air mall than I have experienced in any other place. They have a home store, a clothing store, and a restaurant. Although with Covid there are several stores out of business, there are still many shops open including Starbucks, Lush, Orvis, and Eddie Bauer just to name a few.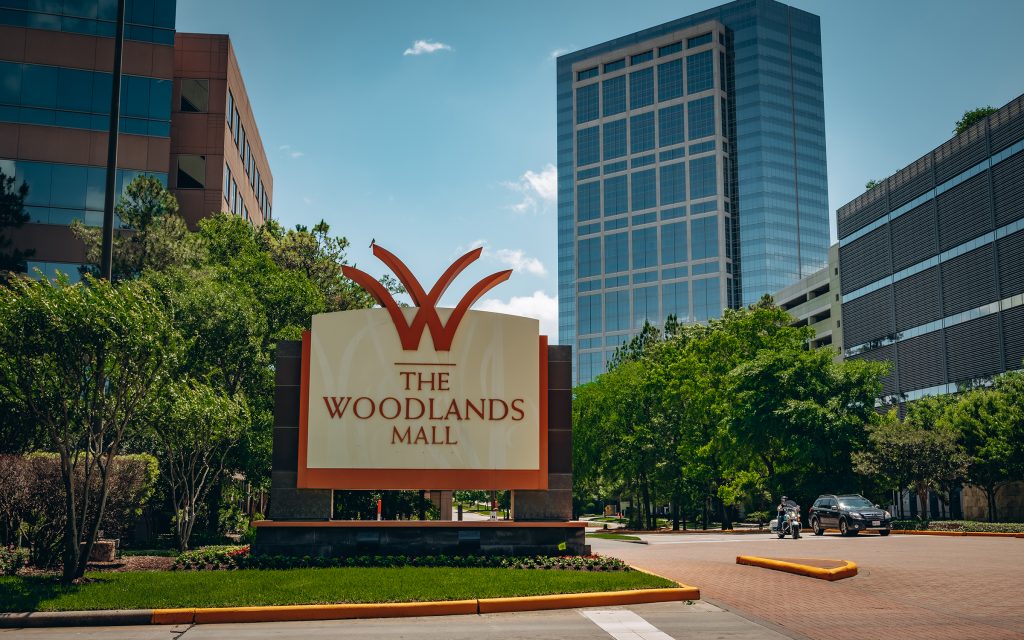 Our next stop was The Woodlands Mall. Barnes and Noble always beckons us and this store was no exception. As much as I embrace reading books online, there is something about holding a physical book in my hands. The mall has a wide variety of shops from the standards such as Macy's and Dick's Sporting Goods, to one of my favorites, Oil and Vinegar that allows me to restock flavored items of each type.
Visitors should not starve in the area since there is something for everyone. This trip we ate at BellaGreen for lunch and Hearsay on the Waterway for dinner. Hearsay has a beautiful patio overlooking the Waterway, but the interior also has a wonderful ambience and excellent food and service. The dishes we had–Kung Pao Shrimp and Calamari, Chicken Fried Texas Ribeye, Jumbo Bacon Wrapped Shrimp and Grits, and Seafood Fettuccini—all were creative takes on traditional dishes. (In other stops, we have eaten at Schilleci's New Orleans Kitchen where I get my fix for Cajun cuisine and, best of all, beignets.)
We had time the next morning to take a short hike in the George Mitchell Preserve along the Rob Fleming Trail. The trail is an easy one and we would have hiked further, but a large sign said, "Caution: Archery in Progress." Not knowing how we would be cautious if arrows were flying in our direction, we chose discretion and turned around.
Our 24-hour visit did not include getting on the water in Swan Boats or in kayaks nor did it include a visit to the Cynthia Woods Mitchell Pavilion for an event since the outside venue is most used during warmer months. As always, we now have more than we can do in perhaps a future visit to the area.
Have you been to The Woodlands for an overnight stay? If so, what were your favorite things to see and do? Please share in the comments below.
– Candace Ahlfinger has loved traveling since she was little and has always been on the go whenever possible. Now she is retired and gets to do what she loves best… TRAVEL! Whether it's traveling with her wonderful husband, or our children and grandchildren, traveling is a great experience that enriches her life. Because she always enjoys reading and hearing about others' travel experiences, she wants to share her travels with the Ellis DownHome readers.