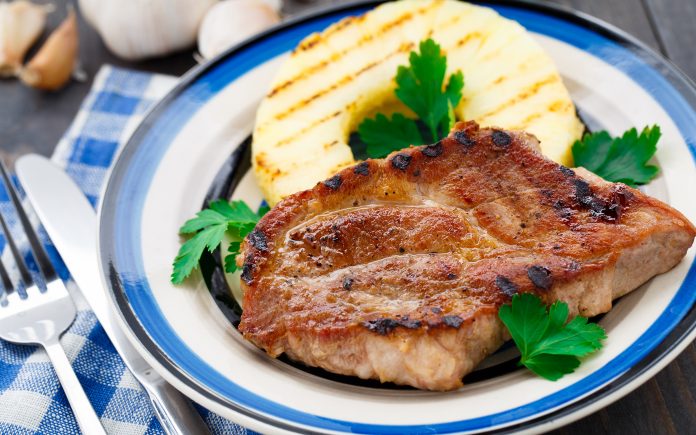 I don't know about you, but when it's sizzling outside, I don't want to be sizzling in the kitchen! I love to cook, but sometimes it's just too hot to be stirring a pot. There are ways to avoid doing that: eat salads, order in, take out, dine out, do without or cook out. All are good options, and perhaps if I ate more salads or did without, I could get into my jeans a little easier.
When the temperatures go up, I heat up the grill – not the kitchen. You can grill meat, veggies, bread and even fruit. You can cook your entire meal right on the grill – no hot kitchen and no messy pots and pans to clean. What's not to like about that?
I want to share a recipe with you that is a perfect grill dinner. It uses boneless thin-cut pork chops and fresh pineapple which is a perfect combination! The pineapple caramelizes beautifully for a deeper flavor. It is a different and delicious dish.
Grilled Chile-Pineapple Pork Chops
½ cup chopped fresh cilantro, plus more for garnish (If cilantro isn't your thing, substitute with parsley.)
½ cup pineapple juice
1 serrano or jalapeno pepper, seeded and finely chopped
1 tablespoon honey
1 tablespoon lime juice
1 teaspoon salt, divided
½ teaspoon ground pepper, divided
1 pound boneless thin-cut pork chops, trimmed
1 medium pineapple, peeled, cored and cut into ½-inch thick rings
1 large red onion, cut into ½-inch rings
1 tablespoon extra-virgin olive oil
Lime wedges for serving
Preheat grill to medium-high heat
Combine cilantro, pineapple juice, serrano, honey, lime juice and ¼ teaspoon each salt and pepper in a blender and puree until smooth. Reserve ¼ cup for serving. Transfer the remaining mixture to a medium bowl and add pork chops. Turn to coat and let marinate for 5 minutes.
Brush pineapple and onion slices with oil. Remove the pork chops from the marinade and sprinkle with the remaining ¾ teaspoon salt and ¼ teaspoon pepper. Grill, flipping once, until an instant-read thermometer inserted in the thickest part of a chop registers 145 degrees, 3 to 5 minutes per side. Grill the pineapple and onion, flipping once, until lightly charred, 4-5 minutes per side.
Serve the pork, pineapple and onions drizzled with the reserved sauce. Serve with more cilantro and lime wedges, if desired. 
While you have the grill hot and some leftover fresh pineapple on hand, how about some dessert? Grilled pineapple with candied nuts is an irresistible combination and the perfect ending to your meal.
Grilled Praline Pineapple
1/3 cup sugar
1/8 tsp salt
½ tsp cinnamon
1 Tbsp unsalted butter
¾ cup chopped pecans
1 pineapple, peeled
Sweetened whipped cream
¾ cup dulce de leche or caramel sauce
Dissolve sugar with 2 Tbsp water in a small saucepan over medium-high heat; remove stirring spoon (do not place back in the pot because it will create sugar crystals.) Brush the inside of pan with a clean pastry brush dipped in water to remove any sugar crystals. Cook until the syrup turns light amber, swirling pan occasionally, then remove from heat and add salt, cinnamon, butter and pecans; with a clean spatula, stir to combine. Pour onto a parchment-lined baking sheet; spread into a thin layer. Cool completely; then break or cut into pieces.
Slice pineapple into ½-inch thick rounds; remove core. Heat grill to medium high; cook pineapple until heated through, 2-3 minute on each side.
Serve slices topped with whipped cream, candied nuts and dulce de leche.
Enjoy!
– Becky Lynn is a writer for EllisDownHome.com. She and her husband Bob enjoy spending time with their 8 grandchildren and traveling. Becky loves cranking up the music and heading to the kitchen to try out new recipes or cook for an upcoming party. She is passionate about continuing to be a life-long learner!