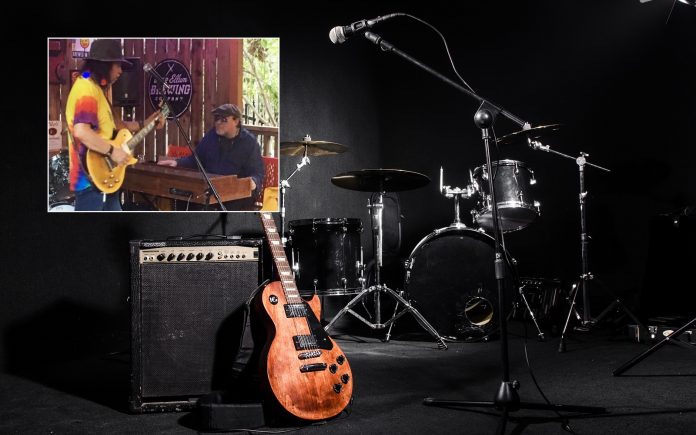 Kunio Kishida recently made the journey from his native country of Japan to Dallas to attend the Crossroads Guitar Festival at the American Airlines Center. The event is best known for its headliner, Eric Clapton, bringing together some of the world's greatest guitarists. The 2019 line up included Vince Gill, Gary Clark Jr., Jimmie Vaughn, Jeff Beck, Joe Walsh, John Mayer, Johnny Lang, Billy Gibbons, Buddy Guy, Sheryl Crow, Sonny Landreth and of course the host, Eric Clapton. Tickets ranged from $1500 to front row seats at $4,300. Way out of this radio station owners tax bracket! Kunio made the trek while multi-tasking and tying in a recording session and jam "pop up' concert.
Here's where the story takes an Ellis County twist. Kunio, who is known as the "Slide Guitar King," has toured with Sam Taylor, the Ennis native, who served as the video producer for ZZ top. Taylor recently received recognition in Waxahachie with a star on the Walk of Fame, and has been instrumental in promoting WAXAJAM over the years. He brings together past band members from the 60's, 70's 80's and beyond during the Waxahachie High school Home coming activities. The event in 2020 is being planned, and it is hopeful that The Railyard Park in downtown will be hosting the event.
Kunio has released several blues albums including, Slide Angel (2015), Live in Japan, Vol 1 (2012), and most recently the 2018 Brotherly Love. This latest album is a love letter to the city of Macon, Georgia, and the entire Southern US music scene. If you are a fan of Duane Allman, Mark Knopfler, or Clapton, this album is for you.
Backing Kunio are veteran and venerable musicians of the Southern music scene, Chuck Leavell of The Allman Brothers and The Rolling Stones, Paul Hornsby from The Hour Glass, and Eddie Stone of Wet Willy are on keyboards. Jerry Wasley, Kunio's long time bassist, and Scott Boyer of Cowboy, who sings a poignant 'Please Be With Me', lend their talents along with a host of other seasoned and talented musicians. And at the center of it all is Kunio and his guitar.
Kunio is an aficionado of the blues, R&B, and rock and roll, born of the South and a lover of vintage guitar tones, which shine on every track with great feeling, nuance, and passion that comes from his many years of dedicated playing. Kunio's long term partner 'Nancy', a beautiful 1959 Gibson Sunburst Les Paul, and a classic 1954 Fender Stratocaster can be heard on 'If You Leave Me' and 'Macon Flag' as can a 1958 Gibson Explorer (once owned by Eric Clapton and featured on the album cover)."
This brings us even further down the road to the real purpose of this article. Sam, Kunio, Steve 'Catfish' Cagle (drums), and Birmingham, Alabama's Jerry Wasley (bass) played a pop up concert at The College Street Pub on Tuesday night, September 24th. The crowd of mostly WAXAJAM fans found the back porch hopping with hot licks. Kunio started the set off by showing his immediate prowess with the guitar and treating the enthusiastic crowd to some very quick riff changes, while Taylor's Hammond organ filled in very nicely. Wesley's' rendition of 'Statesboro Blues' further set the tune for a magical night of Southern rock, rock-ability, and R&B hits.
This just goes to show you the quality of local musicians, the international appeal our community attracts, and why it so important to stay tuned to social media. Sam and I are personal friends but if I had not scrolled through the old Facebook posts this event may have slipped by completely. The irony is it was free and to see Kunio perform at the Pub. In Japan, it would have set me back at least $75.00 and don't even ask about the exchange rate into yen!
Leave your comments below about your favorite local bands, venues or concerts. I welcome your input and insights. Feel free to drop me an e-mail at [email protected].
Want to check out Kunio's music? Click here.
Want to hear more about the Walk of Fame and Railyard Park? Click here.