Each of us gardens for a different reason. Some of us want food, such as tomatoes, peppers, potatoes. Others want beautiful flowers. A friend of mine gardens for the wild animals that visit her garden.
Me, I garden for all the above and more. One of the best reasons is to make yourself happy. If you do not enjoy gardening then it is a job, rather than joyous project.
I have been gardening for many years. When we moved to our house over 26 years ago, I started flower gardens. I ventured into adding trees, shrubs, flowers, and vegetables. Lately I have been gardening for pleasure and stress release. When you are confined, you think of all sort of ideas for your garden. I decided to add some whimsy to my garden.
You need to plan first. What is the theme? What will survive in the space that you chose for the new garden? And the most important decision, what will survive the Texas heat? Think about your wildest dream.
Stage 1
What type of garden are you adding? I decided I wanted a theme and a bit of fun in the garden. I decided that I would use my favorite movie as the theme. I wanted everyone to say, "WOW, you're a crazy lady!"
Determine the sun, and water requirements. How big will the area be for the garden?
Stage 2
Remove all debris. Rocks, weeds, dead material in the ground. My area was an asparagus bed at one time. The soil was full of material that needed to be removed. I decided that it would require additional soil.
Adding soil and compost is important. It is easier to amend the soil before you plant than improve the soil later. If you are adding a drip system this is the time to install the system.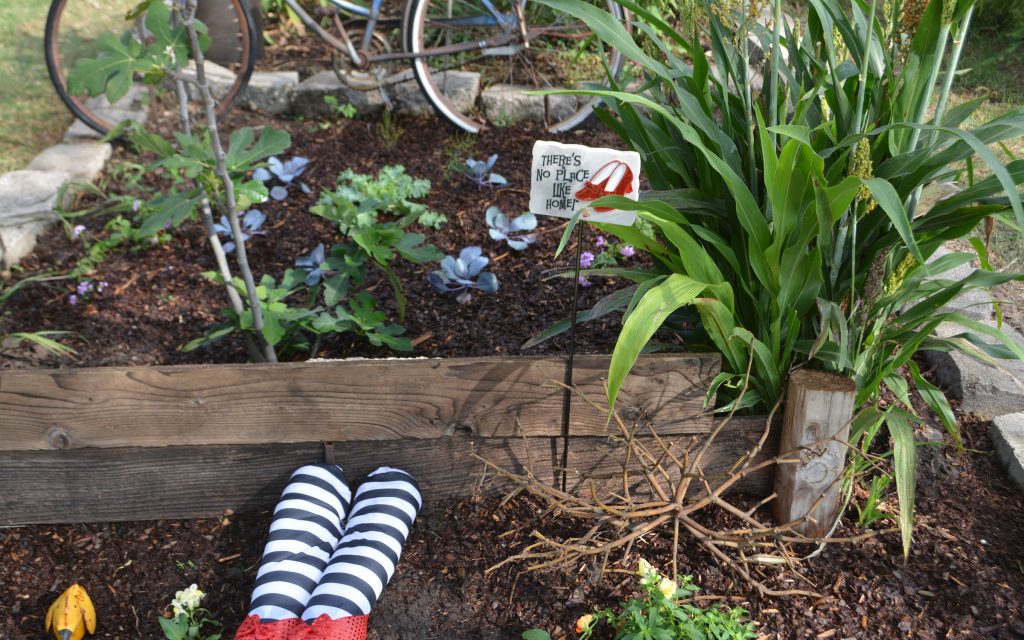 Stage 3
Once the soil is healthy and ready for flowers, shrubs and trees, the time to shop has arrived. That is the best part of adding a garden. I decided that I needed several nonliving accents. I found items that would enhance the beauty of the living materials.
Stage 4
I painted pavers. I added some wood planks. Laid the pavers and added gravel in between the pavers. Decorations were then added. The flowers are a combination of perennials and annuals.
Lantana – is a perennial and will return each year.
Pansies– will survive the cold weather and will be replaced in the spring with zinnias and flowers that will attract butterflies.
Kale– and other winter vegetables were added for color and the wild critters that live in my garden.
These plants will require minimum watering and no fertilizer.
Come spring, an array of new plants will be added, along with some perennials.
I chose my theme because I love the movie, The Wizard of Oz. I saw this movie when I was young, and it has remained one of my favorites to this day. If you read the book you will find that Dorothy did not have red shoes. They were silver. When they made the movie, they thought the shoes needed to be bright, so they used red shoes. If you want to get your children interested in gardening, let them choose the theme and then make it a family affair to build a new garden!
Hope you enjoy my Yellow Brick Road!
– Jane Slone writes articles on gardening for EllisDownHome.com. Jane grew up in Dallas, and moved with her husband to Ellis County 25 years ago. She opened three flower shops, operated, and eventually sold the shops. She taught Microbiology and Anatomy & Physiology at the college level and retired 26 years later. She loves to garden and has become a Master Gardener. Her joy is teaching others about gardening!