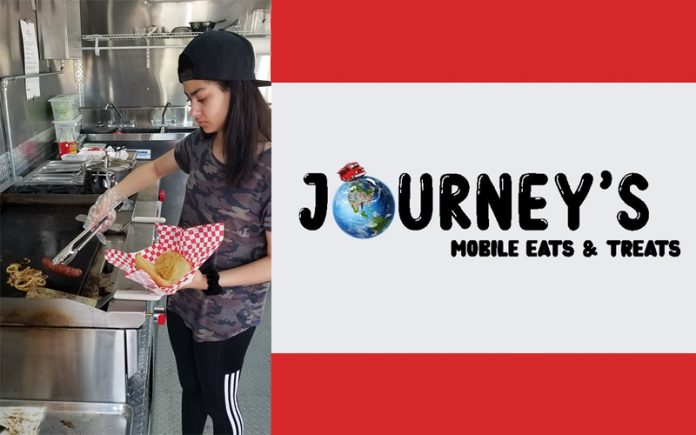 At 15 years old, most people are focused on their learner's permit and Friday Night Lights. Local actress, model, and culinary connoisseur Journey Slayton, however, was more focused on booking her next gig and securing all the necessary permits to own and operate her food trailer.
On Saturday, April 17, her hard work paid off; Journey's Mobile Eats and Treats food trailer made its first appearance at the Midlothian Farmers Market, an event Slayton has returned to every Saturday since.
Offering a wide variety of foods from Chicago-style Polish and po' boys to Brazilian tacos and sweet tea, Journey's Mobile Eats and Treats has a little something for everyone.
"Hearing people talk about the business, and how good the food is and how good our sweet tea is, it brings me joy," Slayton said.
Although her desire to own a food truck arose before the age of 10, acting, modeling, and school kept Slayton busy and she simply did not have enough time to take on a new business endeavor.
Back in 2015, in order to better chase her silver-screen dream, Slayton moved to Los Angeles with her mother. Whether she was appearing in commercial print advertisements for industry leading companies like Belk, Macy's, and JCPenney, or working on the big screen for studios as large as 20th Century Fox, Slayton had no shortage of success.
Unfortunately, though, nobody was immune to the devastating effects of the pandemic, and in 2020 Slayton was forced to return home.
And thus, under the blazing sun in the Lone Star State, Slayton's dream finally came true.
"I said I wanted a food truck in September [2020], and by March [2021], I had one," she said.
In addition to the food trailer, her entertainment career, her academic responsibilities, and her job, Slayton is the vice president of Confidence Rules, a non-profit organization that focuses on suicide prevention and confidence-building activities and events. Slayton joined Confidence Rules as a junior ambassador in 2019 and quickly worked her way up.
During the winter freeze in February, Slayton raised over $1000 for the organization through the Polar Plunge, an online event that saw Slayton jump into freezing cold water every time a set donation benchmark was met.
Confidence Rules was started in 2015 by Slayton's older sister, Samiyah, and while it originally focused solely on adolescents, it has since expanded into providing services for adults as well.
In the fall, Slayton will be attending the College of the Canyons online to pursue a certificate in Culinary Arts. She wants to use the knowledge she will gain to provide cooking classes for kids and help provide food for the unhoused in Dallas.
Although she plans to return to California in the future, there was no hesitation when asked which state she likes better.

"Texas," Slayton replied. "100 percent, Texas."
"Journey's at that point now where, if she sets her mind on something, there is no 'I can't do that,'" Tasha Slayton, Journey's mother, said. "It's, 'I'm going to do it.'"
A young girl with big dreams and a go-get-em attitude, Journey Slayton is making waves and shows no signs of stopping anytime soon.
* Journey's Mobile Eats and Treats can be booked for private or public events by contacting Journey Slayton at [email protected], or by direct messaging her on Facebook (Journey's Mobile Eats and Treats) or Instagram (journeys_eats).
– Austin Hedgcoth is a student at the University of North Texas and a writer for Ellis DownHome. He enjoys exercising, drawing, and spending quality time with family and friends. Austin lives by a few simple words; be kind and love deeply.