Flat land and blue skies as far as you can see — and that is a long way when you are up on the Texas Caprock, approaching Lubbock.
One of our children's favorite sites is the Prairie Dog Town located in MacKenzie State Park. (Think Whack-A-Mole without hitting anything!) The park was established in the 1930s and was the first protected prairie dog colony. We always have fun watching the prairie dogs as they leave their burrows and stand at attention while barking at each other. Their distinctive bark is what gave these ground squirrels their nickname.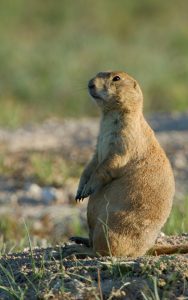 While we see the prairie dogs as being cute and fun, farmers and ranchers on the West Texas Plains were not amused. The creatures ate crops and their holes were dangerous for cows and horses. Starting this town was a way to keep the history and cuteness of prairie dogs in existence without bothering neighbors. The Meadowbrook Golf Course is also located in MacKenzie State Park for those who like to golf. (Golfers can also enjoy The Rawls Course at Texas Tech which, according to Golf Advisor, is one of the top public golf courses in Texas.)
Lubbock is the home of Texas Tech University and its active medical center. Texas Tech operates the National Ranching Heritage Center, a 27.5-acre museum and park that shares the history of ranching in the West. The buildings and other objects highlight ranching from the early 19th century. The museum building, which is located on the Heritage Center grounds, is a fun way to spend a hot afternoon as you learn about ranching life with hands-on experiences.
Many visitors may not know that the famous Rock 'n Roller Buddy Holly was born in Lubbock. The Buddy Holly Center preserves his music and the story of his life. Unfortunately, his life was cut short in a plane crash in 1959. Ritchie Vallens, "The Big Bopper,' and the pilot were also killed. This day was memorialized by Don McLean in "America Pie" as the day, "the music died." The City of Lubbock has a link on its website for a driving tour of Buddy Holly places if you want to see them.
Unless they are looking closely, visitors may never see some of the beautiful canyons that are located on the outskirts of the city. Yellow House Canyon and Buffalo Springs Lake offer family fun with camping, fishing, boating, and hiking opportunities.
Wineries are another option in Lubbock. The High Plains grow 90% of Texas wine grapes which include a large diversity of varietals. Visitors can visit Caprock Winery, McPherson Cellars, or Llano Estacado Winery, the second oldest in the state, and there are several others from which to choose. As with most areas offering winery stops, wine tours are also available so visitors can drink and not drive.
Visitors will not go hungry in Lubbock. In addition to barbeque and burgers, Lubbock serves up foods from many cuisines, due in part to the diversity that Texas Tech provides the area. Boasting approximately 1,000 restaurants, there is always something for everyone.
Lubbock seems so far away from North Texas, but it's only a six-hour drive or an hour flight. If they fly, visitors can leave after work and arrive just in time for dinner at one of the great restaurants and get a good rest before starting the next day with a whirlwind tour of this remarkable city.
– Candace Ahlfinger has loved traveling since she was little and has always been on the go whenever possible. Now she is retired and gets to do what she loves best… TRAVEL! Whether it's traveling with her wonderful husband, or our children and grandchildren, traveling is a great experience that enriches her life. Because she always enjoys reading and hearing about others' travel experiences, she wants to share her travels with the Ellis DownHome readers.