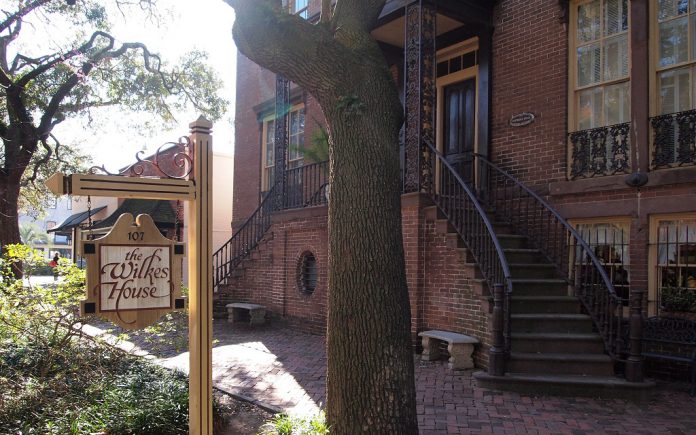 My husband lived in Savannah, Georgia in the 1970's and has many good memories of his time there. One special memory is of an eating establishment called Mrs. Wilkes Boarding House. Your dining experience would begin by waiting in line surrounded by oak trees complete with hanging moss framing an old gray brick house. At 11:AM, Mrs. Wilkes would ring the starting bell, usher her guests inside and ask them to bow their heads while she blessed the meal. Then the fun began!
The staff would start bringing platters and bowls filled with fried chicken, meatloaf, mashed potatoes, cornbread dressing, creamed corn and more. There were usually about 18 homemade dishes on each of the 12 dining tables. Chances are you didn't know everyone sitting at your table, but before the meal was over you would, because this was a family-style service where you passed the chicken and potatoes around the table. The boarding house "reach" was born here and heaping your plate with seconds and thirds was expected!
Mrs. Wilkes began cooking and serving food at 107 West Jones Street in Savannah, then Mrs. Dixon's boarding house, in order to secure a room for her husband and herself during World War II. Word of her cooking spread quickly and soon all of Savannah was dropping by. In 1965, Sema (Mrs. Wilkes) and her husband bought the building and became proprietors of the restaurant.
Word of mouth is the only way people learn about Mrs. Wilkes Boarding House because there is no sign on the outside and she has never advertised. Yet it has become a destination for world leaders, movie stars and other famous people. It received the James Beard America's Regional Classics Restaurant award for quality food that reflects the history and character of the community.
I have been hearing about Mrs. Wilkes Boarding House for over twenty years, and I recently got to experience it for myself. I wondered how the family-style format would work during the pandemic. There is still a line, but it now leads up to a large poster with the day's offerings. You choose one of two meats, three sides from a list of 18 and your beverage. You will also get biscuits, cornbread and pound cake.  Then you find one of the outdoor tables, sit down and wait for them to call your name when your order is ready.
The Wilkes family still operates the restaurant, so my husband, Bob, was reminiscing with her granddaughter about his times there. When he went up to get our order, the box was overflowing with Styrofoam containers because they decided to give us not 3 sides, but EVERY side on the menu that day!
If you ever get to Savannah, you must go to Mrs. Wilkes Boarding House for lunch. It is the ultimate southern comfort food experience.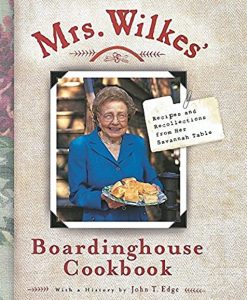 Of course, I had to buy the Mrs. Wilkes cookbook because although everything was yummy, the meatloaf was outstanding and I wanted the recipe. It is unlike any other meatloaf I have ever tasted. Here is that recipe.
Meatloaf from Mrs. Wilkes
2 cups cornflakes, crushed
¾ cup minced onion
¼ cup of minced green peppers
2 eggs, slightly beaten
2 lbs. ground beef
2 tablespoons of soy sauce
1 teaspoon of salt
1 tablespoon of mustard
¼ cup of milk
1 10 ½ ounce can of cream of mushroom soup
Preheat oven to 350 degrees.
In a large bowl, mix the eggs, meat, cornflake crumbs, onions and peppers.
In another bowl, combine the other ingredients and then add to the meat mixture, mixing well, but lightly.
Shape the meat into an oval loaf in a baking dish. Do not pack.
Bake for 50 minutes, or until done.
– Becky Lynn is a writer for EllisDownHome.com. She and her husband Bob enjoy spending time with their 8 grandchildren and traveling. Becky loves cranking up the music and heading to the kitchen to try out new recipes or cook for an upcoming party. She is passionate about continuing to be a life-long learner!