It was the first week in March 2020 when we took our annual trip to New Orleans; a trek we have been doing for more than 20 years.  A week later, NOLA shut down due to the COVID pandemic.  Buying a pound of ground Café du Mond coffee at Central Market in Dallas just isn't the same as getting a cupful at the actual café at the edge of Jackson Square.
We revisited the city in early June of this year.  It was a homecoming back to one of our favorite destinations in the U.S.  It is a city to enjoy flaneur; a French word which means to stroll or saunter around a town with no set place to go or timetable to follow.  The French Quarter epitomizes flaneur.
The only exception to our random rambling through unchartered side streets is our arrival destination… Café du Mond and a short walk with our chicory coffee to sit on the levee of the Mississippi.  On most mornings there will be street musicians and colorful characters.  There are joggers and dog walkers, those who are greeting the morning and others who are feeling the night before.  It is the perfect location for people watching.
On this morning a group of seminarians had just left Mass at nearby St. Louis Cathedral to find sanctuary in the majesty of the Mississippi.  My wife, Becky, aptly named them a Flock of Frocks.  These sort of serendipity moments embrace you when you visit New Orleans.
Both Becky, and I are enchanted by the Mississippi River.  We have read many books with that waterway as the central setting beginning with adventures of Tom Sawyer and Huck Finn in our youth.  For that reason, we stayed at the Westin Hotel with a huge window in our room overlooking Decatur Street, Marigny and downriver bending to the delta.  Our late-night entertainment was watching boats and barges navigate the big bend at Algiers Point where strong currents battle the savvy of tugboat captains to navigate hundreds of thousands of tons of bulk products to a wharf or the gulf.
Our timing was good because conventions had not returned in force and room rates were very reasonable.  The Westin's main lobby offers a wonderful sitting area overlooking the river and French Quarter.  It is a hotel where true Southern hospitality is a virtue the entire staff holds dear.
We visited our usual haunts, The New Orleans Cooperative (where local, juried artisans sell their creations), The Original French Market Restaurant (a hidden treasure of a seafood café serving shrimp boiled in a hundred-year-old cauldron), and Jackson Square where I sit and listen to youthful jazz musicians while Becky visits the many boutiques in the area.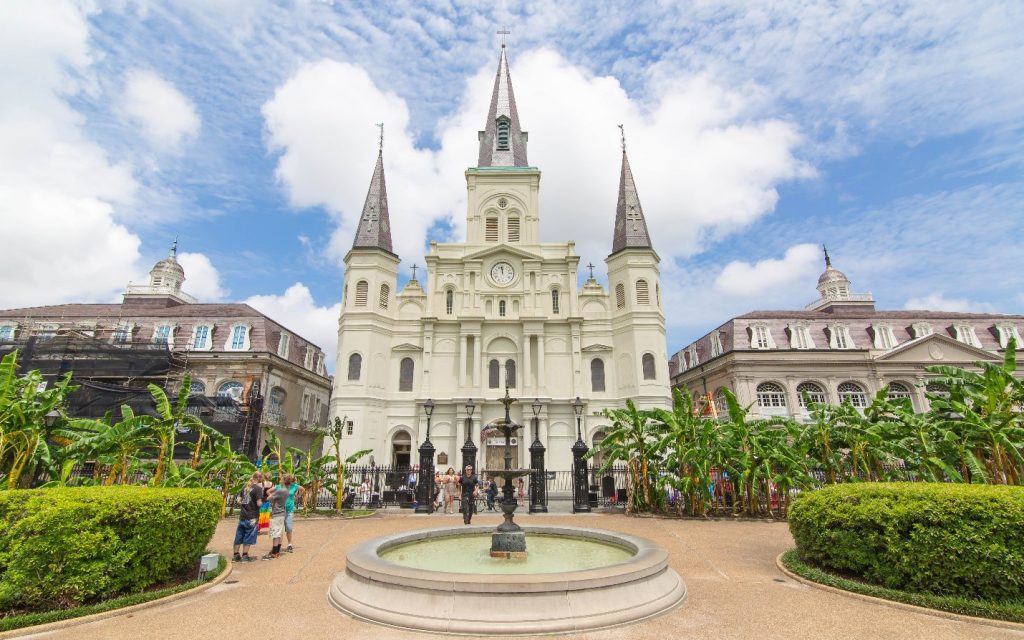 And it was in the plaza across from St. Louis Cathedral where I first realized what a wonderful memory this revisit to NOLA would be.  We left the city 13 months prior and within days everyone was ordered to wear masks and not gather in the French Quarter.
And now, in early June 2021 I watched clusters of people ambling through the plazas and you could actually see them smile.  It was a rebirth.
Often the best part of a trip is not an actual event, but rather the memories we carry with us.  The following joyous example defined our getaway.
It had rained that morning and there were puddles spattered in the courtyard of Jackson Square.  Young parents were escorting their two daughters who I guess were 2 and 3 years of age.  The young girls were wearing pretty flowered dresses with sandals, which didn't stop them from springing into standing water in cobblestone depressions and rollicking with no concern for wearing their Sunday best.  What was wonderful is to watch their mom point to another puddle and encourage another romp in the water.  A year earlier, only rain splashed in the pools of rain.  The wonderful square was vacant of people.  The memories of the children's laughter and a mother's carefree encouragement is testimony that the carefree Spirit of New Orleans was back.
We have been returning to NOLA once or twice a year for more than two decades but had never taken a carriage ride.  We did on this occasion, and it was worth every dollar.
Our 45-minute excursion took us to the backstreets of the French Quarter, the jazz bistro passageway of Frenchman's Street, past architecturally beautiful residences and historic shotgun cottages.  Of course, a lot has to do with your driver, however, an easy review of comments on the Internet will give you the names of the favorite drivers.
Possibly the best benefit of the carriage ride is the onrush of your senses caressed by the sights, sounds and smells surrounding you.  It begins with the click, clack, click, clack of the mule's hooves on cobblestone streets.  You hear the children playing in the courtyard of the oldest school in the city.  The smell of fish and food, vegetables and flowers as you pass the 3-block long Farmers Market.  The breeze from the Mississippi and the sound of boats tug at you.  Music blaring on Bourbon Street and the sweet sound of a single trumpeter on a side street balcony keeps you swaying with the carriage.  All in a quarter with 300-year-old homes and homage to NOLAs heritage.
You pass Lafitte's Blacksmith Bar, hangout for the notorious pirate and hero of the Battle of New Orleans.  Built between 1722-1732, it is said to be the oldest bar in United States and a hang out for Lafitte and his barbarian comrades.  Your coach will roll by backstreet bistros and boutiques you didn't know existed, but you put on your to do list.
And if you like jazz, you will pass the joints and front porches where the genre was created where you hear the sweet blues even early in the morning.
Of course, New Orleans is a mecca for foodies.  Over the past 20+ years we have eaten at many French Quarter restaurants and the joy is always trying new ones.  There are a few of which we regularly return:  Amalie's on Royal Street for lunch in the courtyard, Arnaud's for Sunday brunch and Commander's Palace for dining on the patio.  However, we rejoice in trying new eating establishments because of the boundless variety of food cultures.  New Orleans has one of the finest diversities and communities of restaurants in the U.S.
We enjoy watching Top Chef on Bravo and on the 2013 season were charmed with a chef originally from St. Lucia but currently living in New Orleans, Nina Compton.  Although she finished the competition as runner-up, she was voted, deservingly so, by fans as the most popular of the 11th season.
Since then, Chef Compton has been honored as the 2018 James Beard Award winner as Best Chef in the South, and one of Food & Wine Magazine's Best New Chefs of 2017.  Her restaurant, Compere Lapin ("Brother Rabbit"), at 535 Tchoupitoulas in the Warehouse District, is uniquely New Orleans with a medley of French, Italian, Mediterranean, Southern and Caribbean dishes.  It was at Compere Lapin where we enjoyed one of the best meals we have ever tasted…. Anywhere.
On the menu, which changes with season or no reason you may find West African Peanut Soup or Crispy Pig Ears with Smoke Aioli.  One of Chef Compton's signature dishes is Curried Goat with Sweet Potato Gnocchi or Snapper with Okra, Corn and Poblano Crema.
Without question, the Tuna Tartare with Avocado, Paddlefish Caviar and Banana Tuille was so superior to almost anything I have ever tasted that when we return to Compere Lapin, which we will do many times in the future, it will be around a time when the Tuna Tartare is on the menu.
One nice benefit you have in New Orleans is the progressive feasting you can enjoy; the delight of a small sampling "here and there:" a beignet at Café Du Mond, some oysters at Acme's, a cup of gumbo at Felix's, turtle soup at Galatoire's, crawfish at the French Market, a Muffuletta where it was invented at Central Grocery and so many other places to take a bite into Creole cooking.
Whether it is a two-hour supper like at Compere Lapin, going on a snacking crawl, or discovering a new place from more than 600 full service eating establishments in the city, you will love New Orleans for its cuisine.
New Orleans is back.  You hear it in the air with Doreen and her clarinet at Toulouse and Royal, or Grandpa Eliot with his harmonica a few blocks up the street, the tap dancing young men with soda bottle caps on their shoes along Decatur Street, the varied jazz musicians across from The Cornstalk Hotel or almost anywhere you turn in the French Quarter.
The district may be best known for revelry, but it's the subtle NOLA that we love.  Its not the raucous bars on Bourbon Street, but the sweet Dixieland of the Preservation Hall Band that stirs the spirits.  It's not the expensive French restaurants with tuxedo staff but the quaint cafes the locals love.  It's not the glitter of Mardi Gras for the past 300+ years, but the glistening of the sunset on the Mississippi for millennia.
And that's the beauty of New Orleans.  It can be so many different things to so many different people.  And thankfully, New Orleans is alive again, no matter what your age or pleasures.
-Bob Lynn has owned an advertising agency for more than 40-years and writes anything from commercials to brochures, so getting an opportunity to create something that isn't selling a product or service is a true joy for him.  He contributes stories for Downhome ranging from travel and restaurants reviews to book critiques and our What's Special About Today feature.