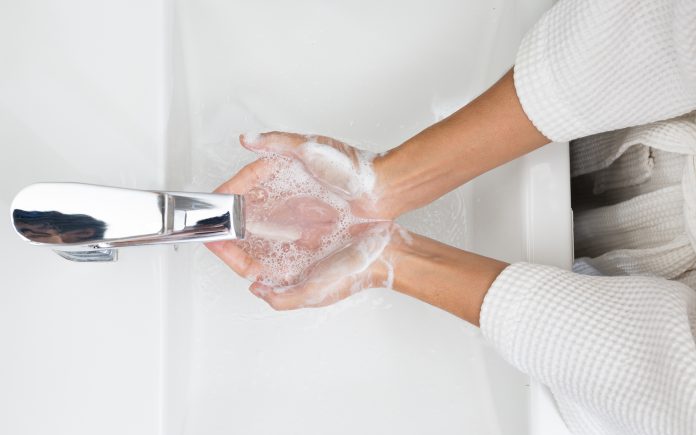 This is one of my absolute favorite times of the year. I'm ALL about new beginnings. (Yes, my favorite day of the week is Monday!!! I'm one of THOSE people). I don't worry about what I HAVEN'T accomplished, I just get excited about all of things I CAN accomplish.
I love looking forward and dwelling on the possibilities. I love to make a list of positive changes I can make… health changes, personal development, time management, etc. I can start tackling those one change at a time. If I make one change a week, that's fifty-two steps toward a better me by the end of the year. That stirs such an excitement in me!
As you know, ridding our home of hidden toxins made that list several years ago, which involved baby steps… many of which I'm still taking! As promised, I'm going to walk you through a similar process.
So how about we start with something we are all using daily… multiple times! HAND SOAP! This is a fun one for me!!! Your skin is your largest organ… you're absorbing the ingredients you're putting on your palms every time you wash your hands!
Do you still have a jug of soap refill in your cabinet? Did you know that the FDA stopped allowing certain antibacterial ingredients in soaps in 2016? If you stocked up on an antibacterial soap sale, it's time to say goodbye! Also, check your soaps for fragrances. Remember, fragrances have many hidden toxins. I can sometimes smell the fragrance in hand-soaps literally hours after I've used them… those fragrances are absorbing into my bloodstream through the pores in my hands and can pose a myriad of health risks, from hormone and endocrine disruption to allergies, neurotoxicity, cancer, and organ toxicity.
Again… the sky isn't falling!! There are excellent options!! We've been making our own foaming hand-soap for years! It takes about 30 seconds! Not only are they not harmful, they are nourishing AND smell fabulous!
Here's our recipe:
In a clean 8 oz foaming soap dispenser, add:
3 T Dr. Bronner's unscented castile soap
1 vitamin E capsule (pop and squirt into soap)
Therapeutic grade essential oils to scent*
Fill the rest with water
Start with a clean foaming hand-soap dispenser. I don't recommend using one that previously had toxic soap in it. Buy a new one from Amazon or refill one that didn't have toxic products. We personally buy fabulous foaming hand-soap from Young Living™️*, then we refill it with our DIY concoction.
We usually use 8-10 drops of Young Living™️ essential oils. Some of our favorites to add are Christmas Spirit™️ during the holiday season. In my creek-loving, adventure-seeking middle-schooler's shower, we use Purification™️. We like to use Thieves™️ in the kitchen because we're handling raw meats. Other favorites are tea tree, lavender, lemongrass and lemon. Remember, not all essential oils are created equally… it is important to know your source and company or you are merely trading one toxin for a different toxin. Our family exclusively chooses Young Living™️ because we trust the company and have personally walked through their fields.
Happy hand-washing!!! Your hands (and hormones and organs) will thank you!!!
*Young Living™️, like Costco, requires a membership to make purchases. A one-time fee of $35 provides a lifetime account (and comes with a bottle of Stress Away). Or you can choose a starter kit, which has significantly discounted products. The Premium Starter Kit includes a lifetime membership, medical grade diffuser and 12 essential oils (over $400 worth of product for $165). This is absolutely my recommendation. The Thieves Starter Kit is also an excellent way to jump start your toxin-free journey. Find a YL distributor to help you set up an account and use their referral link. Or, you are welcome to use mine – Bit.ly/kscott
Here's a printable of our Hand Soap Recipe!