Hibachi, tempura, and sushi….Osuba Hibachi, Sushi and Bar has it all. Located in an old Golden Corral facility, Osuba has adopted the space well. A spacious bar divides the hibachi tables from regular dining tables and a sushi bar is available, also. The restaurant provides a great deal of room for all diners.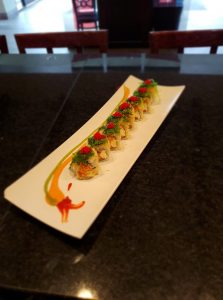 The hibachi chefs are entertaining and give an entertaining show along with great food. Diners can order, steak, shrimp, seafood, chicken, or some combination. Every dinner is served with soup, salad, and rice to make a complete and filling meal. While children enjoy the show, adults also appreciate the slower dining experience and the opportunity to visit with friends and family.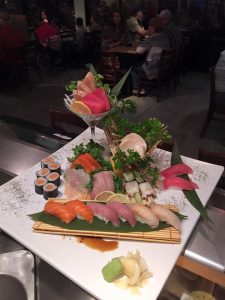 While customers can order sushi at the hibachi stations, we prefer to sit at a regular table for our sushi fix. The quality of fish has proven to be excellent every time we visit. (Fish quality is also excellent for takeout!) While we love the sashimi and sushi, we also enjoy the varied rolls. Top on my list is the Dragon Roll, eel and cucumber on top of a roll of shrimp tempura, crab meat and cucumber. Even the non-eel lovers in our family like Osuba's eel sauce and use it on their dishes. One of our granddaughters likes the Shaggy Dog best–shrimp tempura and avocado topped with crab meat–while our other granddaughter's favorite is the gyoza. (While gyoza isn't sushi, our four-year old thinks it is!) In addition, the Ahi Tower is always a go-to for our family get-togethers and even the folks who don't like sushi have fallen under its compelling spell.
The staff is very friendly and helpful. They always review orders to make certain everything is correct and are quick to notice when refills are needed.
* A special note: In this time of pandemic, Osuba has taken extra steps to ensure the safety of its employees and guests. For safety purposes, everyone is required to wear masks and tables have been separated for social distancing.
-Candace Ahlfinger is a lover of travel, adventure, and good food and fun! Traveling is a great experience that enriches her life, and she loves to go anywhere and everywhere with her wonderful husband or her children and grandchildren. Whether it's trying a new local restaurant or sharing a long-time favorite, she loves giving the readers of Ellis DownHome new places to try!