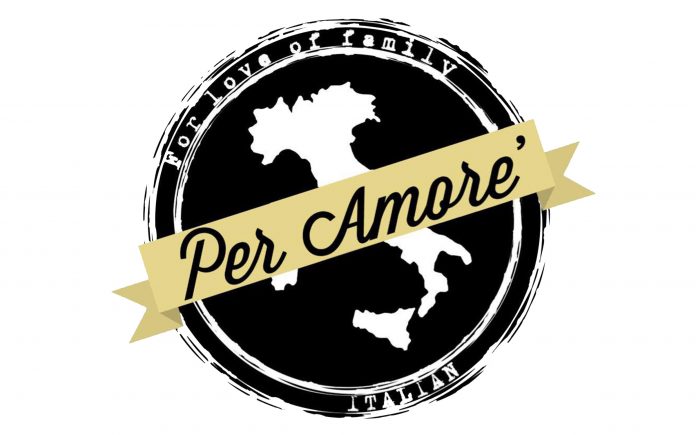 *Note: This article was written before the shut-down due to the Coronavirus. However, Per Amore' is open for take-out orders!! And when it's time to resume life in our communities, put them on your list to visit in person. Check out their Facebook page here for more info.
Our visit to Per Amore on Midlothian's 8th Street began by accident. My husband and I were trying to find another restaurant, now defunct, and happened upon this gem. The small size hit us when we walked in, but we discovered that they have another seating area in the back and even more seating on the back patio. The other thing that struck us when we entered the restaurant was the friendliness of the staff. We were greeted warmly, and service was excellent throughout the evening.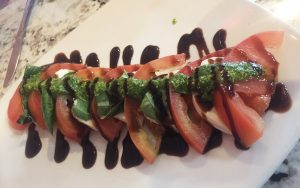 We began our meal with wine. Although the list is not overly long, it does have multiple varieties from which to choose. We were very pleased with the one we chose. Our wine was accompanied by a beautiful and fantastic Caprese Salad. We ate every bite and made certain there was no luscious balsamic vinegar left on the plate. The salad was served with the traditional slices of mozzarella cheese, tomatoes, and basil, but it had pesto in addition to the basil, so the flavor carried throughout each bite. One person could easily make the salad into a meal.
We sampled several of the large servings including Seafood Pasta and the Trio di Pasta. Both meals were very good. The lasagna on the trio was our favorite, but that decision was made only after trying all four dishes multiple times. The Seafood Pasta was filled with shrimp, clams, and calamari in a portion that gave us enough to take home for another meal. (We did the American thing and added Parmesan cheese to the dish, which is an Italian no-no, but we love cheese!) The pizzas that other diners ordered looked wonderful, so we look forward to another visit to try several of these. In addition, they also have calzones and strombolis on their menu.
We couldn't pass up the cannoli and were so glad we decided to split one. (I do wish they served cappuccino which would be a perfect finish with this delicious dessert!) The cannoli had the traditional creamy filling and was beautifully topped with chocolate sauce. Again, we ate every bite with great enjoyment.
We arrived early on a Saturday evening and the restaurant was fairly empty; however, by 7:00, there were no empty places that we could see. They do accept reservations according to their website, so if you plan to visit on a Friday or Saturday night, they might be a good idea.
Have you eaten at Per Amore? What was your favorite dish? Please share in the comment section below.
– Candace Ahlfinger is a lover of travel, adventure, and good food and fun! Traveling is a great experience that enriches her life, and she loves to go anywhere and everywhere with her wonderful husband or her children and grandchildren. Whether it's trying a new local restaurant or sharing a long-time favorite, she loves giving the readers of Ellis DownHome new places to try!