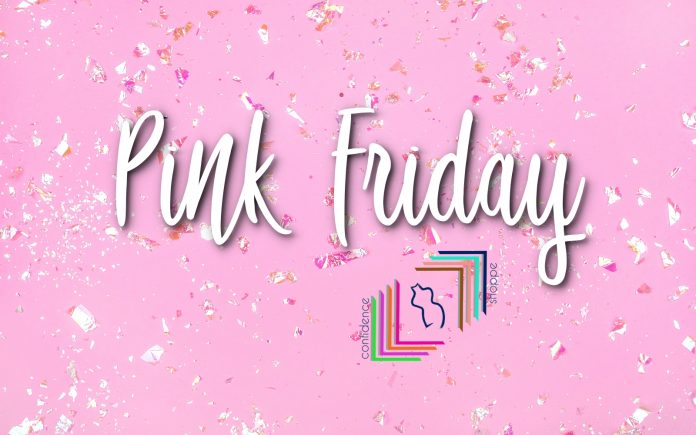 CONFIDENCE SHOPPE PARTICIPATING IN NATIONWIDE "PINK FRIDAY" SMALL BUSINESS SHOPPING EXPERIENCE
WAXAHACHIE, TX – We are excited to announce that Confidence Shoppe of Waxahachie will be participating in the second-annual, nationwide, Pink Friday small business shopping experience, on November 19. 
Created by The Boutique Hub, Pink Friday is a small business spin on the traditional Black Friday shopping experience, reminding people to #ShopSmallFirst. Black Friday is the largest shopping day of the year, but the sales and promotions from big box stores often overshadow the experiences that small businesses are focused on providing. The goal on November 19th is to celebrate the businesses that are the backbone of our local communities. 
"Small businesses took a massive hit last year," says Ashley Alderson, Founder and CEO of The Boutique Hub. "The amount of small businesses that closed last year is monumental, and the trickle-down of that has a devastating impact on communities around the country. If a business didn't close last year, they're now faced with employment issues, inflation, immense supply issues, and a hefty increase in shipping costs. Now, more than ever, it's our duty to support those businesses that are the heart of our communities and local economies."
Pink Friday is strategically positioned the week prior to Black Friday, to ensure that small businesses are given the first opportunity to help shoppers in their quest for holiday gifts. These businesses are usually overshadowed by their big-box counterparts, and deserve their own weekend to shine. 
"We want shoppers to look at small businesses first for their holiday needs, then go spend the rest of their holiday budgets with big-box stores, if needed," says Alderson. 
The official Pink Friday website (www.shopthebestboutiques.com/pinkfriday/) lists all the ways consumers can shop, including an interactive map of participating stores, and various gift guides that will help consumers navigate the best gifts for everyone on their list. People can also follow the #ShopSmallFirst hashtag on social media. Any small business can participate in Pink Friday and can find out more by visiting www.theboutiquehub.com/pinkfriday. 
"Downtown Waxahachie has welcomed us with open arms since our grand opening in July of this year. We are excited to pass along some great savings to our local community during this unique, once a year event!" – Trudy Hankins, Owner.
Stop by Confidence Shoppe from 10 am – 6 pm on Nov 19, 2021 and receive a free gift with every order, spend $50 to earn January bucks, or spend $100 to get a chance at the Money Machine to earn an instant discount! Follow us on Facebook to stay connected all year long!