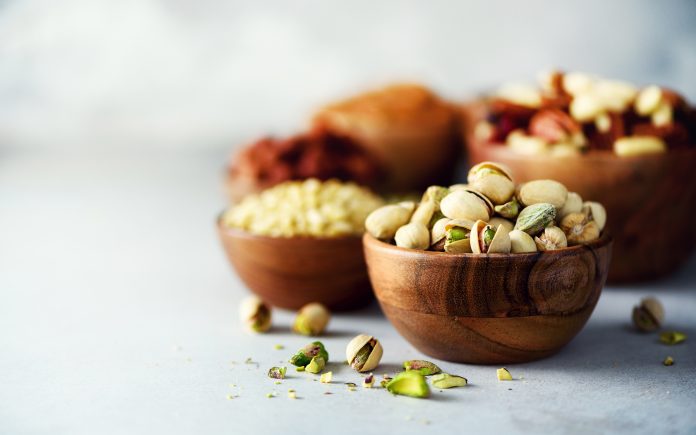 Pistachios are one of the oldest edible nuts in the world, being grown in the Middle East for thousands of years. They are even mentioned in the Old Testament of the Bible which indicates their rich history as a prized food source.
Pistachios are rich in beneficial nutrients. They are an excellent source of fiber, antioxidants and protein. They contain vitamins and minerals that are good for eye and digestive health, as well as protecting your heart and helping to balance the body's blood sugar.
Pistachios are relatively low in calories as compared to other nuts. They may be very beneficial to those wishing to lose weight or maintain their weight because of their caloric values and fiber and protein content.
If you would like to read more about the health benefits of eating pistachios, click here.
Recipes
You can enjoy them raw on their own or in things like salads, ice cream, granola and yogurt. You can also use them in many recipes ranging from main dishes to desserts.
There are lots of sites on the web that have pistachio recipes. The Taste of Home site is one I really like. The recipes are all contributed by home cooks, so they are doable without a lot of fuss.
I will be trying their recipe for Portabello Wellingtons with Spinach Pistachio Pesto. I especially want to make the pesto!
Another recipe on this site is for Pistachio-Crusted Fish Fillets. The recipe calls for orange roughy fillets, but I have made it with salmon and it is delicious.
To see all 42 pistachio recipes on this site, click here.
If you have some favorite ways to enjoy pistachios, please share!
(By the way, National Pistachio Day is February 26th)
– Becky Lynn is a writer for EllisDownHome.com. She and her husband Bob enjoy spending time with their 8 grandchildren and traveling. Becky loves cranking up the music and heading to the kitchen to try out new recipes or cook for an upcoming party. She is passionate about continuing to be a life-long learner!