Well…it's officially "Pumpkin Spice" season…pumpkin spice coffee, pumpkin spice Cheerios, pumpkin spice lip balm…and of course, all of the pumpkin spice candles and room fresheners!!
Although these room fresheners may smell delish, you might be unintentionally harming your family and pets! Approximately 90% of our time is spent indoors, so the quality of our indoor air matters. According to Dr. Andrew Sledd, a pediatrician who specializes in environmental toxicology, burning a candle for an hour produces the same effects as smoking a cigarette. The soot from candles is especially dirty and can penetrate into the lungs, causing respiratory problems. Other forms of air fresheners are equally, if not more, offensive…laden with carcinogens, hormone disrupters, neurotoxins, allergens, and lung, skin and eye irritants.
I have good news for you!  Although candles and air fresheners are brimming with toxic chemicals, you can still scent your home safely! Actually, you can even do better than that! You can fill your home with Pumpkin Spice caliber scents that actually provide therapeutic BENEFITS to your family by using therapeutic grade essential oils!!
Essential oils are all the rage these days…you can find them just about anywhere; HOWEVER, buyer BEWARE!! Not all essential oils are created equally. Most essential oils on the market are still very much chemical-laden…every bit as harmful as the products we are trying to avoid. Did you know that an essential oil can have less than 5% of the actual essential oil and still be labeled "100% pure?" Doesn't seem right, does it?! There are no regulations on essential oils…they can be filled with a colorless, odorless solvent. They can be distilled with toxic solvents. They can be distilled at high heat or high pressure which destroys the therapeutic effects and even renders them harmful. They can come from plants sprayed with pesticides and herbicides…aka: poison.
Our family has exclusively used Young Living* essential oils for the past 7 years because of their Seed to Seal guarantee promising the highest quality, hand-weeded plants from their own farms and partner farms on land that hasn't had chemicals on it over 50 years. They have over 25 years of perfecting their farming and distilling techniques and harvest their plants at certain times that maximize their therapeutic benefits. My husband and I have walked through the fields and through the distilleries and spoken to the farmers and distillers personally. We have 100% confidence in their quality and this company. For more on their quality guarantee, click here. This company and their products have played a very significant role in our toxin-free journey.
Their Premium Starter Kit comes with a fantastic medical grade diffuser (the Desert Mist diffuser even flickers like a candle!), and 12 essential oils.  It's a PERFECT starting place if you're working toward getting toxins out of your home! It's significantly discounted…over $400 worth of product for $165 and includes many of our family favorites. It also includes a lifetime membership to the company with zero strings attached. (No monthly shipments required. No selling required.)
Okay!! Now for the FUN stuff!!! Here are some Young Living essential oil diffuser recipes to give you that Pumpkin Spice feeling!!! And you know you're filling the air with therapeutic goodness that benefits your family!
Happy diffusing!!!!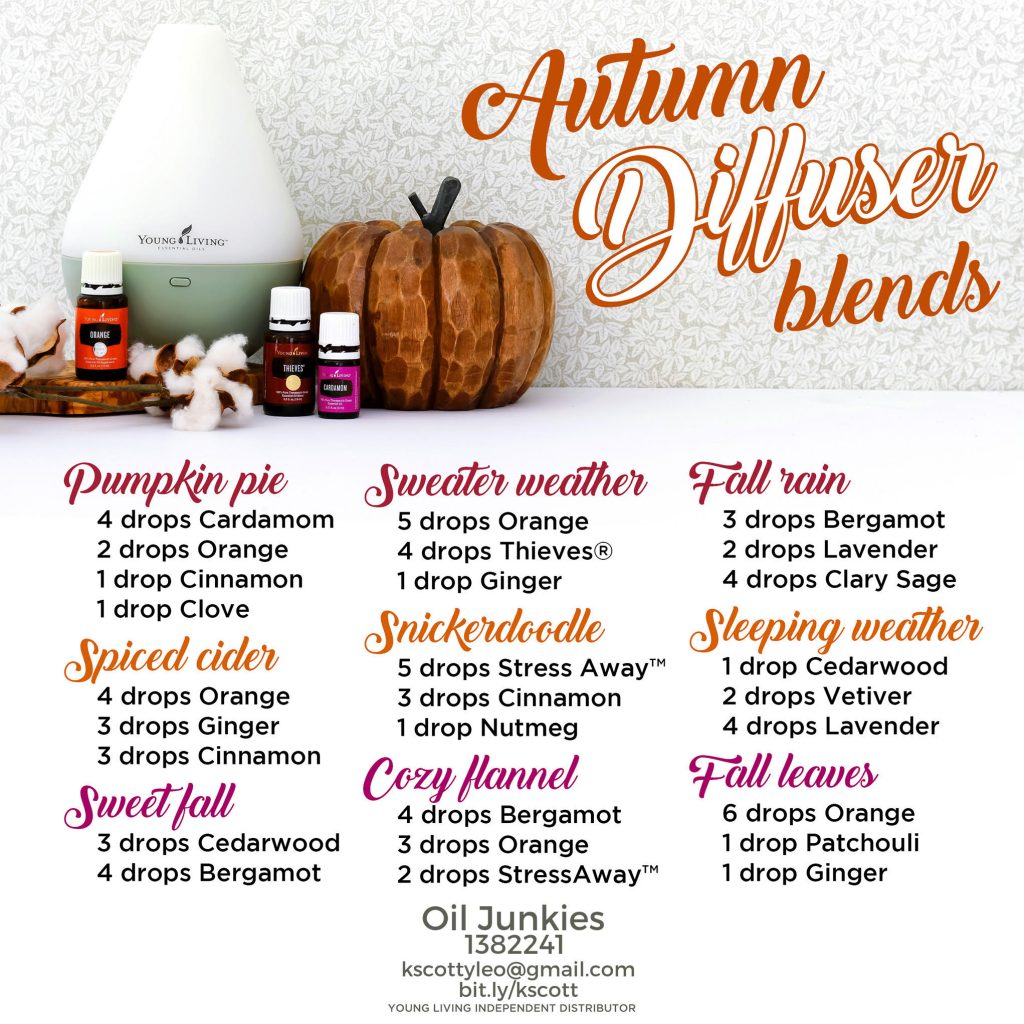 * Young Living, like Costco, requires a membership to make purchases. A one-time fee of $35 provides a lifetime account (and comes with a bottle of Stress Away). Or you can choose a starter kit, which has significantly discounted products. The Premium Starter Kit includes a lifetime membership, medical grade diffuser and 12 essential oils (over $400 worth of product for $165). This is absolutely my recommendation. Find a YL distributor to help you set up an account and use their referral link. Or, you are welcome to use mine – just click here!